CHA
Hornets
Today, 5:10 PM
WAS
Wizards
-- --
BOS
Celtics
Today, 5:10 PM
NYK
Knicks
-- --
IND
Pacers
Today, 5:10 PM
TOR
Raptors
-- --
PHX
Suns
Today, 6:10 PM
SAS
Spurs
-- --
MEM
Grizzlies
Today, 7:40 PM
GSW
Warriors
GSW -5 O/U 230.5
HOU
Rockets
Today, 11:10 PM
ATL
Hawks
-- --
ORL
Magic
Today, 11:10 PM
PHI
76ers
-- --
CLE
Cavaliers
Today, 11:10 PM
BKN
Nets
-- --
MIA
Heat
Tomorrow, 12:10 AM
DET
Pistons
-- --
LAC
Clippers
Tomorrow, 1:10 AM
OKC
Thunder
-- --
LAL
Lakers
Tomorrow, 1:10 AM
NOP
Pelicans
-- --
MIL
Bucks
Tomorrow, 1:10 AM
CHI
Bulls
-- --
DEN
Nuggets
Tomorrow, 1:10 AM
POR
Trail Blazers
-- --
UTA
Jazz
Tomorrow, 1:10 AM
SAC
Kings
-- --
DAL
Mavericks
Tomorrow, 1:10 AM
MIN
Timberwolves
-- --
NCAA Tournament 2022: 2 Teams to Avoid Betting This Offseason
Steer clear of these two teams that are overvalued in the futures market
By Reed Wallach - Apr 13, 2021, 8:14pm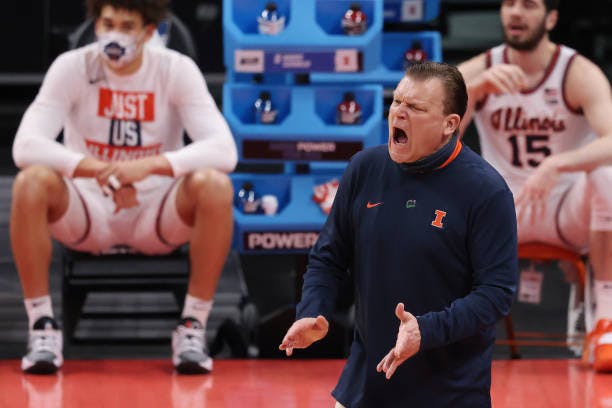 The 2020-2021 college basketball season may have just ended, but there is always a reason to look ahead to next season. 
With an unprecedented amount of players in the transfer portal and coaches moving on to new teams or retirement, this offseason has led to a lot of uncertainty around college basketball.
Several teams are mispriced in the market, and we implore you to stay away from two that are near the top of the board, per DraftKings Sportsbook.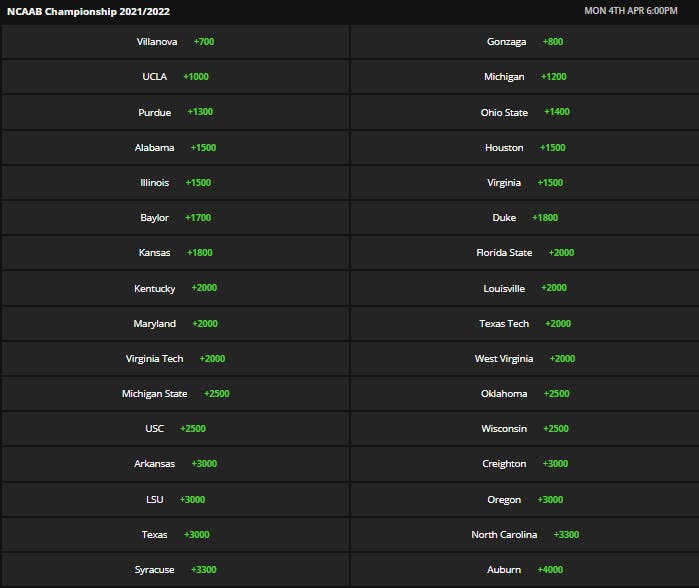 Illinois (+1500)
This is a confusing line to set. Illinois is set to lose a host of key contributors, including Ayo Dosunmu, Kofi Cockburn, Trent Frazier, and Adam Millers (transfer). 
Yes, the team is bringing back guard Andre Curbelo but I can't justify why this team would be inside of 30-1.
After a deflating end to a special season for Illinois by losing to in-state foe Loyola-Chicago, the team is due for a correction of sorts with so many key pieces leaving Champaign. 
The Big Ten is loaded with teams that are going to be in the National Championship picture including Michigan, Ohio State, Purdue with Michigan State and Maryland not far behind. 
There is simply too much uncertainty around Brad Underwood's team next season, making the Illini a stay away from me.
Texas Tech (+2000)
This seems to be another line that is based on name recognition and not quality of the roster and coaching staff. 
Not only did Chris Beard leave Lubbock for in-state rival Texas, Mac McClung, Kyler Edwards, and Micah Peavy all entered the transfer portal. As well, Terrance Shannon is expected to test the NBA Draft waters and most likely not be back at Texas Tech either. 
This will be a different version of the Red Raiders than we are used to under new head coach Mark Adams. With a bare bones version of a team two NCAA Tournament's removed from a National Championship game, expect a serious step back and a team not nearly close to being worth 20-1 in the futures market. 
Not only is TTU set to be a worse roster, the Big 12 is going to follow up being the best conference in college basketball with another group of formidable opponents.
We mentioned Beard joining Texas, but Loyola-Chicago coach Porter Moser is now in Norman with Oklahoma, giving the conference two of the best coaches in the country. On top of that, reigning National Champion Baylor is set to be a contender again as well as the always dangerous Kansas.
Stay away from the Red Raiders until further notice, and definitely at this price.