ATL
Falcons
Fri 10/30, 12:20 AM
CAR
Panthers
CAR -3 O/U 49
IND
Colts
Sun 11/1, 6:00 PM
DET
Lions
IND -2.5 O/U 50
TEN
Titans
Sun 11/1, 6:00 PM
CIN
Bengals
TEN -5.5 O/U 54.5
PIT
Steelers
Sun 11/1, 6:00 PM
BAL
Ravens
BAL -3.5 O/U 46.5
NYJ
Jets
Sun 11/1, 6:00 PM
KC
Chiefs
KC -19.5 O/U 48.5
NE
Patriots
Sun 11/1, 6:00 PM
BUF
Bills
BUF -3.5 O/U 43.5
LAR
Rams
Sun 11/1, 6:00 PM
MIA
Dolphins
LAR -4 O/U 46.5
MIN
Vikings
Sun 11/1, 6:00 PM
GB
Packers
GB -6.5 O/U 54.5
OAK
Raiders
Sun 11/1, 6:00 PM
CLE
Browns
CLE -2.5 O/U 54
LAC
Chargers
Sun 11/1, 9:05 PM
DEN
Broncos
LAC -3 O/U 44
SF
49ers
Sun 11/1, 9:25 PM
SEA
Seahawks
SEA -3 O/U 54
NO
Saints
Sun 11/1, 9:25 PM
CHI
Bears
NO -4 O/U 45
DAL
Cowboys
Mon 11/2, 1:20 AM
PHI
Eagles
PHI -7.5 O/U 43.5
TB
Buccaneers
Tue 11/3, 1:15 AM
NYG
Giants
TB -10.5 O/U 46.5
NASCAR Pick Sheet: Hollywood Casino 400
Who to bet on in this week's race
By Dan Beaver - Oct 17, 2020, 6:08am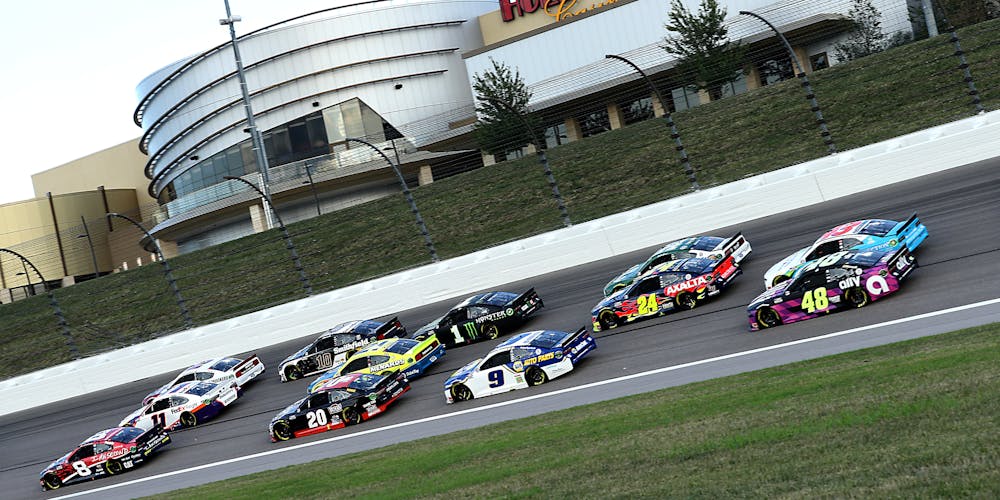 As the intensity of the playoffs crests, NASCAR visits a similarly-configured, 1.5-mile track in back-to-back weeks.
Drivers and teams have learned to emphasize the unrestricted, intermediate speedways because the doglegged and double-doglegged 1.5 and 2-mile ovals dominate the schedule, making up about a third of the races. If a driver can run well on this course type, he's going to have a good season. With two of these tracks in the playoffs, the Hollywood Casino 400 at Kansas and Autotrader 500 next week at Texas, they represent a great opportunity to advance into the Championship Round.
Here's a statistic that tells a story: In 2020, 24 drivers have scored top-10s on the similarly-configured, 1.5-mile tracks so far. Most of them have at least two such finishes. That means these tracks are egalitarian in nature in 2020 and nothing can be taken for granted. Kevin Harvick and Denny Hamlin enter the weekend with a significant advantage in the points standings, but if they don't win one of the next three races and other playoff contenders do, that lead isn't going to be enough to insure that both advance.
The nine races run on 1.5-milers so far this year feature eight different winners, including surprising dark horses at Kentucky when Cole Custer crossed under the checkers first and at Texas with a win from Austin Dillon. Hamlin is the only driver to win on this course type twice with victories at Homestead and in the first Kansas race.
Drivers who have yet to win on this course type in 2020, but have a second or third-place finish include Martin Truex Jr., Kyle Busch, Ryan Blaney, Tyler Reddick, and Matt DiBenedetto. Simply put: Anything can happen during the next two weeks and dark horses must be considered for your fantasy lineup and as part of your betting strategy.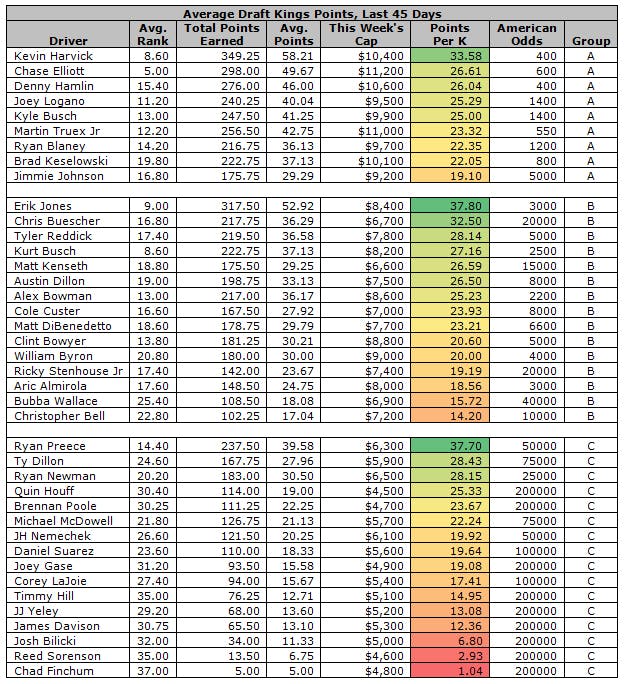 1. Denny Hamlin ***
($10,600 DraftKings | +400)
Hamlin has a significant advantage over most of the drivers in terms of playoff bonus points, but it's still important for him to win. If three drivers below him in points win instead, the battle for the remaining spot in the Championship 4 will come down to Hamlin and Harvick. Hamlin won the two most recent Kansas races.
2. Kevin Harvick ****
($10,400 DraftKings | +400)
Harvick has ice water in his veins. It's easy to be confident when you're the winningest driver of the season. One of these came this spring on the 1.5-mile Atlanta Motor Speedway. This week he guns for his 10th victory of 2020 which hasn't been accomplished since Jimmie Johnson did that in 2007.
3. Chase Elliott ****
($11,200 DraftKings | +600)
Chase Elliott scored a playoff win at Kansas in 2018 when this race was the finale of the Round of 12. He'll run well again this week, but starting from the pole with the highest salary cap of all drivers means he is destined to lose place-differential points and won't be a good value in DraftKings' fantasy game.
4. Erik Jones ****
($8,400 DraftKings | +3000)
Erik Jones should be this week's top hark horse. Since his sophomore year, he has swept the top-10 in five starts; three of these were top-fives, including a fifth this summer. With a salary cap of only $8,400, he fits nicely on your DraftKings roster. Better yet, at 30/1, he could have a huge return on your betting investment if he gets track position in the closing laps.
5. Brad Keselowski ***
($10,100 DraftKings | +800)
Brad Keselowski hasn't made a lot of noise in recent weeks, so he is easy to overlook. He's nearly perfect on 1.5-mile tracks in regards to top-10s, however, and has a win at Charlotte and a second-place finish at Kansas to recommend him. Kez won the 2019 spring race at Kansas.
6. Martin Truex Jr. ****
($11,000 DraftKings | +550)
Truex was almost unstoppable on 1.5-mile tracks from 2017 through 2019, but he's been much less consistent this year. He has missed the top-10 in three of nine races. The good news is that he has top-fives in three of the last four on this track type.
7. Joey Logano ***
($9,500 DraftKings | +1400)
Joey Logano closed out the 2019 season with a pair of top-fives on the 1.5-mile tracks of Texas and Homestead. He picked up where he left off at Vegas this spring with a victory, but he has been mediocre recently. The team will have a sense of urgency, because if Logano can't run well at Kansas or Texas, he is unlikely to advance to the Championship 4.
8. Clint Bowyer ****
($8,800 DraftKings | +5000)
Clint Bowyer has one more chance to get a victory on his hometown track. While that is unlikely to happen, his salary cap at DraftKings is modest enough to make him a good value. There's also some relevance to his betting numbers, because at +135 to finish in the top-10, he's worth a modest wager. Last year, he finished fifth in the spring and was eighth in the fall on this track.
9. Alex Bowman ****
($8,600 DraftKings | +2200)
The worst finish for Alex Bowman in his last four Kansas attempts was an 11th in last year's edition of the Hollywood Casino 400. That is offset by a second-place finish in spring 2019. He finished eighth in this year's Super Start Batteries 400 and followed that up with a fifth at Vegas three weeks ago.
10. Ryan Blaney **
($9,700 DraftKings | +1200)
Don't let Blaney's two-star rating scare you: He's been almost perfect on 1.5-mile tracks this year with four top-fives and only one finish worse than 11th in nine starts. Blaney also has three top-fives at Kansas, but he doesn't come without risk because his last three attempts on this track ended in results of 20th or worse.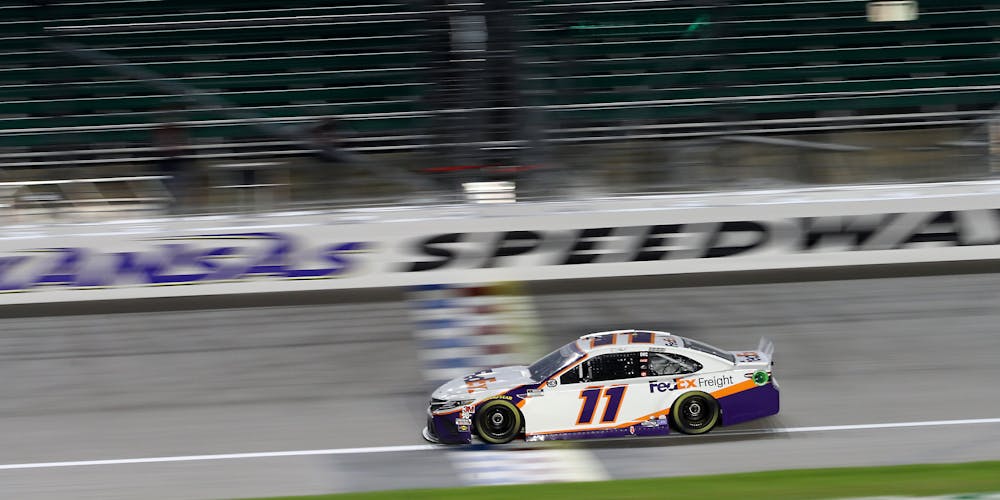 Jimmie Johnson ***
($9,200 DraftKings | +5000)
Jimmie Johnson earned his three-star rating this week with a sweep of the top-10 at Kansas in 2019. He doesn't deserve to be one of the most expensive drivers in the DraftKings game, however, and will not earn enough points to validate a salary cap greater than $9k.
Kyle Busch ***
($9,900 DraftKings | +1400)
It's possible that Busch will surge now that the pressure of the playoffs is off his shoulders. Even at 14/1, it will be tough to put down more than a casual bet as the season winds down and the No. 18 remains winless.
Chris Buescher ***
($6,700 DraftKings | +20000)
Chris Buescher has one of the best points per thousand ratios in the past 45 days in the DraftKings game. Part of the reason for this was a ninth-place finish on the similarly-configured Las Vegas Motor Speedway. He swept the top-15 at Kansas last year.
Ryan Preece **
($6,300 DraftKings | +50000)
Last year, Ryan Preece finished 12th in the first Kansas race. It's unlikely he will equal or better that result in 2020, but a solid top-20 would still make him a good value with a salary cap of $6,300. This Sunday, he rolls off the grid 19th.