Best Bets: NASCAR's Folds Of Honor QuikTrip 500
Atlanta Motor Speedway will host racing's top stars on Sunday
By Dan Karpuc - Mar 13, 2020, 4:35am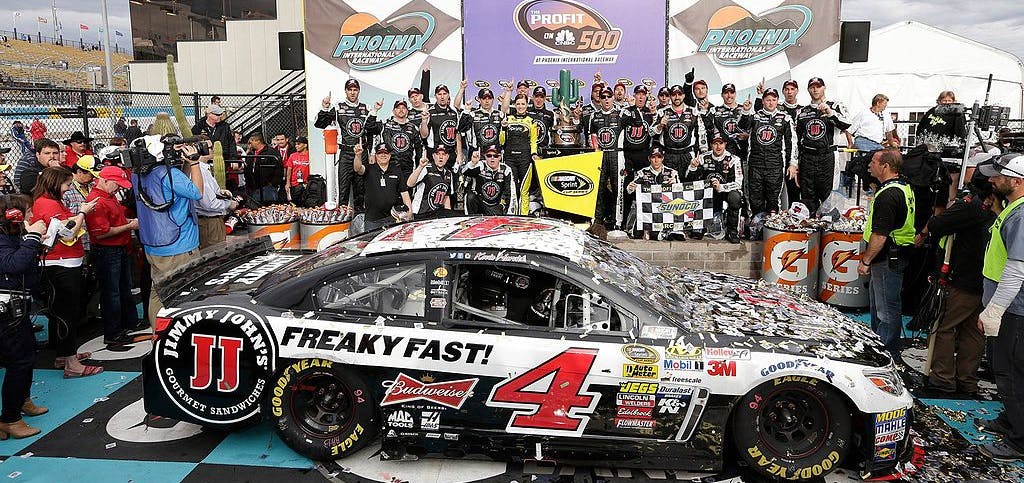 Despite the fact that most U.S. sports leagues have decided to cancel their active seasons, NASCAR will continue on. To ensure the safety of their fans due to the coronavirus pandemic, the Folds Of Honor QuikTrip 500 at Atlanta Motor Speedway will take place without live spectators on Sunday, March 15th. As one of the fastest tracks on the NASCAR circuit, the quad-oval will feature all of the sport's biggest names. Here are some of the best bets you can make, featuring official DraftKings odds (as of Friday morning).
Top Ten Finish: Erik Jones (+135)
Average Start: 17.5, Average Position: 19.8, Fastest Laps: 11, Laps Led: 0, Driver Rating: 68.2
In his last 25 races on intermediate tracks, Jones has 17 top ten finishes (4th-best mark among all drivers) and 184 laps led. The 23-year-old is coming off of a victory in Sunday's Busch Clash at Daytona International Speedway and is riding Joe Gibbs' No. 20 Toyota with a ton of confidence and motivation right now, especially since his contract is set to expire at the end of this season. 
Top Three Finish: Brad Keselowski (+165)
Average Start: 11.5, Average Position: 9.1, Fastest Laps: 49, Laps Led: 118, Driver Rating: 100.9
Keselowski has won this event in two of the last three years, including 2019. In his last 25 races on intermediate tracks, he has 12 top five finishes and four victories. Given his history in Atlanta and success on this type of track, he's a strong bet to finish in the top three.
Winner: Kevin Harvick (+450)
Average Start: 5.0, Average Position: 9.0, Fastest Laps: 91, Laps Led: 159, Driver Rating: 103.1
Harvick is the favorite for a reason. He has eight career wins in Atlanta (7 NASCAR, one Truck Series) and won two races there in 2018. He will also have a lot of motivation to make a statement in this one, as he lost an overtime restart to Joey Logano in last week's FanShield 500. The track history and his car's performance so far this season make him a stellar bet to cross the checkered flag first.
Want to bet on the Folds Of Honor QuikTrip 500? Click on our exclusive risk-free bet offer below, check out all of the other drivers' odds and place your bets on DraftKings!