GSW
Warriors
Today, 11:10 PM
WAS
Wizards
GSW -2 O/U 241
PHX
Suns
Today, 11:10 PM
PHI
76ers
PHX -3 O/U 217
OKC
Thunder
Today, 11:10 PM
IND
Pacers
IND -9 O/U 231
BKN
Nets
Today, 11:10 PM
TOR
Raptors
TOR -4.5 O/U 231
CHI
Bulls
Today, 11:10 PM
CLE
Cavaliers
CHI -2 O/U 210
ATL
Hawks
Tomorrow, 12:10 AM
NYK
Knicks
ATL -1.5 O/U 219
UTA
Jazz
Tomorrow, 12:10 AM
HOU
Rockets
UTA -11 O/U 225
MIA
Heat
Tomorrow, 12:40 AM
SAS
Spurs
MIA -1.5 O/U 216
DET
Pistons
Tomorrow, 12:40 AM
DAL
Mavericks
DAL -10.5 O/U 217
DEN
Nuggets
Tomorrow, 2:10 AM
POR
Trail Blazers
DEN -1.5 O/U 230
MIN
Timberwolves
Tomorrow, 2:10 AM
SAC
Kings
SAC -4 O/U 239.5
MEM
Grizzlies
Tomorrow, 2:10 AM
LAC
Clippers
MEM -3 O/U 224.5
Early Value Bets to Win the 2022 NCAA Tournament
Who are the Teams to Watch for Next Season's March Madness?
By Reed Wallach, Eli Hershkovich, Thomas Casale - Apr 6, 2021, 7:40pm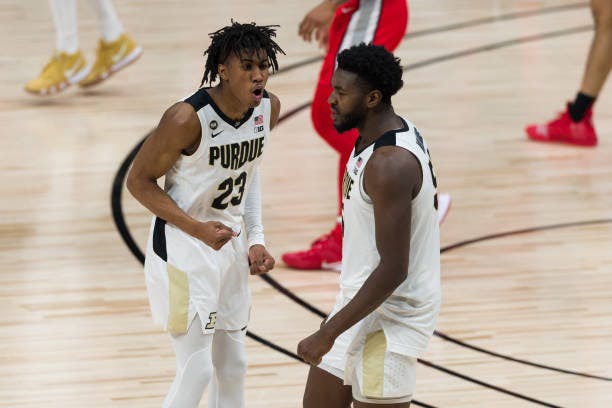 Baylor took home the 2021 National Championship with an impressive 86-70 win over Gonzaga.
Now, let's look ahead to 2022.
This offseason is going to be as unique as ever with thousands of players in the transfer portal and a great deal of significant contributors declaring for the NBA Draft.
Here are the early odds, courtesy of DraftKings Sportsbook unless otherwise noted.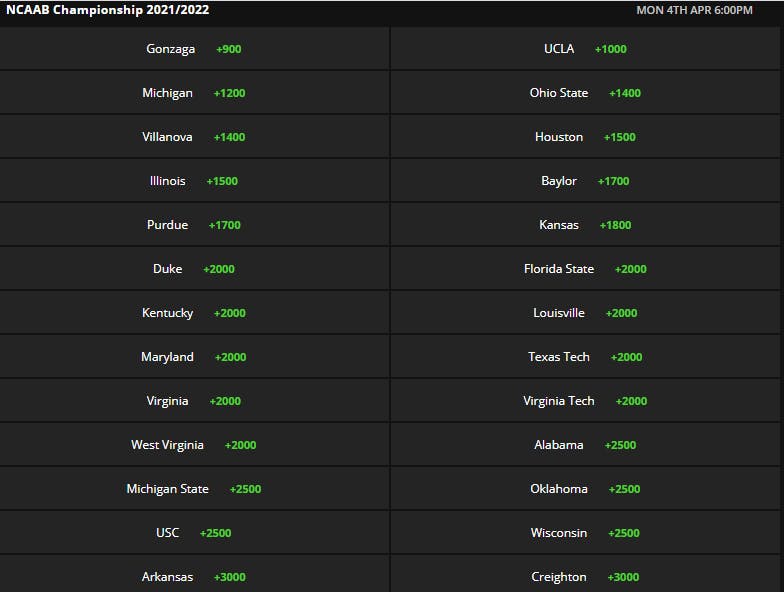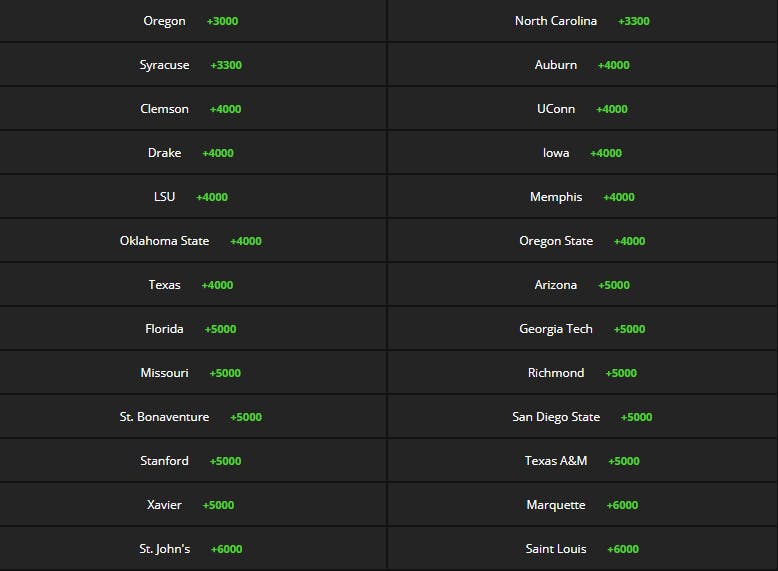 Hershkovich - Purdue Boilermakers +2600
I'll admittingly be shopping around before pulling the trigger on this price, but the Boilermakers have the talent via nearly their entire roster returning after ranking No. 327 in experience this past season. They opened 25-1 at DraftKings but quickly moved to 17-1 right before this article went out. They were still sitting at 26-1 at FanDuel.
Up front, Matt Painter's team will bring back 6-foot-10 Trevion Williams, who led the team in scoring (15.5 points per game), along with the 7-foot-4 Zach Edey (8.7 ppg). They should combine to form one of the best frontcourts in Division I next season, especially if Edey takes the next step as an interior threat. The two also helped the program rank top-40 in rebounding rate at both ends, which is critical in controlling the pace of a game.
Lookout for 6-foot-4 guard Jaden Ivey (11.1 ppg) too, as the freshman started the final 12 games of Purdue's season and fits the mold of a piece who can develop into one of the nation's better scorers. Paired with Williams and point guard Eric Hunter's playmaking ability, Painter boasts a unit that can generate offense consistently at every level.
Following a top-35 ranking in both Adjusted Offensive and Defensive Efficiency, respectively, the Boilermakers can turn a first-round exit in the NCAA tournament into a deep run in March 2022.
Get all of BetQL's best bets! Dating back a full calendar year, our five-star (max-value) bets have won 61% of the time!
Wallach - Michigan Wolverines +1200
With so much uncertainty around this offseason, I'm going to look towards the top of the board early.
Michigan put together one of the most impressive seasons of any program in the country in 2020-2021, and I expect the Wolverines to be an elite team once again in '21-22.
AP Coach of the Year Juwan Howard bringing in the No. 1 recruiting class in the country along with talented returning rotation players such as Brandon Johns Jr., who filled in admirably after the Wolverines lost Isaiah Livers ahead of the postseason.
The crux to this handicap is Hunter Dickinson returning to Ann Arbor.
While he might test the NBA Draft waters after a stellar freshman season, Dickinson is probably best suited going back to school. He was a terror in the Big Ten in his lone season and the sky is the limit for the big fella. Another year of seasoning and a potential First Team All-American campaign could do wonders for Dickinson's NBA prospects.
Howard is set to lose a handful of seniors -- if they opt to leave and not use their free year of eligibility -- as well as potential lottery pick Franz Wagner, but I expect him to be active in the transfer portal after he brought in the likes of Mike Smith and Chaundee Brown last offseason.
With hopefully Dickinson in the fold, the best recruiting class in the nation, and an emerging coach in Howard to scour the portal for more weapons, Michigan is going to be in the mix again next season.
Play DFS? Be sure to get a 3-day free trial on RotoQL to check out our projections!
Casale - Arkansas Razorbacks +3000
I was on Arkansas this year and I'll likely be going back in next season.
The Hogs will lose a few key members with Justin Smith and Moses Moody off to the NBA. However, I still like the young core on this team and we know head coach Eric Musselman will bring in some high impact transfers to round out the roster. He's already banked one early on by landing former Pittsburgh G Au'Diese Toney. The 6-6 Toney averaged 14.4 points and 5.9 rebounds per game this year and he fits perfectly into Musselman's scheme on both ends of the floor. I expect Toney to be one of the top players in the SEC next season.
Tony, JD Notae, and Davonte Davis gives the Hogs three key players to build around with transfers and incoming freshmen. The Hogs will lose a lot of paper, but the talent is there to build on this year's Elite 8 run. Arkansas will once again be one of the top teams in the SEC, so grabbing 30-1 on a talented roster this early is good value.
Another team I like is Syracuse but Kadary Richmond transferring to Seton Hall is a huge blow. Besides, why bet Syracuse now at 33-1? Just wait until the team is 12-8 and on the NCAA bubble again to grab a better price.