GSW
Warriors
Today, 11:10 PM
WAS
Wizards
GSW -2 O/U 239.5
PHX
Suns
Today, 11:10 PM
PHI
76ers
-- --
OKC
Thunder
Today, 11:10 PM
IND
Pacers
-- --
BKN
Nets
Today, 11:10 PM
TOR
Raptors
-- --
CHI
Bulls
Today, 11:10 PM
CLE
Cavaliers
CHI -2 O/U 211.5
ATL
Hawks
Tomorrow, 12:10 AM
NYK
Knicks
NYK -2 O/U 216.5
UTA
Jazz
Tomorrow, 12:10 AM
HOU
Rockets
UTA -11 O/U 227.5
MIA
Heat
Tomorrow, 12:40 AM
SAS
Spurs
-- --
DET
Pistons
Tomorrow, 12:40 AM
DAL
Mavericks
-- --
DEN
Nuggets
Tomorrow, 2:10 AM
POR
Trail Blazers
-- --
MIN
Timberwolves
Tomorrow, 2:10 AM
SAC
Kings
SAC -5 O/U 239
MEM
Grizzlies
Tomorrow, 2:10 AM
LAC
Clippers
-- --
BetQL Countdown to Tip-Off: Charles Barkley says James Harden is the clear NBA MVP
Barkley talks sports betting
By Vikas Chokshi - Apr 3, 2021, 5:28pm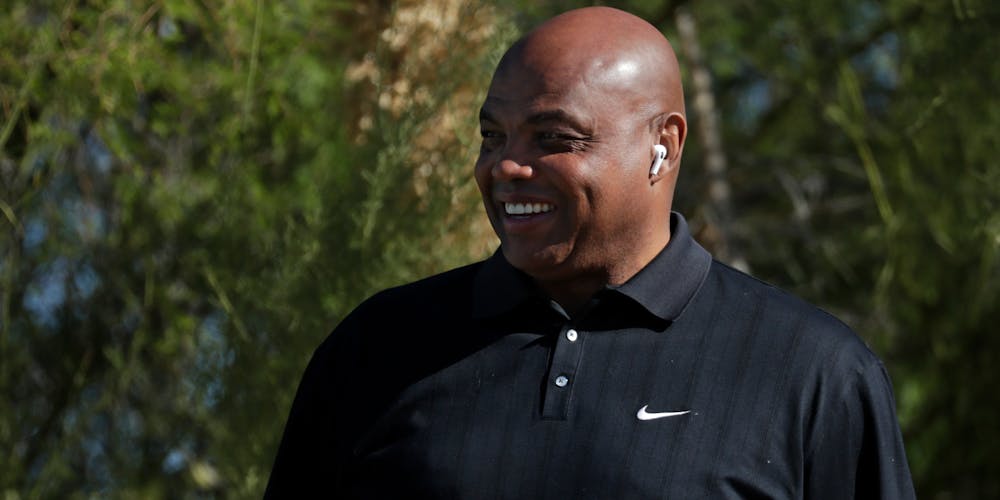 This morning, the man, the myth, the legend, Charles Barkley himself joined Danny Parkins and Nick Kostos on the BetQL Countdown to Tip-Off show.
The fellas and Barkley discussed several gambling topics, including the Final Four, betting on Golf, the future of sports betting, and the NBA.
Here are some of Barkley's most notable comments from this morning's show:
Get all of BetQL's best bets for the NBA season! Dating back a full calendar year, our five-star (max-value) bets have won 61% of the time!
What does he personally gamble on?
"I don't bet on basketball, it's too hard. I only bet on football.
"One of the great things about gambling is the excitement. There's nothing more exciting than when you bet on a football game and somebody is driving."
Who does he think is going to win the Masters?
"I would never bet golf. The chances of you picking one guy out of 130 ... that's almost impossible. You are probably going to get one out of every 50 as the best case scenario. Like last week, nobody would've picked Horschel going into Match Play. Nobody.
"If I was going to bet on a golfer next week at the Masters, I might go Dustin Johnson. Jordan Spieth is playing great right now."
Play DFS? Be sure to get a 3-day free trial on RotoQL to check out our projections!
The future of sports betting
"One of the reasons football is so big is because of the gambling aspect. I've had an NBA owner tell me that in the next five years they are going to make more money off of gambling than they've made off of tv contracts.
"You will be able to sit in the stands and be able to bet who is going to make the next two free throws or the next basket."
Who does he think wins NBA Title?
"Hopefully anybody but the Lakers or Brooklyn. I root against these Super Teams.
"I would love to see Philly or Milwaukee win the East. In the West, I'd like to see Utah or Denver. I love what Denver did at the deadline."
NBA MVP
"Harden's been playing great the last two months. Then after the injuries to LeBon and Embiid, that put James [Harden] clearly in the driver's seat.
Clearly in my opinion, he's the MVP. He's been playing so great with KD out and Kyrie being in and out. If I had a vote, I'd vote for him. But, it depends how much time he misses now with his injury."
Final Four Matchups
"It's going to come down to rebounding and who can hit more shots in the Baylor-Houston game. Houston tries to kill you on the offensive boards. Baylor is going to have to control the boards. If Baylor gets killed on the boards, theres a chance they can lose this game.
"If I were a betting man, I'd take Baylor."
"In the Gonzaga game, 14 points is a big number. Thats one of the reasons I don't bet on basketball, because Gonzaga can blow them out but only win by 10.
"If you have a 20-point lead with 3 minutes to go, and we got a game Monday, we need to get the starters out. Then sometimes you only win by 10."
NCAA Title Game
"I have not seen anything in this tournament that makes me think anyone is going to beat Gonzaga or Baylor. I have not seen any game where I said that team can beat Baylor or Gonzaga.
"And, if there is any team that can beat Gonzaga, Baylor to me is the only team that can do it. Only team that can go 10-deep. They got those guards that can matchup with [Jalen] Suggs and [Joel] Ayayi, because you are going to have to stop those two guys ... to me the guy you got to stop is Suggs. That'll be a terrific matchup. Two best teams all year."