ORL
Magic
Today, 5:05 PM
NYK
Knicks
ORL -1.5 O/U 207
CLE
Cavaliers
Postponed
WAS
Wizards
-- --
MIN
Timberwolves
Today, 7:35 PM
ATL
Hawks
ATL -7.5 O/U 227.5
DET
Pistons
Today, 8:05 PM
MIA
Heat
-- --
SAS
Spurs
Today, 8:05 PM
POR
Trail Blazers
SAS -1.5 O/U 225
PHX
Suns
Today, 10:05 PM
MEM
Grizzlies
PHX -3.5 O/U 223
DAL
Mavericks
Tomorrow, 12:35 AM
TOR
Raptors
-- --
MIL
Bucks
Tomorrow, 12:35 AM
BKN
Nets
MIL -2 O/U 237
HOU
Rockets
Tomorrow, 1:05 AM
CHI
Bulls
-- --
GSW
Warriors
Tomorrow, 3:05 AM
LAL
Lakers
LAL -9 O/U 224.5
NBA
Top 6 Most Valuable NBA Player Futures For 2020-2021
Target these six bets before the season tips off
By Dan Karpuc - Dec 10, 2020, 6:40pm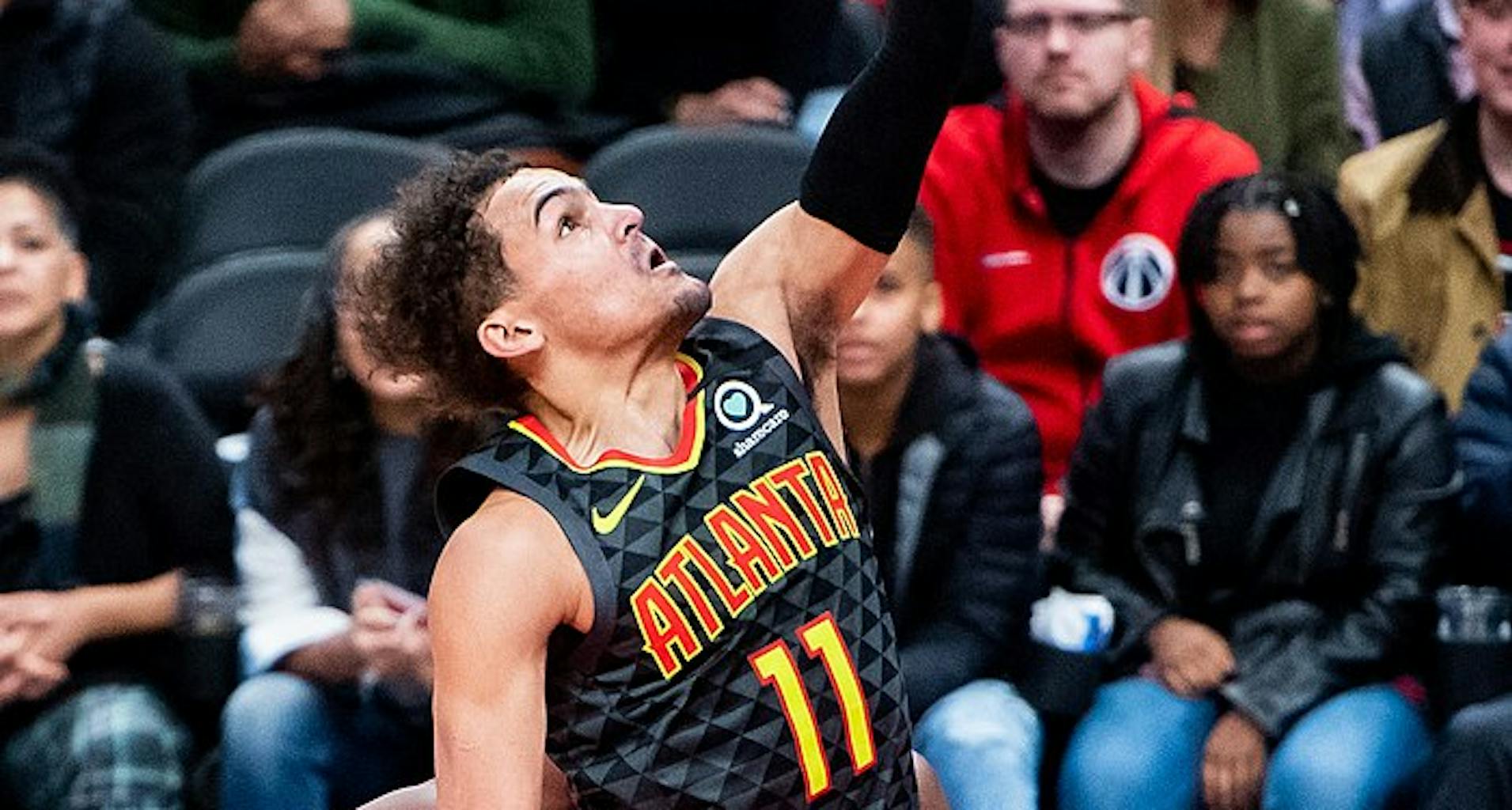 The 2020-2021 NBA season is tipping off on December 22nd and it's a great time to look at some of the futures offered on DraftKings and FanDuel. Here are six of the top values to consider betting on ASAP!
6. Jordan Clarkson (PG, Jazz): 6th Man Of The Year
+800 (11.1% Implied Probability), DraftKings BET NOW
Clarkson signed a four-year, $51.52M contract extension with the Jazz after serving as the team's sixth man this past season. After getting acquired from the Cavaliers, he averaged 15.6 points, 2.8 rebounds and 1.6 minutes in 24.7 minutes. In the playoffs, he put up 16.7 points, 3.4 rebounds and 2.1 assists in 28.6 minutes per contest. 
What stands out about Clarkson is his usage. In the playoffs, he posted a 24.2 usage rate, which was higher than teammate Mike Conley (22.6). While it didn't rival teammate Donovan Mitchell (36.0), who had the second-highest usage rate of any player in the playoffs, Clarkson will be asked to create all of the offense on Utah's second unit and should put up solid numbers.
Sign up for a DraftKings account and claim your $1,000 bonus now! 
5. Bradley Beal (SG, Wizards): Leading Scorer 
+2200 (4.3% Implied Probability), DraftKings BET NOW
While last season was a complete letdown for the Wizards (25-47), Beal showed consistency, a quality that a scoring leader needs to have. Sure, his 34.5 usage rate (6th-highest in the NBA) helped, but the addition of Russell Westbrook could help his scoring production due to his ability to play off the ball and get better looks at times.
Beal put up 30.5 points per game last year, which was second in the league to James Harden. However, he has the 10th-highest odds to win this award, behind James Harden (+125), Luka Doncic (+650), Damian Lillard (+650), Stephen Curry (+800), Westbrook (+900), Giannis Antetokounmpo (+1100), Devin Booker (+1100), Trae Young (+1400) and Kevin Durant (+2000). 
4. Coby White (PG, Bulls): Most Improved Player 
+2400 (4% Implied Probability), FanDuel BET NOW
In his rookie season, Coby White averaged 13.2 points, 3.5 rebounds and 2.7 assists in 25.8 minutes per contest. However, he shot just 39.4% from the field, including 35.4% from three-point range. Under new head coach Billy Donovan, White should benefit from an offensive philosophy that features plenty of pick-and-roll sets and ball movement. 
While Tomas Satoransky should see some playing time behind White and Ryan Arcidiacono could see some minutes as well at the position, Zach LaVine is the only other true ball-handler in Chicago. Considering the fact that youngsters Lauri Markkanen, Wendell Carter Jr. and Daniel Gafford should all benefit from another offseason of development in the frontcourt, White finishing the year with a line somewhere around 20 points, 5 rebounds and 5 assists in 30-35 minutes per game doesn't seem out of the realm of possibilities.
BetQL's NBA Model has gone 211-135 (60.9%) on Bulls bets all-time. Subscribe to one of our annual plans and don't miss a single Bulls bet this season!
3. Chris Paul (PG, Suns): Assist Leader
+3300 (3.2% Implied Probability), DraftKings BET NOW
Sure, Paul averaged 6.7 assists per game for the Thunder last season, well below his 9.5 career average. However, that was due, in part, to the fact that he played alongside Shai Gilgeous-Alexander and Dennis Schroder (two other point guards) and the fact that he was asked to make an impact in the scoring column, where he put up 17.6 points per game. 
With a fresh start in Phoenix, Paul will be surrounded by Devin Booker, Deandre Ayton, Jae Crowder, Dario Saric and Cameron Johnson, among others. It's also important to realize that Cameron Payne and Jevon Carter are the only two true point guards on the team at the moment, thus making the potential for double-digit assists per game a realistic possibility.
BetQL's NBA Model has gone 230-157 (59.4%) on Suns bets all-time. Subscribe to one of our annual plans and don't miss out on a single 2020-2021 bet!
2. Kawhi Leonard (SF, Clippers): D.P.O.Y.
+3300 (3.2% Implied Probability), FanDuel BET NOW
The two-time Defensive Player of the Year seemingly has a lot to prove after last season's postseason exit. Anthony Davis (+240), Rudy Gobert (+300), Antetokounmpo (+390), Bam Adebayo (+950), Joel Embiid (+1100) and Ben Simmons (+1600) all have better odds than Leonard, who posted 1.8 steals per contest last season, his career average. 
The most important factor with Leonard will be his sample size. He played in 57 of Los Angeles' 72 regular season games last year and will seemingly need to be on the court for a higher percentage of his team's games in order to truly be in contention for this award. The early playoff exit and new head coach Tyron Lue might make an impact as far as that is concerned.
Sign up for a FanDuel account and claim your $500 risk-free bet now!
1. Trae Young (PG, Hawks): MVP
+6500 (1.5% Implied Probability), FanDuel BET NOW
If the Hawks make the playoffs and Young improves his numbers after averaging 29.6 points, 4.3 rebounds and 9.3 assists per contest, he will be in the conversation. The 22-year-old star ranked 4th in the NBA in points and 2nd in assists last year and has one of the deepest teams in the East around him. 
Bogdan Bogdanovic, Kevin Huerter, De'Andre Hunter, Cam Reddish, John Collins, Danilo Gallinari, Clint Capela, Kris Dunn and Onyeka Okongwu will all be a part of Lloyd Pierce's rotation and sets up the realistic possibility for Young to average 30-plus points and 10-plus assists. Only two players in NBA history have averaged that over the course of an entire season: Oscar Robertson and Tiny Archibald.