MLB
Projecting The NL Central Division Winner
Three teams are in a tight battle for the top spot, but one has an advantage
By Tommy Snodgrass - Aug 14, 2019, 3:59am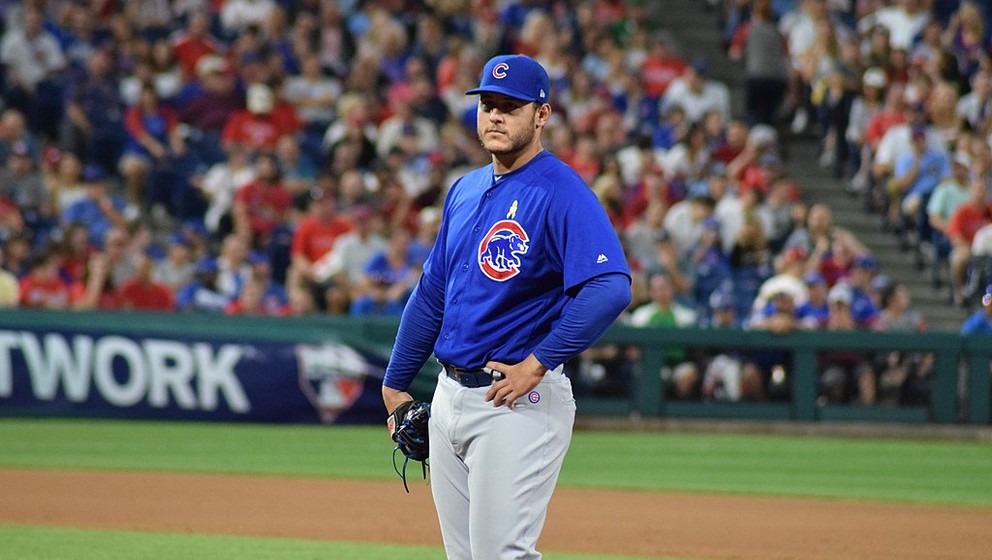 The NL Central race is heating up and the Chicago Cubs (-143), St. Louis Cardinals (+250) and Milwaukee Brewers (+300) are within 3.0 games of each other. The Brewers are the high-upside bet, but the Cubs are the safest.
Remaining Schedules
The season's end is drawing near, and for the Cubs, Cardinals, and Brewers, National League Central divisional wins will be crucial in the home stretch. These three clubs can, and should, handle the Pittsburgh Pirates and Cincinnati Reds, but it will be these teams that challenge each other most.
The season series between Chicago, St. Louis, and Milwaukee have been neck-and-neck. Interestingly, the Cubs have the season series edge over the Brewers (7-5) and Cardinals (7-5). Milwaukee and St. Louis have split their season series (5-5). There are twenty-three more games between the NL Central's top adversaries on the 2019 schedule.
The inter-divisional matchups between the Cubs, Cardinals, and Brewers can create big swings in the standings with just a small win streak (or losing streak), but considering the past records in these contests, non-divisional matchups will separate the National League Central wheat from the National League Central chaff. 
Remaining non-divisional opponent win percentages:
Cubs: .487
Cardinals: .467
Brewers: .512
The Cardinals' non-divisional portion of their schedule appears to be much easier, going to Kansas City to take on the Royals then facing a fledgling Colorado Rockies squad seven times. The Brewers would appear to have a slightly more difficult task of getting through their remaining non-divisional games. Milwaukee will have a two-game series with the Minnesota Twins and followed by another with the Houston Astros, but they will also face the Miami Marlins, Rockies, and San Diego Padres before their campaign comes to a close.
Health
The Cubs have been playing good baseball lately, winning seven of their last 11 games, and they've been doing a lot of that winning with one of their premium puzzle pieces stuck on the pine, catcher Willson Contreras. 
Back in July, Contreras missed a few games with a right foot strain, and now finds himself back on the shelf with a right hamstring strain. Contreras was placed on the 10-day injured list, but could miss up to four weeks. When missing, most of Contreras' duties have fallen on catcher Victor Caratini, but the Cubs recently brought in former All-Star catcher Jonathan Lucroy to lessen the workload.
Recently, Cardinals catcher Yadier Molina missed over a month after he re-aggravated an early-season thumb injury. He returned to the lineup on Tuesday, but St. Louis needs Molina's consistent, veteran, on-field presence moving forward.
Christian Yelich has been suffering from back tightness and missed four games before returning. The Brewers played decently without him in the lineup, but over the next couple weeks, if the Brewers want to win the National League Central title, they will need Yelich in their lineup every single day. 
Starting Pitching
Here's a quick look at some of the starting pitching Major League rankings between the National League Central leaders:
Chicago: ERA (9th), WHIP (12th), IP (7th)
St. Louis: ERA (12th), WHIP (20th), IP (18th)
Milwaukee: ERA (17th), WHIP (21st), IP (22nd)
The Cardinals were hoping the Miles Mikolas from 2018 would show up, and he hasn't. After securing 18 victories and posting an ERA of 2.83, he hasn't been able to build off last year's success, sporting a record of 7-12 and an ERA of 4.13, not exactly an ace. It's been 23-year old Jack Flaherty who has been the de facto ace for St. Louis and he's on the best stretch of his young career.
The Brewers, in their attempt at a National League Central crown, brought in Jordan Lyles in a trade from Pittsburgh to patch up their depleted rotation.
Upgrade to BetQL Premium to unlock all of today's MLB Value Bets! 
Jhoulis Chacin and Brandon Woodruff both currently have oblique issues, which can be tricky for pitchers. Lyles, Chase Anderson, and Gio Gonzalez will look to hold down the fort. Gonzalez and Anderson both carry sub-4.00 ERAs and Lyles' ERA since he's been wearing a Brewers uniform sits at 1.59.
The Cubs rotation has given up less runs, less baserunners, and has stayed in the ball game longer than their divisional foes. It's all thanks to their veteran quintet of Jon Lester, Kyle Hendricks, Yu Darvish, Jose Quintana, and Cole Hamels. None of these five will have Cy Young awards thrown at them this offseason, but they do a solid job keeping their team in the game and not taxing the bullpen.
The Bullpens
Chicago may have to depend heavily on the rotation going into the waning months of the season as their bullpen struggles to stay healthy. Steve Cishek has left hip inflammation and no timetable for a return, but Craig Kimbrel and Brandon Kintzler each should be returning to the mound sometime this week. When September comes, Brandon Morrow could be available in the bullpen, which could be a nice boost in the last few games; seven of the Cubs last ten games will be against St. Louis.
Milwaukee lost their closer, former All-Star Corey Knebel, before the starting gun even fired. It would have stung a lot more if not for relief ace Josh Hader. Hader has punched out a ridiculous 102 batters in 55 ⅓ innings. 
Acquiring Andrew Miller last offseason was thought of as a move that could potentially put St. Louis over the top. Miler hasn't had the best year of his career but the whole bullpen has stepped up. John Brebbia, John Gant, Giovanny Gallegos, Carlos Martinez are names that are overshadowed by the existence of Miller.
Relief Comparison:
Cubs: Relief ERA (4.01 - 8th), opponent batting average (.239 - 9th)
Cardinals: Relief ERA (3.82 - 5th), opponent batting average (.214 - 1st)
Brewers: Relief ERA (4.54 - 17th), opponent batting average (.236 - 6th)
The Bats
Sometimes, in close races like these, an entire division can be taken over late in the season by one man, one bat. 
On July 31st, 2015, the New York Mets were two games back of the Washington Nationals and to make up for that, they acquired Yoenis Cespedes from the Detroit Tigers. Cespedes was hitting so well that the Mets got a large push from the energy he created and the Mets went on to win the National League East by 7.0 games.
Jose Ramirez of the Cleveland Indians broke out and started hitting for power and led the Indians to a 22-game winning streak and Cleveland cruised to an American League Central championship.
The National League Central has some household names who have received big awards and some youngsters trying to claim theirs, capable of changing the division by themselves. Yelich has proven he can carry a team as he currently leads the major leagues in home runs. 
Paul Goldschmidt recently had a six-game home run streak, showing his team that he can crush the ball for extended periods of time. Rookie shortstop Tommy Edman has a batting average of .360 and a slugging percentage of .520 in his last seven games with the Redbirds as well.
Kris Bryant, Javy Baez and Anthony Rizzo have all batted over .300 in the past seven games, heating up at the right time. 
With hitters such as Bryant, Baez, and Rizzo, a solid rotation and slowly-mending bullpen and a sub-.500 opponent win percentage remaining, placing a bet on Chicago may not have as much upside as a bet on the Brew Crew, but it might be safer.
Note: All advanced and batted ball statistics were found on FanGraphs. The advice above represents the writer's personal view and does not reflect or represent BetQL's stance or interest in any way.