CIN
Reds
Today, 10:35 PM
PIT
Pirates
CIN -160 O/U 7.5
BOS
Red Sox
Today, 11:05 PM
BAL
Orioles
BOS -145 O/U 9
LAA
Angels
Tomorrow, 12:10 AM
HOU
Astros
HOU -170 O/U 9.5
SD
Padres
Postponed
COL
Rockies
SD -185 O/U 10
MIA
Marlins
Tomorrow, 1:40 AM
ARI
Diamondbacks
ARI -130 O/U 8.5
TEX
Rangers
Tomorrow, 1:45 AM
SF
Giants
SF -150 O/U 7
MLB
MLB Play of the Day for Tuesday, April 20: St. Louis Cardinals vs. Washington Nationals
Cards are in line to rake against Patrick Corbin
By Reed Wallach - Apr 20, 2021, 2:11pm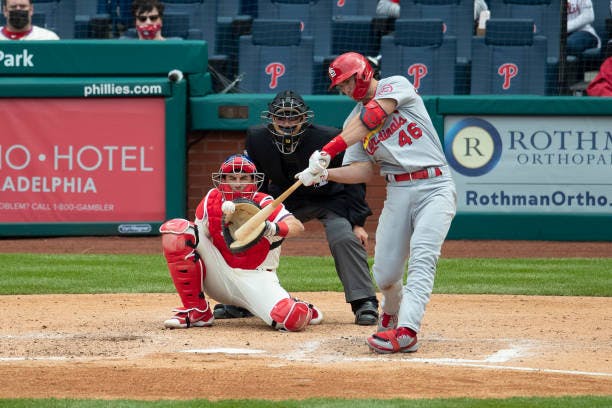 The St. Louis Cardinals look to make it back-to-back wins over the Washington Nationals on Tuesday night.
You can get ALL of our best bets on every MLB each day here!
Get all of BetQL's best bets for the MLB season! Dating back a full calendar year, our five-star (max-value) bets have won 61% of the time!
St. Louis Cardinals (+110, 9.5) vs. Washington Nationals - 7:05 PM EST
The BetQL Model has a ⭐⭐⭐ play on the Cardinals in the nation's capital. The Model makes the Red Birds slight favorites in this matchup, -102, showing an edge to the road team. 
St. Louis should be favored in this one due to their ability to crush left handed pitching. Lefty Patrick Corbin will be on the mound for the Nationals, who will be in trouble against a dangerous Cards lineup. 
Paul Goldschmidt and co. have raked against lefties, posting a .934 OPS in 2021, head and shoulders above the rest of the league. Not to mention, Corbin has struggled this season. 
He has an ERA of 21.32 in two starts this season, unable to get through six full innings combined. After being placed on the COVID-19 list right before the season, Corbin hasn't been able to find his footing just yet. Tuesday night may not be the spot for him to figure it out and this will likely be a third straight early exit for the southpaw. 
Behind him, the Nats bullpen isn't going to be much help. After the Cards blitzed Monday's starter Joe Ross for 10 runs, Washington had to use three relievers and one position player to get through the game. A taxed pen, and a lefty dominant lineup will spell trouble for Dave Martinez's Nats. 
While Cardinals starter Adam Wainwright is far from his former self, a 7.11 ERA in his 16th season, the team should have its full bullpen available to keep down Washington after St. Louis' relievers were relatively unscathed in Monday's victory. 
St. Louis should be favored against the flailing Nationals, who are sending out a pitcher who is far from ready to handle a lineup with this much pop. 
Pick: Cardinals +110