LIVE
NYY
Yankees
7
BOT 9th
TEX
Rangers
4
NYY -150 O/U 8.5
CLE
Indians
5
TOP 7th
LAA
Angels
4
LAA -120 O/U 7.5
HOU
Astros
3
TOP 7th
OAK
Athletics
3
HOU -120 O/U 8
ARI
Diamondbacks
1
BOT 5th
LAD
Dodgers
1
LAD -275 O/U 7.5
DET
Tigers
2
BOT 5th
SEA
Mariners
0
SEA -120 O/U 8
COL
Rockies
1
BOT 4th
SD
Padres
1
SD -235 O/U 7
SF
Giants
4
FINAL
CIN
Reds
2
CIN -125 O/U 8
MIA
Marlins
3
FINAL
PHI
Phillies
8
PHI -190 O/U 7.5
TB
Rays
13
FINAL
BAL
Orioles
6
TB -160 O/U 9
NYM
Mets
4
FINAL
ATL
Braves
3
ATL -160 O/U 8.5
BOS
Red Sox
0
FINAL
TOR
Blue Jays
8
TOR -130 O/U 9
CHW
White Sox
4
FINAL
MIN
Twins
5
CHW -150 O/U 8.5
WAS
Nationals
3
FINAL
CHC
Cubs
6
CHC -110 O/U 9
PIT
Pirates
2
FINAL
STL
Cardinals
5
STL -125 O/U 7.5
MIL
Brewers
0
FINAL
KC
Royals
2
MIL -180 O/U 7.5
MLB
MLB Play of the Day for Friday, April 30: New York Mets vs. Philadelphia Phillies
The BetQL Model likes the Mets to get back on track Friday night
By Reed Wallach - Apr 30, 2021, 2:51pm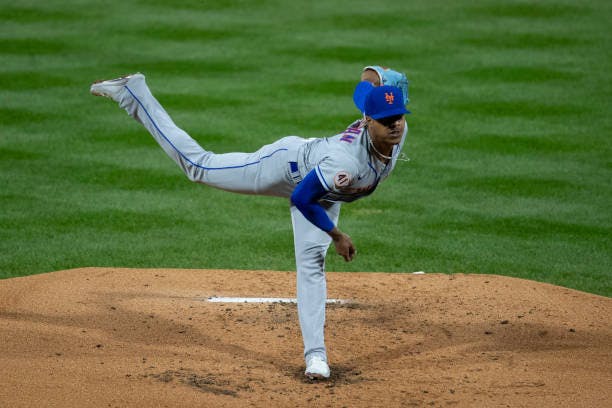 The New York Mets will try to shake off back-to-back lackluster performances with a divisional series against the Philadelphia Phillies. 
Can the Mets get their bats going heading into the weekend, or will the Phillies win at home after six straight road games.
You can get ALL of our best bets on every MLB each day here!
Get all of BetQL's best bets for the MLB season! Dating back a full calendar year, our five-star (max-value) bets have won 61% of the time!
New York Mets (-150, 8) vs. Philadelphia Phillies - 7:05 PM EST
The BetQL Model is backing the Mets to get back on track, with a ⭐⭐⭐⭐ play on New York -150. 
Marcus Stroman will look for a bounce back start after struggling last weekend against the Nationals. However, despite a poor start, he's been electric early this year, posting a 2.25 ERA, with a sub 1 WHIP. 
A great groundball pitcher, the right hander has faced the Phillies twice this season. In those starts, he's allowed seven hits over 12 innings pitched and one earned run. Considering the Mets have struggled at the dish -- one run over their last two games -- another strong start would go a long way. 
The BetQL Model is bullish on the Mets offense getting going on Friday night. The team is set to face Chase Anderson, who has an ERA north of 6 this season. Anderson has struggled with his command this season, walking more than four batters per nine innings. 
New York is just outside the top 10 in walk rate and are due for some positive regression in the hitting department. The Mets are leaving men on base at a top 10 rate in the MLB, but should be able to put Anderson in high stress situations with their ability to draw walks and drive in runs. 
If the Mets can get some early offense and a bounce back Stroman performance, they should be able to get back to .500 at 10-10 on Friday night. 
The BetQL Model believes the Mets should be lined at -169, so there is still plenty of value on them to take the first game of the series. 
Pick: New York Mets -150