MLB
Evaluating Mike Trout's 2019 MLB All-Star Game MVP Odds
Vegas listed the two-time All-Star Game MVP as the favorite
By Brandon Barbour - Jul 9, 2019, 2:49pm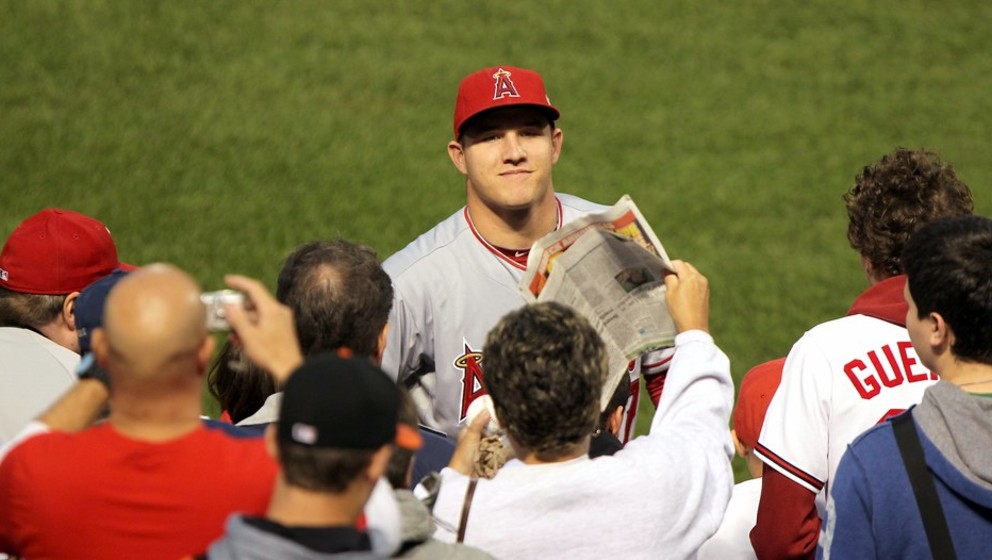 The sports world has had a hard time sustaining popularity with All-Star events. However, the overall popularity of these showcases has hardly been an issue for prop bettors. The favorite to win this year's MVP honor in the 2019 MLB All-Star Game might eventually go down as the greatest ballplayer of all-time.
Mike Trout has the best overall odds to win the award (+950), according to Vegas, but offers a solid return on investment. A lot of gamblers want to take risks on even larger returns in these scenarios, but sometimes it's best to trust the concept of dependability.
Loving The Spotlight
Mike Trout is making his eighth-consecutive All-Star appearance. He will hit third in the American League lineup, which is a big deal because it means that he will most likely get at least two at-bats in the contest, possibly even three. In fact, Trout has had at least three plate appearances in the last five All-Star games he has participated in. Starters typically have an edge in earning the award since they usually receive more chances to stand out during the event due to increased playing time. 
Trout has logged a hit in every All-Star game that he has been a part of and has recorded at least one RBI in three of his last four. His consistency against world-class pitching has been remarkable, but what else would you expect from the greatest player on the planet? Overall, Trout is 7-for-15 with five extra-base hits (two home runs), four RBI, four runs, and three walks in All-Star Games.
The MVP award also hinges on the outcome of the game. The AL has won six straight All-Star Games and a member of that league took home the award each time. Alex Bregman, Robinson Cano, and Eric Hosmer took home the award previously, but Trout has a couple of All-Star Game MVP trophies to his name already. Trout took home the award (and prize vehicles) in 2014 and 2015. He went 2-for-3 with a double, triple, and two RBIs in a 5-3 AL win in 2014 and then homered and scored twice in a 6-3 AL win in 2015.
Zoned In At The Dish
It just so happens that Trout entered the All-Star break as one of the hottest hitters in the league, as well. Over his five-game hitting streak for the Los Angeles Angels right before the break, he went 8-for-20 with six round-trippers, 10 RBIs, and seven runs scored. He currently leads the AL in homers (28) and RBIs (67), all while hitting .301 with a 1.099 OPS. It's turning out to be one of Trout's best seasons, and he's on pace to top his career-high 41 long-balls.
Trout deserves every bit of praise he receives in the game of baseball. He is a walking trophy case with his two regular season MVPs, two All-Star Game MVPs, a Rookie of the Year honor, and six Silver Slugger designations. Put your money on the red hot Mike Trout, kick back and enjoy the Midsummer Classic.