WAS
Wizards
Today, 11:40 PM
ATL
Hawks
ATL -8 O/U 237.5
IND
Pacers
Today, 11:40 PM
CLE
Cavaliers
IND -9 O/U 229
NOP
Pelicans
Tomorrow, 12:10 AM
MEM
Grizzlies
MEM -9.5 O/U 229.5
MIL
Bucks
Tomorrow, 12:40 AM
SAS
Spurs
MIL -7 O/U 233.5
HOU
Rockets
Tomorrow, 2:10 AM
POR
Trail Blazers
POR -14 O/U 238
UTA
Jazz
Tomorrow, 2:10 AM
GSW
Warriors
UTA -2 O/U 225.5
NCAA Tournament 2022: 2 Teams to Bet Early
Bet on teams that thrive at acquiring transfers and bring back key players
By Reed Wallach - Apr 13, 2021, 8:13pm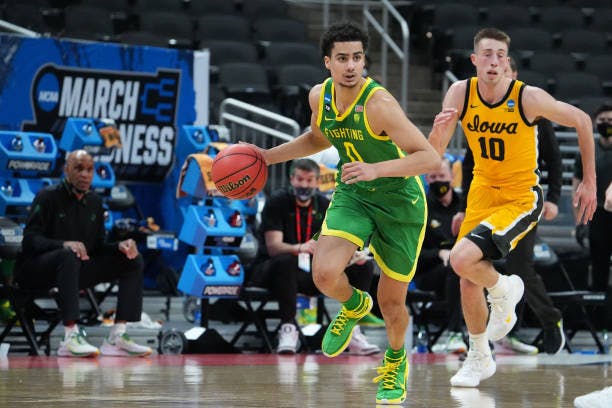 The 2020-2021 college basketball season may have just ended, but there is always a reason to look ahead to next season. 
There is a massive rise in transfers this offseason, so there is some more uncertainty around the sport than most years, but we will still take a pulse of several teams that show value at this point. 
Here is the top half of the odds board, with two teams sticking out as smart wagers ahead of the 2021-2022 season.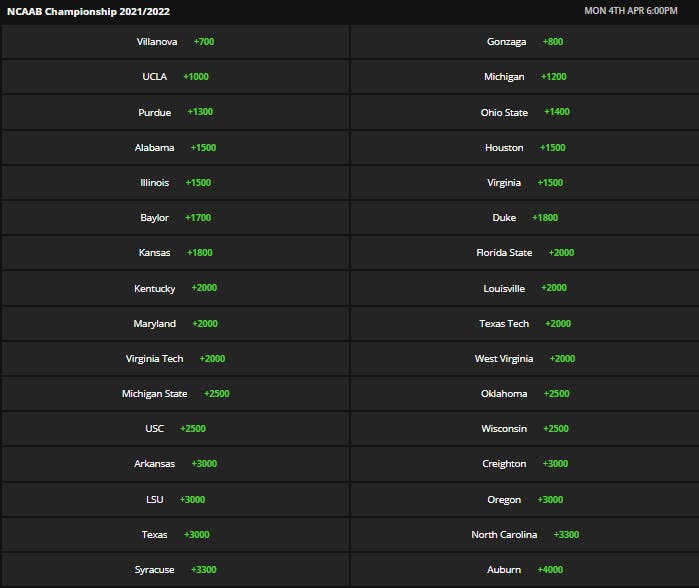 Ohio State (+1400)
The Buckeyes were upset in the first round of the 2021 NCAA Tournament by Oral Roberts as a No. 2 seed, discrediting what was a fantastic season in Columbus. However, the team should be just as good, if not better next season. 
The club brings back two dynamic scorers in Duane Washington Jr. and E.J. Liddell as well as several other rotational pieces such as Zed Key and Justice Sueing. 
Coach Chris Holtmann already hit the transfer portal and scooped up former Penn State guard Jamari Wheeler to replace Florida State transfer C.J. Walker. Holtmann has had great success adding pieces in the offseason and I expect him to replenish the Ohio State rotation by way of transfers. 
OSU is going to need to clean up their defense, they finished the year 82nd in KenPom's defensive efficiency metric despite being fourth on the offensive end. But with the likes of Washington and Liddell back, I expect them to be in the mix for a top 2 seed yet again.
Oregon (+3000)
Oregon finished the season as hot as anyone, but ran into a matchup nightmare against USC in the Sweet 16. Despite losing guard Chris Duarte, the Ducks are set to bring back several key contributors, namely Will Richardson. 
Dana Altman also has the No. 9 recruit in ESPN's top 100 in 6'11" Nate Bittle. He joins a frontcourt that includes Eric Wiliams, Franck Kepang, and should get N'Faly Dante back after he tore his acl early last year. 
While UCLA and USC will steal the offseason headlines in the PAC-12 after deep NCAA Tournament runs, Altman will have his team ready to go for next season with a reloaded team and an always dangerous matchup zone. 
Another reason to be bullish on Oregon is the fact that they always do well in the transfer market. If you haven't notice, I see this as the most important storyline heading into next season. I'm banking on the usual cast of characters to dominate the transfer market and build strong rosters.
don't envision that Altman is done building the 2021-2022 Ducks, and would expect him to bring in at least one key contributor ahead of next season. 
Don't sleep on the Ducks like many did ahead of the NCAA Tournament.