MLB
Using Our MLB Model To Dominate A Slate
August 28th was a great day to be a BetQL premium member
By Brandon Barbour - Aug 29, 2019, 1:37pm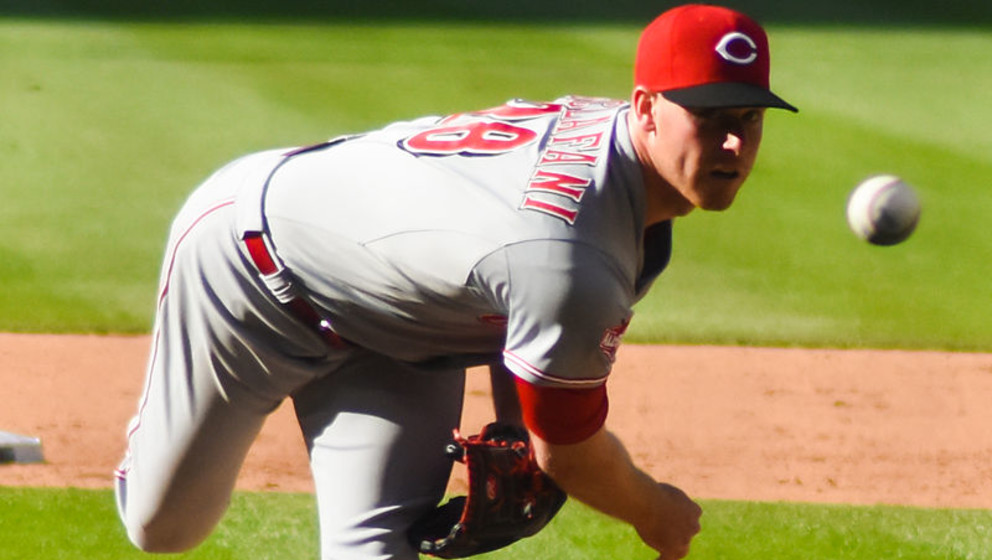 Consensus: Braves -1.5 run line (+120)
BetQL Model: Braves -1.5 run line (-132)
Our Run Line Rating: ★★★★★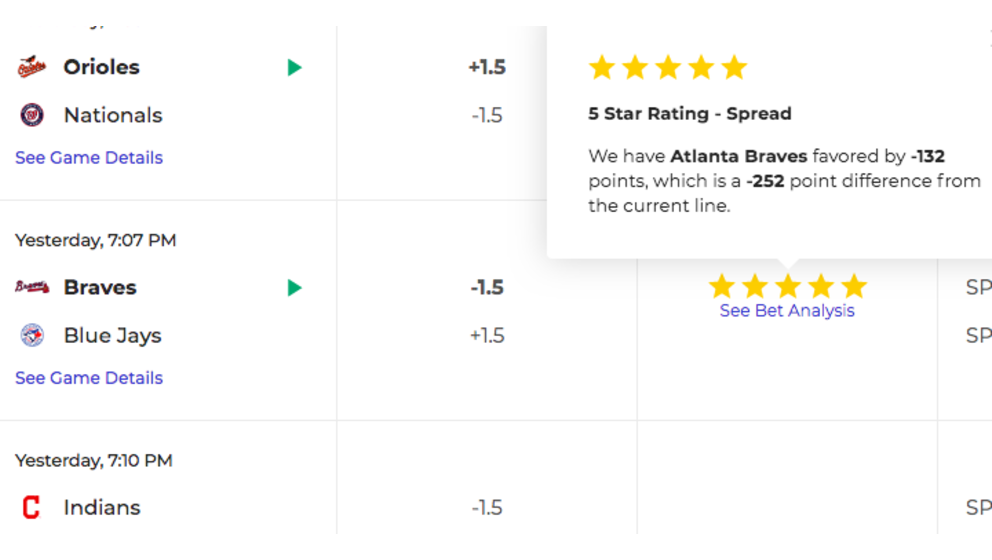 Situation Before First Pitch
The Atlanta Braves came into their road matchup with the Toronto Blue Jays as underdogs to cover the spread. However, BetQL had the Braves as a favorite at -132, a whopping 252-point difference. It was heavily advised to get action on Atlanta's spread yesterday and here's why.
Toronto Blue Jays pitcher Jacob Waguespack had been on a nice stretch over his past three appearances, posting a 2.81 ERA over 16.0 innings of work. Toronto had lost six of eight, with four of the losses being by two or more runs. Waguespack's recent ERA had a lot to do with this run line being so lopsided, but his numbers indicated that he was due for some regression.
Waguespack has been very fortunate over his previous three outings, owning a 4.46 FIP and an incredibly low .167 BABIP. Opponents had racked up a massive 27.3 percent line drive rate over the span, but those hard-hit balls had been right at defenders. Basically, Waguespack was due for a pounding. The Atlanta offense has been terrific against right-handed pitching this season, tallying the second-best OPS and third-most long-balls in the NL.
How It Played Out
The Braves offense tagged Waguespack for five runs (three earned) over just 3.0 innings. Matt Joyce launched a three-run homer off of him before he finished the third and exited. There was a ton of work for the Toronto bullpen to take on and eventually, they paid the price as well, allowing another four runs in the battle. Freddie Freeman continued his dominance over righties, clubbing his 28th homer of the year off a right-handed arm.
Mike Foltynewicz managed a serviceable outing and the solid Atlanta bullpen held on to win by five runs, covering the spread with ease. This five-star rating represented the maximum edge possible and the model showed that the Braves' run line should have been favored.
To unlock all of the best run line bets on today's slate, upgrade to a BetQL premium package!
Consensus: Red Sox -190
BetQL Model: Red Sox -300
Our Moneyline Rating: ★★★★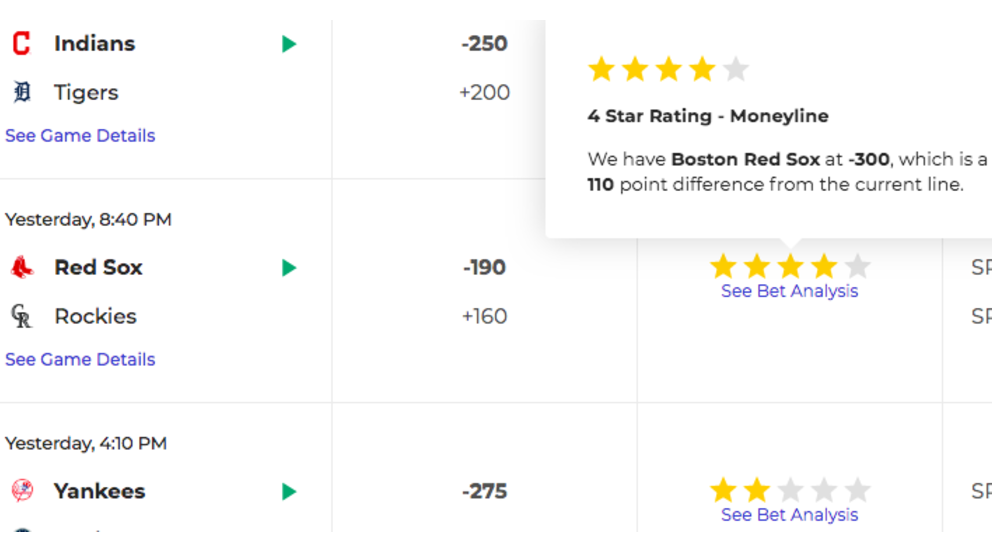 Situation Before First Pitch
The Boston Red Sox came into Coors Field as consensus favorites for this game at -190, but BetQL's model had their moneyline pegged at -300. The 110-point difference designated this moneyline with a four-star rating, suggesting that Boston should be a bigger favorite.
The Red Sox had won eight of 11 coming into this contest. Eduardo Rodriguez was due to start the game and Boston had won 20 of his 27 starts this season. More importantly, the Red Sox offense had been sizzling over their last handful of games and they drew struggling rookie pitcher Peter Lambert.
Lambert had been awful all season, but his month of August had been particularly dreadful. The Colorado Rockies starter tallied a 9:17 K:BB ratio over his previous five outings and he racked up a horrific 7.77 ERA over that same span. Lambert allowed nine long-balls over 40.2 innings at home in 2019 going into this one. 
How It Played Out
As expected, Lambert was lit up by the scorching Boston offense. He gave up five runs over 4 1/3 innings, allowing homers to J.D. Martinez and Xander Bogaerts. Then, the Rockies' second-worst ranked NL bullpen allowed two more round-trippers to Rafael Devers and Bogaerts.
Boston wound up easily winning 7-4. BetQL nailed this one, giving bettors an edge to capitalize on the consensus moneyline while giving existing Red Sox supporters some comfort.
Let our model help you nail your MLB moneyline bets every single day!
Consensus: 8 runs
BetQL Model: 6.7 runs
Our Total Rating: ★★★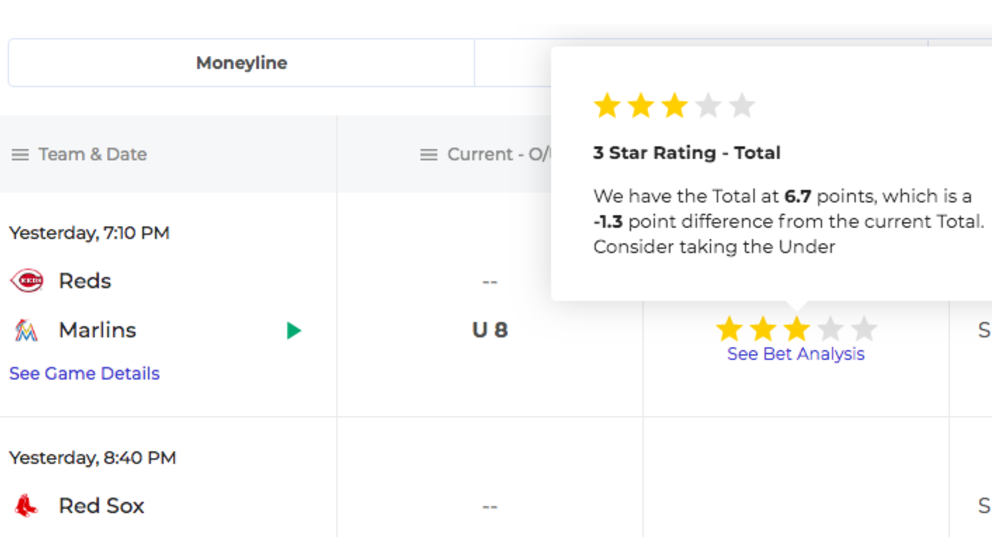 Situation Before First Pitch
The Cincinnati Reds and Miami Marlins had a consensus run total of 8.0 runs in yesterday's matchup. However, BetQL had the over/under set at just 6.7 runs, making the under seem much more appealing.
Eight runs for a matchup between two of the worst offenses in the NL came as an overshot. The Reds rank second-worst in run production on the road this season and the Marlins rank worst overall in the NL pretty much every major offensive category. Marlins Park is also regarded as a pitcher-friendly atmosphere.
Anthony DeSclafani had two dominant outings prior to this matchup, allowing two runs over 11.0 innings. The Marlins had scored just 14 runs over their last four games coming into this one. DeSclafani has had more success against right-handed bats this season and the Marlins typically feature six in their everyday lineups. The Cincinnati starter owned a hefty 26.0 percent strikeout rate against righties, including a dismal 3.4 percent walk rate. All signs pointed to DeSclafani dominating while the Reds offense would also struggle to put up too many crooked numbers themselves. 
How It Played Out
The Reds managed to peg Alcantara in the first inning with a three-run big-fly by rookie phenom Aristides Aquino. However, their bats cooled off and mustered just two runs over the rest of the game, one being a solo homer by Eugenio Suarez, his fourth in as many games.
DeSclafani was dominant, allowing just two hits over 7.0 shutout innings. He walked one and struck out eight, adding to his string of splendid outings. The run total finished well below the consensus 8.0 run line (5-0 was the final) and even finished below BetQL's 6.7 run line as well. 
BetQL's model provides a daily edge with our star rating system. Invest now and take advantage of these extra tools provided for everyday decision-making!