MLB
DraftKings Contrarian Picks (September 18)
Fire up these low-owned tournament options on DraftKings tonight
By Brandon Barbour - Sep 18, 2019, 9:18pm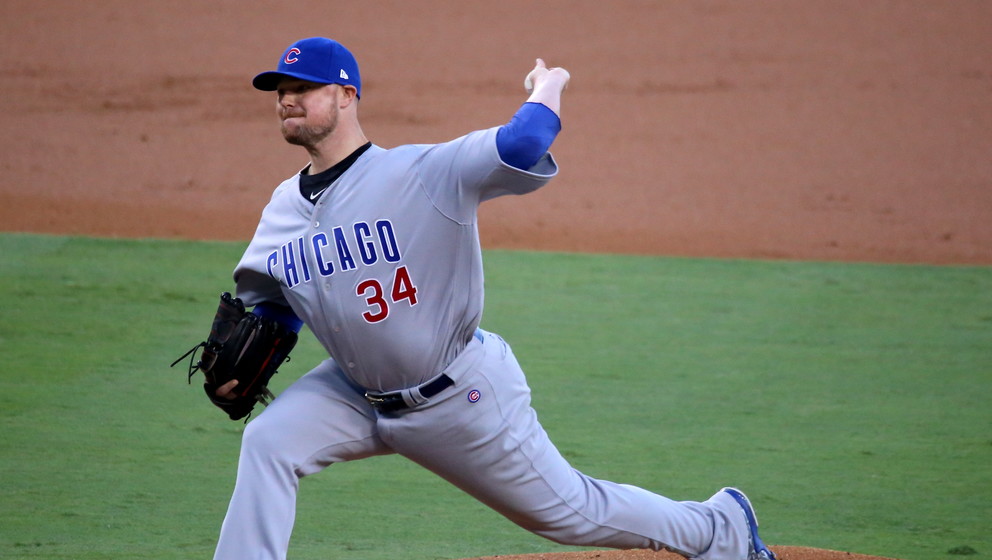 Adrian Houser ($5,300) draws an offense that strikes out more than any other NL club.
Travis d'Arnaud ($3,900) has a 60.5 percent hard hit rate over his last 14 games.
Jon Lester owns a 10.45 ERA over his last two outings and a Cincinnati Reds stack will be low-owned. 
Adrian Houser ($5,300)
Coming into the day tied for fourth-cheapest amongst DraftKings pitchers, Adrian Houser could be a real steal. The Milwaukee Brewers starter has had a rough couple of outings of late, but that was against the Chicago Cubs and St. Louis Cardinals offenses. He will draw a less dynamic opponent today as the Brewers will host the San Diego Padres.
The Padres have scored the third-fewest runs in the NL this season and rank third-worst in OPS (.727). Over their last 14 games, they've managed to plate just 50 runs. That averages out to 3.57 runs per contest. Their .206 team average and .120 ISO over the stretch is pitiful and Houser should benefit greatly from them.
Lock in your favorite MLB plays and optimize your lineups using the powerful tools on RotoQL!   
Houser has posted a terrific 26.5 percent strikeout rate since becoming a full-time starter at the end of July and San Diego strikes out more than any other team in the NL. Houser's 53.4 percent ground ball rate should keep him out of trouble, too. Houser's 3.12 ERA at home is much better than his 4.42 road ERA. There's reason to be optimistic here with this affordable arm.
Travis d'Arnaud ($3,900)
The Tampa Bay Rays struck gold when they acquired Travis d'Arnaud for practically nothing this season. The catcher has stayed healthy and has produced one of his best seasons as a pro. He has been especially hot of late and is relatively cheap in DFS.
The former top prospect has posted a blistering .876 OPS over his last 14 contests, launching three homers and driving in 17. His 60.5 percent hard hit rate over the stretch of games is just amazing and he's hitting third behind a scorching Austin Meadows right now, providing d'Arnaud with plenty of RBI opportunities. Jump all over this catcher.
Cincinnati Reds Stack
Jon Lester has been a disaster during the second half. He owns a 6.86 ERA over his last eight starts and an even more horrendous 10.45 ERA over his last two outings. He is notorious for starting off hot and falling hard as he posted a 4.50 ERA in the second half last season as well.
The Cincinnati Reds have done well against him, tagging him for six earned runs over 10 2/3 innings this season. Opponents have tallied a 28.7 percent line drive rate against the southpaw over his last eight contests. The Reds bats aren't great, but Lester is getting annihilated by everyone right now. Fire up Eugenio Suarez, Aristedes Aquino and company tonight.
Note: The advice above is the writer's opinion only and does not represent the stance or interest of BetQL or RotoQL in any way.