NFL
Week 4 NFL Opening Line Analysis
An early look at some lines that are sure to move before kickoff
By Konner Dozark - Sep 24, 2019, 5:52pm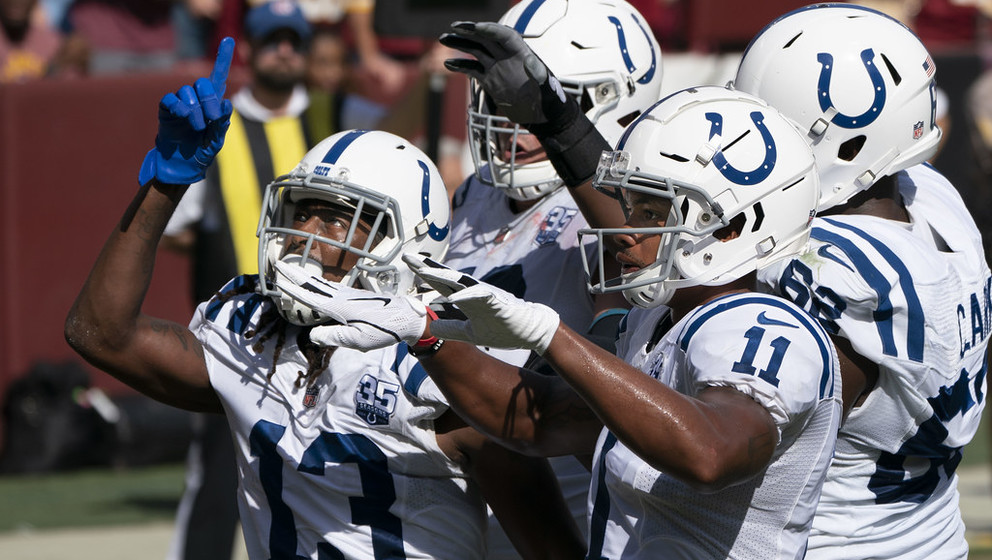 Due to all of the Philadelphia Eagles' injuries, the Green Bay Packers (-3) will likely become more of a favorite as the week rolls along. 
Jalen Ramsey's status could play a factor on Jacksonville Jaguars/Denver Broncos odds. 
T.Y. Hilton and Darius Leonard are both questionable for the Indianapolis Colts against the Oakland Raiders and their status could shape the pre-game odds.
Jay Gruden's decision to stick with Case Keenum or go with rookie Dwayne Haskins in Week 4 will likely determine the closing odds in the Washington Redskins/New York Giants game. 
Thursday, 8:20 pm EST
The first game of Week 4 takes us to Green Bay for Thursday Night Football, where the flaming-hot Packers square off against a beat-up and underachieving Philadelphia Eagles team. The initial thought that comes to mind is that it's probably the worst timing for the Eagles to play their Thursday night game. Philadelphia is depleted at some key positions and with such a quick turnaround between games, there simply may not be enough time for some of their guys to get healthy. 
In Week 3, Eagles starting cornerback Ronald Darby (hamstring), pass rusher Derek Barnett (ankle) and 2019 first-round pick Andre Dillard (knee) were all injured and are all questionable heading into this game. The Eagles will also be without star defensive tackle Tim Jernigan as well as their best deep ball threat DeSean Jackson. Alshon Jeffrey, who also missed last week's game, is questionable.
To make matters worse, the Eagles have to travel to Green Bay, where the 3-0 Packers will be waiting. The Packers are well-equipped offensively with star wideout Davante Adams (198 yards receiving), a rising star in Aaron Jones (three touchdowns in three games) and Aaron Rodgers behind center. Rookie head coach Matt LaFleur and Rodgers seem to be on the same wavelength thus far as well. 
If Jeffery and the three players that were injured in Week 3 are ruled out heading into this matchup, expect the Packers to become bigger favorites. If you're planning on it already, placing a bet on Green Bay sooner rather than later might be a smart move, as the Packers are already five-point favorites as of Tuesday afternoon. 
Sunday, 4:25 pm EST
The Jacksonville Jaguars are coming off an utterly-dominant defensive performance against the Tennessee Titans in Week 3. The Jaguars managed nine sacks and a forced turnover en route to their victory. Even with the constant distraction of Jalen Ramsey, both he and the Jaguars seemed to be fully focused when the game started. The "Sacksonville" defense from a couple years ago was brought back in that contest.
Quarterback Gardner Minshew is the one stealing all the headlines at the moment, but if Jacksonville's defense can consistently perform in a dominant fashion, they'll have a chance to win every week. 
Make the most educated bets possible by accessing our NFL Sharp Bets dashboard! 
On the other hand, the Broncos are 0-3 and haven't recorded a team sack despite the presence of head coach Vic Fangio and the dynamic duo of Von Miller and Bradley Chubb.  As surprising as that is, they just haven't found a way to get to the quarterback this season. 
The important factor to keep an eye on is Ramsey's availability. He missed practice on Monday and publicly requested a trade before last week's game. If he sits out this contest, expect the line to move as bettors react to the news. 
Sunday, 1:00pm EST
The Indianapolis Colts are coming off back-to-back wins and will be feeling confident ahead of a home tilt against the Oakland Raiders in Week 4. While the spread clearly favors the Colts' hot start, there are some concerns that need to be monitored ahead of this matchup.
Colts wideout T.Y. Hilton re-aggravated a quadricep injury that had been bothering him the week prior and left the game early in Week 3. He is officially listed as questionable ahead of this game and his status is something to keep an eye on. Superstar second-year linebacker Darius Leonard suffered a concussion and is also questionable to play next week. We will have to monitor the situation of the reigning NFL leading tackler. The Colts will also be without starting safety Malik Hooker for the foreseeable future as he recovers from a torn meniscus in his knee. 
Since Indianapolis could be short-handed at these three key spots against the Raiders, the line could move slightly in Oakland's favor, even though they've struggled mightily in recent weeks. 
Sunday, 1:00pm EST
The Washington Redskins lost again on Monday night and Case Keenum turned the ball over to the Chicago Bears five times. Sitting with an 0-3 record, head coach Jay Gruden has some big decisions to make ahead of next week's divisional matchup against the New York Giants. With Washington's first-round pick Dwayne Haskins waiting in the wings at quarterback, it remains to be seen if the coach will make the switch. If he does, the line would likely move slightly as a result. 
Saquon Barkley unfortunately sustained an ankle injury in Sunday's win over the Buccaneers and has been ruled out for four-to-eight weeks. Even with the Giants' most talented weapon sidelined for a good portion of this season, the Giants were still listed as the slight favorites, most likely due to Daniel Jones' coming out party in Tampa and the fact that this game will be played at MetLife Stadium.