NFL
Evaluating Andrew Luck's 2019 MVP Odds
Coming off of a resurgent 2018 campaign, Luck is poised for a huge year
By Dave Vest - Aug 6, 2019, 2:12pm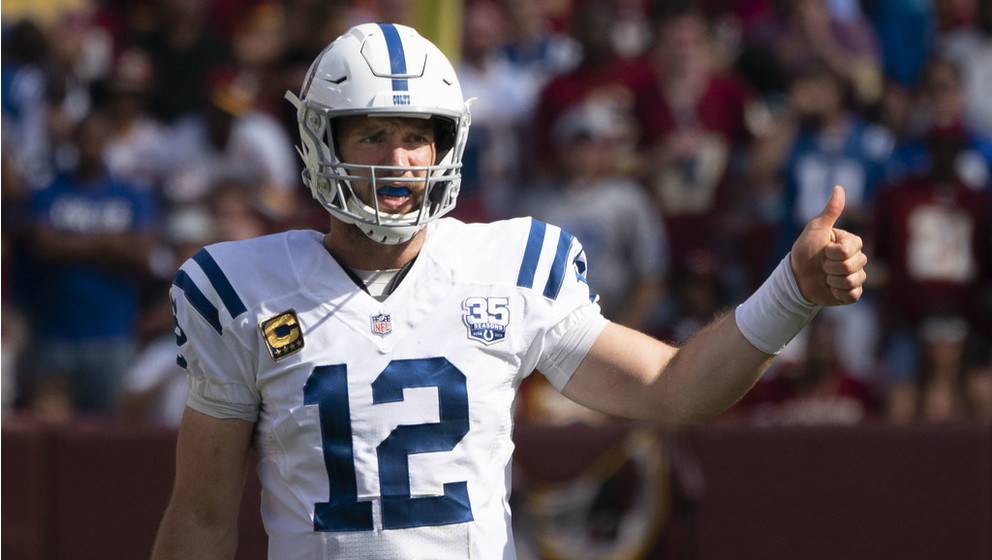 Although Patrick Mahomes (+600) is favored to repeat as NFL MVP in 2019, Andrew Luck (+900) has a new assortment of receiving options at his disposal and is playing behind one of the best offensive lines in football.
Assuming the calf injury that is nagging him early in training camp doesn't become a serious issue, Indianapolis Colts quarterback Andrew Luck is a smart pick to win the NFL's Most Valuable Player award in 2019.
DraftKings Sportsbook lists Luck, 29, at +900 to win MVP, behind only Kansas City quarterback Patrick Mahomes at +600.
"I'm certainly challenging myself to be a better quarterback than I've ever been," Luck recently told Sports Illustrated. "If I lose that motivation, then I think it's time to not play. I don't see how it would be fun."
Players across the NFL recently voted Luck No. 20 for the NFL Network's "Top 100 Players of 2019" program, but frankly that's just silly. When healthy, Luck has proven he's an elite player, and he's just now entering the prime of his career.
Luck, of course, won the Comeback Player of the Year Award for his efforts in 2018 after sitting out all of 2017 because of a shoulder injury that threatened his career. He completed 430 of 639 passes for 4,593 yards, including 39 touchdowns and just 15 interceptions last season. Only Mahomes threw more touchdown passes (50) than Luck, and only Pittsburgh's Ben Roethlisberger completed more passes (452).
Luck again will be looking to complete passes to good friend T.Y. Hilton, with whom he entered the NFL in 2012, Eric Ebron and Jack Doyle, as well as newcomers Devin Funchess (free agent) and Parris Campbell (draft pick). 
Ebron led all NFL tight ends with 13 touchdown receptions in his first year with the Colts. He labeled Luck "phenomenal" after just one season as his teammate.
An up-and-coming offensive line and steady running backs Marlon Mack, Nyheim Hines and Jordan Wilkins cement the Colts' rushing attack, and if it can be effective, Luck likely will put up 2018-like passing numbers again in 2019.
Luck thrived under first-year head coach Frank Reich, a former NFL quarterback, last season. The pair developed a strong working relationship based on their high football IQs, mutual respect and trust. The two led the Colts into the second round of the AFC playoffs in what some gurus believe was only a preview of what this team, under these two leaders, can accomplish. Some experts expect the Colts to go even deeper into the playoffs in Reich's second season. If they do, that will bode well for Luck's bid for MVP.
Check out BetQL's NFL dashboard for value bets, sharp bets, updated lines and totals and more!
"He has a great offensive mind," Colts Offensive Coordinator Nick Sirianni told Colts.com about Luck. "It's not just during the game; it's at all times. It's more visible obviously during the games because you can see him talking to myself, you can see him talking to Frank, you can see him talking to the receivers, the offensive line.
"That's all visual on a Sunday. But that's what we see every day... it's a huge advantage for us to have a guy like Andrew with his football knowledge to be around every day. It's almost like when they get tired of listening to me it's just an easy, 'Alright, well if you don't do it this way, he's the one throwing you the ball and he doesn't want you to do it this way either,' and he'll let everybody know about it. But it's such a great advantage that we have with him."
A quick peek at the 2019 schedule reveals Luck and the Colts will play games vs. out-of-division foes Pittsburgh, Kansas City, New Orleans and the Los Angeles Chargers. That means Luck will be going head-to-head against other star slingers such as Roethlisbeger, Mahomes, Drew Brees and Philip Rivers, respectively. Memorable robust performances in those games would go a long way toward Luck winning the MVP.
Now, about that calf injury that kept Luck out of the off-season workouts and mostly on the sidelines for the early chunk of training camp. Luck insists it won't keep him from missing the season opener on Sept. 8 vs. the Chargers. 
Having said that, Luck and the Colts will continue to exercise caution this preseason with regards to their franchise quarterback's health. In fact, don't be surprised – or scared off from betting on him to be the MVP – if he doesn't take a snap in any preseason games.
"We are all working on resolving this so it's not a lingering issue," Luck told reporters. "I could not live with myself if we got to a point in the season and say, 'Hey, I could've done this to take care of this issue, but I didn't because of X-Y-Z, whatever that is.' I'm not going to allow that to happen. I still have some emotional scars from that (shoulder injury in 2017) and that lives with me still, but I'm trying to use it in a positive way certainly for myself."
The advice above conveys the writer's view and does not represent the stance or interest of BetQL.