CHA
Hornets
Today, 5:10 PM
WAS
Wizards
-- --
BOS
Celtics
Today, 5:10 PM
NYK
Knicks
-- --
IND
Pacers
Today, 5:10 PM
TOR
Raptors
-- --
PHX
Suns
Today, 6:10 PM
SAS
Spurs
PHX -9.5 O/U 225.5
MEM
Grizzlies
Today, 7:40 PM
GSW
Warriors
GSW -5 O/U 230
HOU
Rockets
Today, 11:10 PM
ATL
Hawks
ATL -11 O/U 232.5
ORL
Magic
Today, 11:10 PM
PHI
76ers
-- --
CLE
Cavaliers
Today, 11:10 PM
BKN
Nets
BKN -12.5 O/U 224.5
MIA
Heat
Tomorrow, 12:10 AM
DET
Pistons
-- --
LAC
Clippers
Tomorrow, 1:10 AM
OKC
Thunder
-- --
LAL
Lakers
Tomorrow, 1:10 AM
NOP
Pelicans
-- --
MIL
Bucks
Tomorrow, 1:10 AM
CHI
Bulls
-- --
DEN
Nuggets
Tomorrow, 1:10 AM
POR
Trail Blazers
-- --
UTA
Jazz
Tomorrow, 1:10 AM
SAC
Kings
UTA -11.5 O/U 226
DAL
Mavericks
Tomorrow, 1:10 AM
MIN
Timberwolves
-- --
NBA
The New York Knicks Have Become a Huge Liability for Sportsbooks
The Knicks hot streak is impacting the futures market
By Vikas Chokshi - Apr 22, 2021, 9:15pm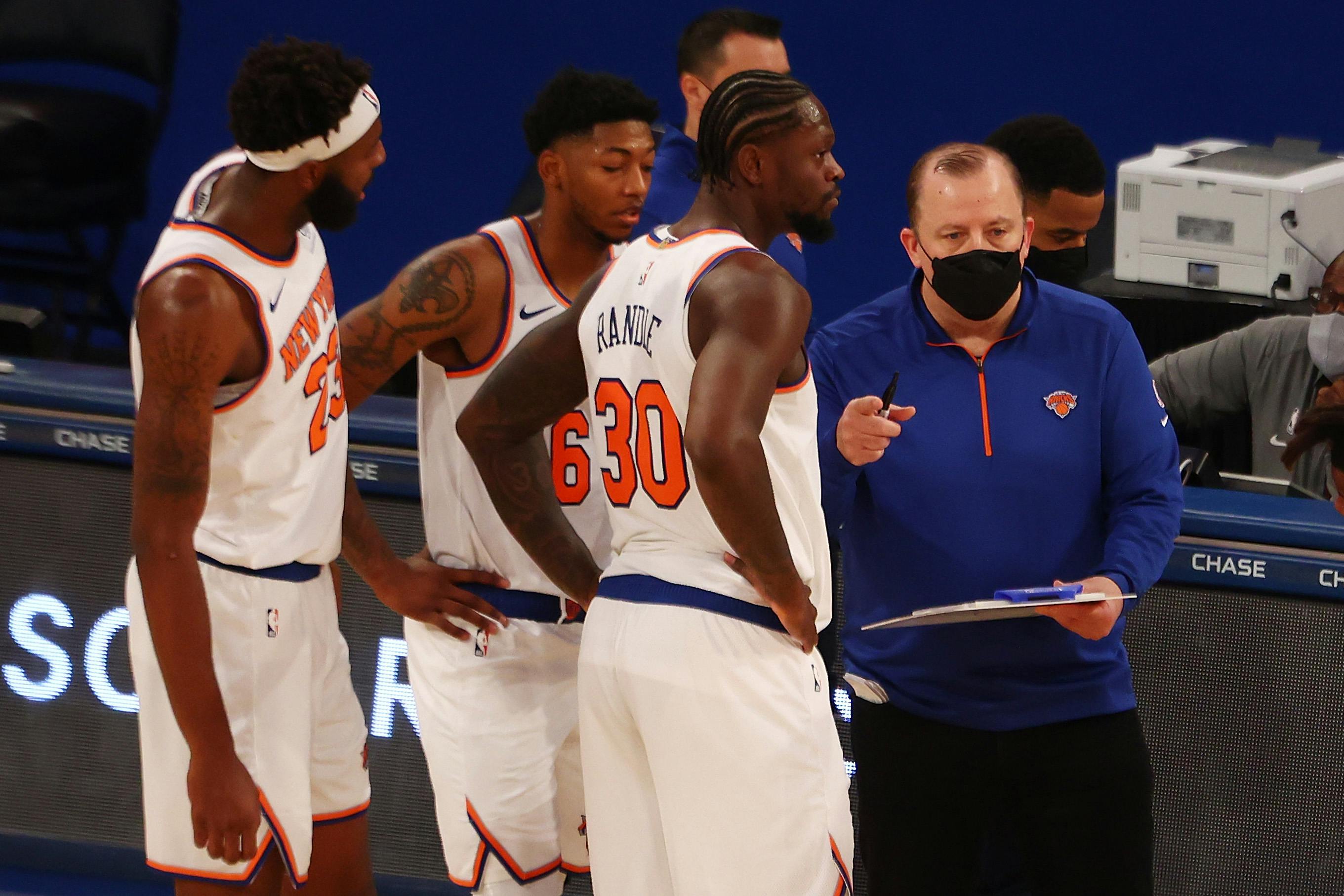 I'm a Chicago Bulls fan, but even I can admit that the League is better when the New York Knicks are winning. The Knicks are smoking hot and on an 8-game winning streak. The team currently sits in fourth place in the Eastern Conference and their chances to make the Playoffs are looking better by the day. From a betting perspective, the Knicks have also been blistering, as they've covered 11 games straight.
New York's odds to win the title currently sit at +25000 at PointsBet, and their odds to win the Eastern conference are +10000.
To breakdown how the Knicks streak is impacting the betting market, I talked to Jay Croucher, PointsBet Sportsbook's Head of Trading.
"We took $500 at 250-1 on the Knicks to win the title on Monday (to win $125K), and a month ago took bets of $2K at 150-1 (to win $300K) and $1K at 200-1 (to win $200K) on the Knicks to win the East," Croucher said. "The Knicks have become a substantial liability to win the title for PointsBet."
One of the biggest reasons for New York's success can be attributed back to their head coach, Tom Thibodeau. His staple has always been defense, and it's working as New York's D has been transformed. The Knicks are in the top-5 of several key defensive metrics this season, and they aren't letting up.
"All season we've expected the Knicks to regress back to their pre-season expectations - particularly their defense - but they've sustained this level of performance for 60 games now, with the 4th ranked defense and 9th best net ranking in the league," the oddsmaker said. "Improvement - especially from Julius Randle and RJ Barrett - was thought to be unsustainable, but it has in fact sustained, and this appears to be just who they are now."
The team's recent success has also propelled Thibodeau to the top of the list when it comes to the Coach of the Year award. Just a week ago his odds to win the award sat at around +2500. Thibs now is one of the favorites to win, coming in at +500 across several sportsbooks.
Julius Randle has also been on an impressive tear in his own right, and is the current favorite to win the NBA's Most Improved Player award.
The Knicks are back, and fans and gamblers alike are both enjoying the resurgence.
"Incredibly, the Knicks win total over/ under before the season was 22.5 and they cleared that just 44 games into the season," Croucher stated.
New York's against the spread streak will regress at some point, but Knicks mania is here to stay! Expect bettors to keep riding them until the season ends.