WAS
Wizards
Today, 11:40 PM
ATL
Hawks
ATL -8 O/U 237
IND
Pacers
Today, 11:40 PM
CLE
Cavaliers
IND -8.5 O/U 229.5
NOP
Pelicans
Tomorrow, 12:10 AM
MEM
Grizzlies
MEM -9 O/U 229.5
MIL
Bucks
Tomorrow, 12:40 AM
SAS
Spurs
MIL -7 O/U 233.5
HOU
Rockets
Tomorrow, 2:10 AM
POR
Trail Blazers
POR -14.5 O/U 238
UTA
Jazz
Tomorrow, 2:10 AM
GSW
Warriors
UTA -2 O/U 225
NBA
LaMelo Ball's Return Shifts NBA Rookie of the Year Odds
Significant move in the futures market upon the news that Ball will return this season
By Reed Wallach - Apr 20, 2021, 3:28pm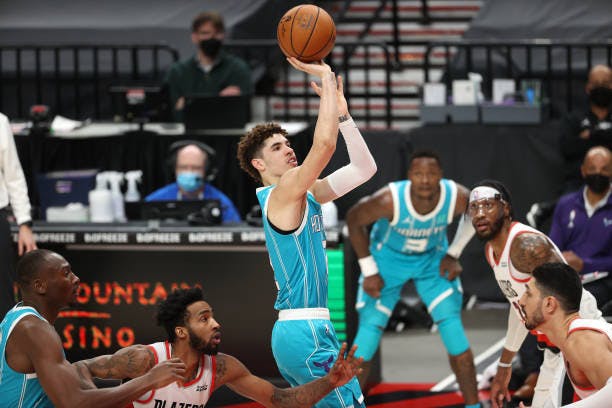 LaMelo Ball is inching closer to making his return to the court after fracturing his wrist on March 20th.
As ESPN's Adrian Wojnarowski reports, there is hope that Ball can return in about a week or so.
After analyzing the Rookie of the Year market eight days ago, I thought that the Hornets guard was a strong bet at +210, highlighting that any regular season action for Ball would likely lock up this award.
Upon the news that Ball will be back for a good portion of the regular season the market has made a pronounced move towards the Charlotte guard, making him the overwhelming favorite once again to take home the award.

After sitting as the slight favorite with Ball sidelined, TImberwolves wing Anthony Edwards has shifted back to +185.
With a timetable in place, Ball will likely be back for about 10 games this season, which would mean he would play in 51 games. He was the runaway for the award before getting hurt, and will still be playing about 70% of the season, which is more than enough to avoid any chatter about injury concerns in the voting process.
Before the news of his return was announced, Ball still may have won the award. Hornets reporter Rick Bonnell of the Charlotte Observer conducted a straw poll of potential voters which had Ball garnering the most votes.
The No. 2 pick in the 2021 NBA Draft is averaging just short of 16 points, six assists and just shy of six rebounds.
Assuming he comes back and can finish out the season, the Rookie of the Year race is over with Ball in line to take it home.