NBA
Sixers Host Heat In Major Early-Season Test On Saturday Night
Both teams are on the second half of a back-to-back, but will both be tested in a fantastic matchup
By Dan Karpuc - Nov 23, 2019, 5:17pm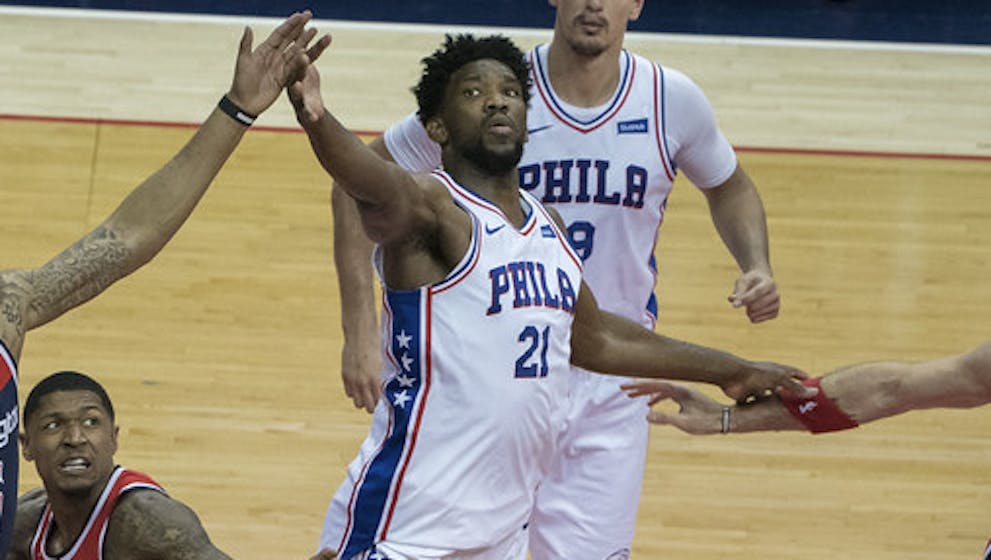 Heat (11-3) at 76ers (10-5)
PHI -4, O/U 212.5, Saturday 7:35pm EST
The Philadelphia 76ers (10-5) will host the Miami Heat (11-3) on Saturday night. It is the second half of a back-to-back for both squads. 
Last night, the Sixers beat the San Antonio Spurs in Philly (115-104) and are riding a three-game winning streak heading into this contest. They've gone 7-7 ATS and the over has gone 7-8 in their games so far. 
The Heat took down the Chicago Bulls on the road last night (116-108), are riding a five-game winning streak and have gone a remarkable 10-2 ATS this season. The over has gone 7-7 in their contests. 
Miami's Justise Winslow (concussion) will sit out another game and didn't travel with the team. Reserve Derrick Jones Jr. (hip) also didn't travel. Philadelphia's Josh Richardson (hip) missed his last two games and is questionable for this contest. 
Joel Embiid (load management) is expected to play in this game, despite playing on Friday night. He dropped 21 points, 14 boards and three assists in just 28 minutes against the Spurs and ended up on an organic minutes limit due to foul trouble.
Heat 
It's safe to say that no one could have expected Miami to get off to this start. After sitting out the first three games of the season due to the birth of his child, Jimmy Butler has been the de-facto leader, averaging 19.5 points, 5.6 rebounds, 7.0 assists and 2.8 steals in 34.3 minutes per contest. An impressive seven different Heat players average double-digit points (Butler, Kendrick Nunn, Goran Dragic, Bam Adebayo, Winslow, Tyler Herro and Duncan Robinson). It's worth noting that two of those players are rookies (Nunn, Herro) and that two veteran frontcourt players (Kelly Olynyk - 8.0, Meyers Leonard - 7.0) fall right outside of that group. Further, 11 different players average double-figure minutes. 
Get one free week of BetQL VIP access when you claim this MGM offer!
Coach Erik Spoelstra's team-first approach has led to some impressive results. As a team, Miami averages 26.6 assists per game (6th in the NBA). Finding the open shot has been the main focus and Miami's NBA-leading field goal percentage (48.3) is an indication of that. The Heat also rank third in three-point percentage (39.3). Defensively, Miami leads the NBA in steals per contest (9.8) and overall, the Heat rank 4th in point differential (+8.4). It's been a stellar start to the 2019-2020 campaign. 
76ers
Since some of Miami's main contributors are rookies (Nunn, Herro) or are being leaned on for the first time (Robinson), it's important to point out that the Heat are turning the ball over at an alarming rate (19.1 times per game). No other NBA team averages more turnovers per game than Miami. That's great news for Ben Simmons, Tobias Harris and Richardson (if he returns). All three of those players, especially Simmons, have shown a proficiency for getting out on the break and creating points. 
While the Heat's offensive numbers have been impressive, so have Philly's. They rank 5th in the NBA in assists per game (26.8) and have taken care of the ball better than Miami (16.9 turnovers). Further, they rank 5th in field goal percentage (47.2). One area they're below-average in at the moment is three-point percentage (34.8). They're clearly missing the long-range shooting abilities of J.J. Redick, who left the team in free agency during the offseason. 
DraftKings is offering a special promotion for BetQL users. Claim it and enjoy some risk-free bets!
All five 76ers starters are averaging double-figures in points per game (Embiid, Simmons, Richardson, Harris, Al Horford) and all five are impressively averaging over 3.0 assists per contest, which is an indication that they're willingly sharing the ball. Off the bench, Furkan Korkmaz, James Ennis III and Mike Scott have been the most reliable producers, which highlights the potential need for some additional depth before the trade deadline or on the free agent market. Nonetheless, Philadelphia's starting five stacks up against any other team in the Eastern Conference, including Miami. 
Prediction
Find out which team BetQL's NBA Model favors ATS and on the moneyline and whether the over or the under is the best bet! Nearly 60 of the bets ATS have been wagered on one team so far. Find out which team by using BetQL's Public Betting Dashboard!