NFL
Week 17: Public, Sharp And Community Insight
Valuable information from our dashboards and mobile app heading into the final week of the NFL's regular season
By Dan Karpuc - Dec 29, 2019, 3:57pm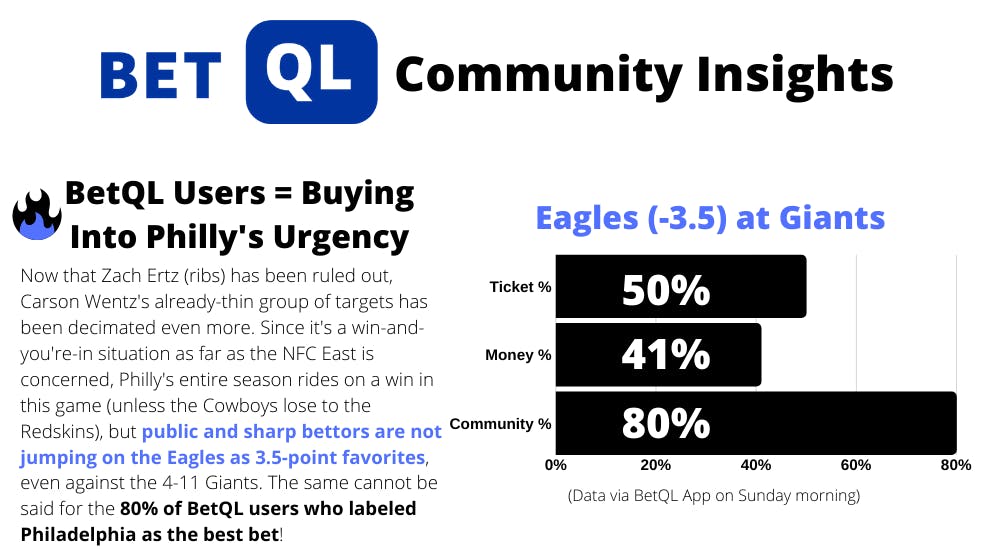 COMMUNITY BET
Eagles (8-7) at Giants (4-11)
PHI -3.5, 12/29, 4:25pm EST
As seen above, while only 50% of total bets and 41% of the total money has been wagered on the Eagles (-3.5), 80% of the BetQL Community believes that Philadelphia is the best bet against the spread with their season on the line. All the Eagles have to do in order to punch their ticket into the playoffs is win this game (if they lose, they can still get in, but would have to bank on a Cowboys loss to the Redskins). Zach Ertz (ribs) has been ruled out and Carson Wentz was already dealing with a depleted group of wideouts before losing his All-Pro tight end, so it will be very interesting to see who (if anyone) is able to step up within the Eagles offense this afternoon. Nonetheless, BetQL users still believe Wentz and company will figure things out and not only win, but cover the 3.5-point spread. 
Find out which team Ross Tucker likes against the spread in this matchup!
PUBLIC BET
Chargers (5-10) at Chiefs (11-4)
KC -10, 12/29, 1:00pm EST
VIEW GAME PAGE
In case you weren't aware, the Chiefs are getting hot at the right time. Kansas City has won five-straight games (and have covered in four-straight contests) and have attracted 67 percent of public bets. this Week 17 game means a lot for the Chiefs, who have clinched a playoff spot, but could either end up as the second, third or fourth seed in the AFC. They're currently in the third spot, but can move up to the second spot if they beat the Chargers in this game and the New England Patriots (somehow) lose to the Miami Dolphins. The Chiefs would move down to the fourth slot if they lose to the Chargers and the Houston Texans beat the Tennessee Titans. If those exact outcomes don't occur, they'll stay put in the third spot.
Not only did the Chiefs beat the Chargers in Los Angeles back on November 18th (24-17), but that win sparked the beginning of their current winning streak. While Patrick Mahomes and Kansas City's offense hasn't been overwhelmingly dominant, it's their defense that has stood out. Over the last four games, the Chiefs have allowed a total of 31 points and has held their opponents to single digits in three of those contests (including three points in Week 15 and Week 16). That fact doesn't bode well for the Chargers, who have scored 17 or fewer points in three of their last five contests. 
Visit BetQL's Public Betting Dashboard to unlock data for every Week 17 matchup!
SHARP BET
Saints (12-3) at Panthers (5-10)
NO -13.5, 12/29, 1:00pm EST
VIEW GAME PAGE
Despite the huge spread, expert bettors have been all over the Saints in this matchup. In fact, per BetQL's Sharp Picks Dashboard, 61% of total bets have been wagered on the Saints (-13.5), but a whopping 83% of the total money has supported them against the spread. With the top spot in the NFC still up for grabs and with major question marks surrounding the Panthers' ambition (and the status of Christian McCaffrey, who most likely won't see a full allotment of playing time), the sharps are clearly siding with Drew Brees and company. To make matters even worse for the Panthers, breakout wide receiver D.J. Moore (concussion) will miss this game, leaving rookie quarterback Will Grier (who threw three interceptions last week) without an important skill player. 
Unlock how the pros are betting on every Week 17 contest by using BetQL's Sharp Picks Dashboard!