LIVE
CLE
Browns
27
FINAL
JAX
Jaguars
25
CLE -7.5 O/U 48.5
MIA
Dolphins
20
FINAL
NYJ
Jets
3
MIA -7.5 O/U 46
ARI
Cardinals
17
FINAL
NE
Patriots
20
ARI -1 O/U 50.5
NYG
Giants
19
FINAL
CIN
Bengals
17
NYG -6.5 O/U 45
OAK
Raiders
6
FINAL
ATL
Falcons
43
OAK -3.5 O/U 53
TEN
Titans
45
FINAL
IND
Colts
26
IND -3 O/U 51.5
LAC
Chargers
17
FINAL
BUF
Bills
27
BUF -4.5 O/U 51
CAR
Panthers
27
FINAL
MIN
Vikings
28
MIN -3 O/U 50
SF
49ers
23
FINAL
LAR
Rams
20
LAR -5 O/U 44.5
NO
Saints
31
FINAL
DEN
Broncos
3
NO -17 O/U 36.5
KC
Chiefs
27
FINAL
TB
Buccaneers
24
KC -3.5 O/U 56
CHI
Bears
3
1st Q
GB
Packers
6
GB -8 O/U 44.5
SEA
Seahawks
Tomorrow, 1:15 AM
PHI
Eagles
SEA -6.5 O/U 48.5
BAL
Ravens
Wed 12/2, 12:10 AM
PIT
Steelers
PIT -10 O/U 41
NFL
Eagles Hope To Add To NFC East Lead Against The Browns
Philadelphia has a brutal end to their schedule while Cleveland is favored to make the playoffs
By Nick Ballistreri - Nov 18, 2020, 1:39pm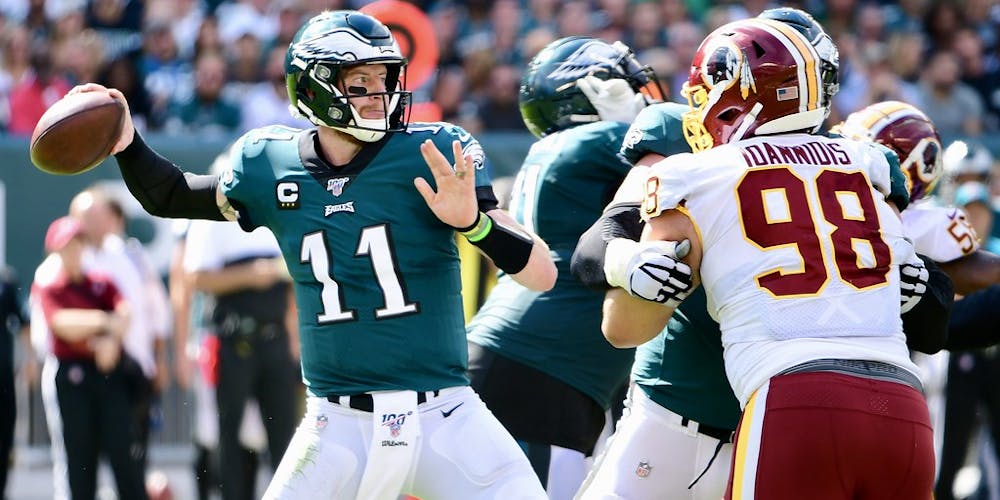 Quick-Hitters
The 6-3 Cleveland Browns (-155) are favored to make the playoffs, per FanDuel Sportsbook. The over has hit in five of Cleveland's last seven games and they're 3-6 ATS.
The Philadelphia Eagles (-154) are favored to win the NFC East, per BetMGM. The Eagles are 3-6 ATS this season.
Get all of BetQL's best bets for the upcoming NFL season! Dating back a full calendar year, our five-star (max-value) bets have won 61% of the time!
Browns Chipping Away
They may be flying under the radar, but the Cleveland Browns are squarely in the playoff race. First year coach Kevin Stefanki has done an admirable job leading this team, and with seven games to go, the Browns are 6-3 and right outside of the AFC playoff picture. The Browns (-155) are favored to make the playoffs, per FanDuel Sportsbook.
Their formula is simple: run the ball down the opposing team's throat, and to this point, their formula has succeeded with flying colors. Cleveland employs arguably the best running back duo in all of football in Nick Chubb and Kareem Hunt. Both ran for over 100 yards in their last game. They rank fourth in the league in rushing yards per game, coming in with a mark of 159.0. With Chubb looking healthy in his return, expect them to try and run all over the Philadelphia Eagles.
Even with all of their rushing success, Baker Mayfield hasn't shown the improvement the team was looking for in his third season. He's averaging just 190 passing yards per game and has thrown seven interceptions. He's not exactly hurting the team, but Mayfield isn't doing anything to convince them that he's the long-term answer at quarterback.
Interestingly enough, although the Browns are 6-3, their point differential stands at -27 (worst among AFC playoff contenders). It seems that this team may not be as good as their record indicates, but they'll have plenty of opportunities to prove the numbers to be wrong. The over has hit in five of Cleveland's last seven contests.
If you want to roster any Eagles or Browns players in your DFS lineups tonight, be sure to get a 3-day free trial on RotoQL to check out our projections!
Philly Futures, ATS Trend
The Eagles aren't a good football team. That was evidenced by their loss to the New York Giants last week (27-17) in a game that wasn't very close. Even with Philadelphia's struggles, they're in first place in the pathetic NFC East with a record of 3-5-1. Making the playoffs at this point would be a disappointment, because it's clear that this team isn't good enough to compete with the NFC's best, and a playoff berth would mean a much worse draft pick for a team in need of a young talent infusion.
Philadelphia (-154) is favored to win the NFC East, per BetMGM.
Perhaps what's most disappointing for the Eagles is the play of Carson Wentz. Although he isn't the culprit of all the struggles, he has regressed significantly this season and looks nothing like the MVP candidate of 2017. He's completing just 58.0 percent of his passes for 2,091 yards and has as many interceptions at touchdowns with 12. Again, he's not the sole reason the Eagles are struggling, but even ATS supporters (3-6) are getting burned.
That being said, the team is looking to stack up some wins with a brutal schedule coming up. After the Browns, the Eagles will face the Seattle Seahawks, Green Bay Packers, New Orleans Saints, and Arizona Cardinals. It's clear that they need this game against Cleveland, because they may not be favored in any game for the rest of 2020. It will be interesting to see if Wentz can play a clean game on the road in a big spot, as he's proven unable to do so this year. It's as close to a must-win game as you'll get in November.
If you think the Giants (+300), Dallas Cowboys (+700), or Washington Football Team (+800) can overtake the Eagles, then now may be the time to bet, per DraftKings Sportsbook.
Small Spread
When a 3-5-1 team visits a 6-3 team, you'd expect the six-win team to be favored by more than three points. This spread goes to show you how unimpressive the Browns have looked for most of the season. However, Cleveland hasn't exactly been consistent ATS, covering just 3-of-9 times. They've been winning, but it hasn't been pretty. The Eagles have an opportunity to steal a road game and get back on track, opening up an almost insurmountable NFC East lead. If the Eagles can control the Browns' rushing attack, they'll have a chance. However, that's proven much easier said than done to this point.