Philadelphia Eagles
vs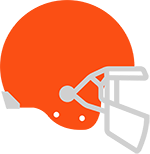 Cleveland Browns Prediction
Expect a close game with the Philadelphia Eagles winning 43% of simulations, and the Cleveland Browns 56% of simulations. In close games, turnover margin is especially important. The Philadelphia Eagles commit fewer turnovers in 38% of simulations and they go on to win 68% when they take care of the ball. The Cleveland Browns wins 72% of the simulations in which they commit fewer turnovers. Miles Sanders is averaging 54 rushing yards per sim. If he can have a great game with better than average rushing yards and at least a 1 rushing TD (30% chance) then he helps his team win 59%. Nick Chubb is averaging 73 rushing yards per sim. If he can have a great game with better than average rushing yards and at least a 1 rushing TD (37% chance) then he helps his team win 74%.
Philadelphia Eagles vs Cleveland Browns Prediction
Nobody would confuse the current Philadelphia Eagles team as a contender, but they enter this meeting with the Cleveland Browns in first place in the NFC East with a 3-5-1 record. The Browns are looking to start a winning streak of their own after their hard-fought 10-7 victory over the Houston Texans, and are currently 6-3 on the season. This game will be played on Sunday, November 22, at 1:00 P.M EST. The Browns are 3.5 point favorites on their home field.
Philadelphia Eagles Preview
The Eagles are not a good football team. That was evidenced by their loss to the New York Giants last week, 27-17, in a game that wasn't that close. Even with their struggles, they're in first place in the pathetic NFC East with a record of 3-5-1. Even making the playoffs at this point would be a disappointment, because it's clear that this team is not good enough to compete with the NFC's best, and a playoff berth would mean a much worse draft pick for a team in need of a young talent infusion.
Perhaps most disappointing for the Eagles this season is the play of Carson Wentz. Although he is not the culprit of all the Eagles struggles, he has regressed significantly this season, and looks nothing like the MVP candidate of 2017. He's completing only 58% of his passes for 2,091 yards, and has as many interceptions at touchdowns with 12. Again, he's not the sole reason the Eagles are struggling, but he's taken a step back and has potentially opened the door to be replaced after the season.
That being said, the team is looking to stack up some wins with a brutal schedule coming up. After the Browns, the Eagles will face the Seahawks, Packers, Saints and Cardinals. It's clear that they need this game against Cleveland, because they may not be favored in any game until their final two against Dallas and Washington. It will be interesting to see if Carson Wentz can play a clean game on the road in a big spot, as he's proven unable to do so this year. It's as close to a must-win game as you'll get in November.
Cleveland Browns Preview
They may be flying under the radar, but the Cleveland Browns are squarely in the playoff race. First year coach Kevin Stefanki has done an admirable job leading this team, and with seven games left to go, the Browns are 6-3 and right outside the AFC playoff picture. Their formula is simple: run the ball down the opposing team's throat, and to this point, their formula has succeeded with flying colors.
They employ arguably the best running back duo in all of football in Nick Chubb and Kareem Hunt, and both ran for over 100 yards in their last game. They rank fourth in the league in rushing yards per game, coming in with a mark of 159 yards. With Nick Chubb looking healthy in his return, expect them to try and run all over the Philadelphia Eagles.
Even with all of their rushing success, Baker Mayfield has not shown the improvement the team was looking for in his third-season. He's averaging only 190 passing yards per game, and has thrown seven interceptions. He's not exactly hurting the team, but he's not doing anything to convince them that he's the long-term answer at quarterback. Interestingly enough, although the Browns are 6-3, their point differential stands at -27, worst among AFC playoff contenders. It seems that this team may not be as good as their record indicates, but they'll have plenty of opportunities to prove the numbers to be wrong.
Full Game Prediction
When a 3-5-1 team visits a 6-3 team, you'd expect the six win team to be favored by more than 3.5 points. This spread goes to show you how unimpressive the Browns have looked for most of the season. They've been winning, but it hasn't been pretty. The Eagles have an opportunity to steal a road game and get back on track, and open up an almost insurmountable NFC East lead. If the Eagles can control the Browns rushing attack, they'll have a chance. However, that's proven much easier said than done to this point.
Make sure to sign up for a BetQL subscription so that you can check out important stats and trends for both teams in this pivotal matchup. You will also be able to see our model's official Eagles at Browns prediction.