Calgary Flames
vs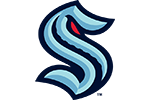 Seattle Kraken Prediction
In an exciting matchup, the Seattle Kraken are stepping onto the ice as solid 57 percent favorites over the Calgary Flames. Despite the odds, it's important to note that the Kraken are projected to have fewer shots on goal compared to their opponents. However, the difference seems to be in the hands of the goaltenders. With a save percentage forecasted at 90.7%, the Kraken's netminders have a clear edge over the Flames' goaltending duo, who are projected to have a save percentage of 87.6%. In a game where every shot and save matters, these numbers could have a significant impact on the final outcome.

When diving further into key player statistical data, it's evident that both teams possess star power that can make or break this game. Jacob Markstrom, tending the Calgary Flames' net, is projected to make 23 saves. On the other side, Philipp Grubauer of the Seattle Kraken is expected to stop 27 shots on goal. These goaltenders will play crucial roles in keeping their teams in contention throughout the game.

Offensively, keep an eye on Nazem Kadri for the Flames and Jared McCann for the Kraken. Kadri is currently averaging 3.5 shots per game and has a probability of scoring at least one point hovering around 48%. McCann, on the other hand, averages 2.7 shots each game, with a slightly higher chance of achieving at least one point at 49%. With such potent offensive players on both teams, it wouldn't be surprising if goals are scored in abundance.

To get a more detailed breakdown and predictions for this enticing game between the Seattle Kraken and Calgary Flames, remember to subscribe to BetQL. Our innovative modeling system offers comprehensive insights into not only this particular matchup but also a multitude of other games across many sports. By subscribing, you'll gain access to our expert analysis and see for yourself how our model is picking this game and many more. Don't miss out on the opportunity to make more informed wagers by subscribing to BetQL today.