Los Angeles Kings
vs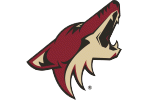 Arizona Coyotes Prediction
In a highly anticipated matchup, the Los Angeles Kings will face off against the Arizona Coyotes. According to the latest simulations from BetQL's model, the Kings enter the game as solid 60.1 percent favorites. One of the main factors contributing to their favoritism is their projected +7 edge in shots on goal, with a forecast of 33 shots compared to the Coyotes' 26 shots. This offensive advantage could provide the Kings with plenty of scoring opportunities throughout the game.

Although the Kings hold an edge in shots on goal, it is worth noting that the Coyotes boast a superior save percentage in AccuScore's simulations. With a save percentage of 89.2%, the Coyotes' goalie(s) have displayed remarkable skill at thwarting opponents' attempts. In contrast, the Kings' goalie(s) have a slightly lower projected save percentage of 88.6%. This statistic suggests that if the Coyotes manage to limit the Kings' high number of shots on goal, they could have a chance at turning the tide in their favor.

When analyzing key player statistical data, both teams have standout performers to keep an eye on. For the Kings, forward Adrian Kempe has been in sensational form, averaging 3.3 shots per game and boasting an impressive goals-per-game rate of 0.63. On the other side, Clayton Keller leads the way for the Coyotes with an average of 2.7 shots per game and a goals-per-game rate of 0.55. Additionally, BetQL's model predicts that Kevin Fiala has a promising 58% probability of scoring at least one point in this game, while Keller has a solid 54% chance of tallying one or more points.

To get even more insights into how our model predicts this exciting matchup will unfold and discover all of BetQL's expert picks and analysis for this game and beyond, be sure to subscribe to BetQL. Our cutting-edge model provides unparalleled accuracy and is an invaluable tool for bettors looking to make informed decisions. Sign up now at BetQL.com and elevate your sports betting game today.