NFL
Wait, Are The Raiders Contenders All Of A Sudden?
Oakland outplayed Chicago on both sides of the ball in London
By Brandon Barbour - Oct 7, 2019, 6:17pm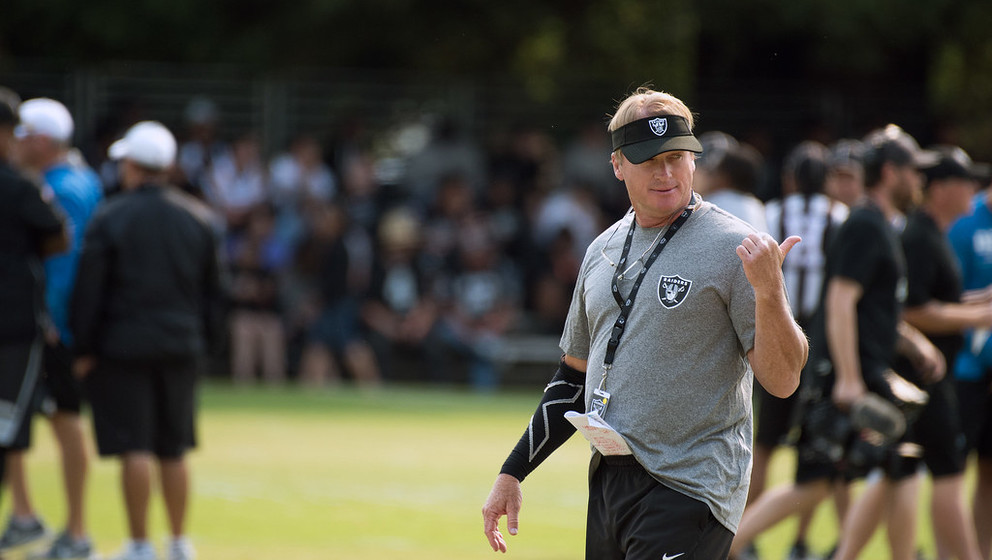 Oakland's offensive line shockingly held the Bears to zero sacks and zero tackles for loss. 
Derek Carr connected with nine different receivers and put his team in position to win.
Raiders running back Josh Jacobs rushed 23 times for 123 yards and two touchdowns. 
Heading Into The London Showdown
The 2-2 Oakland Raiders came into Week 5 with momentum after edging out the Indianapolis Colts in Week 4 (31-24) and Denver Broncos in Week 1. The Raiders technically were the home team at London's brand-new Tottenham Hotspur Stadium. 
Oakland receivers Tyrell Williams, J.J. Nelson, and Dwayne Harris were all inactive, leaving them decimated at wide out. They were forced to roll with Trevor Davis, Hunter Renfrow, and Keelen Doss. Rookie defensive end Clelin Ferrell and right guard Gabe Jackson also were ruled out due to injuries. 
The 3-1 Chicago Bears entered the contest on a three-game win streak after defeating the Denver Broncos, Washington Redskins, and Minnesota Vikings in consecutive weeks, outscoring them 63-45 collectively. Mitch Trubisky, wideout Taylor Gabriel were ruled out, thus limiting their already-struggling offense. Chicago started Chase Daniel in Trubisky's absence.
Oakland's Terrific Game Script
The Raiders knew they were incredibly thin at receiver for this contest and decided to commit to the run game throughout. Rookie Josh Jacobs was once again featured and on full display. On Oakland's second drive, Jacobs took three carries for 36 yards and caught a 6-yard pass from Derek Carr, ending the drive with a rushing touchdown.
Chicago's next drive was a short one, as Daniel threw an easy interception to linebacker Nicholas Morrow that was returned 11 yards to Chicago's 24-yard line. The short field allowed Oakland to pound five runs over seven plays to end up with a DeAndre Washington three-yard touchdown run. This put the Raiders ahead 14-0 with about 10 minutes remaining in the second quarter.
Chicago's offense posted a three-and-out, and Oakland took advantage by winding over six minutes off the clock and kicking a 41-yard field goal to make it 17-0 at halftime. Chicago mustered a piddly 29 yards of offense in the half, looking anemic as ever. BetQL's NFL Model labeled the Raiders + 3.5 as a ★★★★★ first-half bet and it paid off.
The Bears started with the ball in the second half, but had a drive result in another three-and-out. Then, the Raiders did the Bears a huge favor on their second offensive play of the half, as Carr pitched a ball through Jacobs' hands on a run attempt that Khalil Mack dove on top of on Oakland's 14-yard line. Two plays later and David Montgomery rushed in Chicago's first score of the game.
The Raiders strayed away from their rush attack in the third quarter and suffered, as their next two drives resulted in punts. The Bears and Daniel got things together, putting together a 12-play, 89-yard drive capped off by an Allen Robinson 4-yard receiving touchdown. Tarik Cohen would take the next punt 71 yards to Oakland's 16, putting them in position to take the lead. Just a play later, Robinson caught his second touchdown of the contest, putting Chicago up 21-17.
Oakland possessed the ball with six minutes remaining in the game and sent out the punting team on fourth-and-six. A running into the kicker call gave Oakland an opportunity to replay the down, however. Coach Gruden had something else in mind. Set up in punt formation, the snap went directly to safety Erik Harris, who came up with the first down on fourth-and-one, extending Oakland's drive.
Jacobs would end the drive after the two-minute warning with a 2-yard touchdown score, putting the Raiders up 24-21. The Bears' final attempt at a comeback was a terrible pass by Daniels that was intercepted by Gareon Conley to end the contest and seal a victory for Oakland. It was a scrappy game that London fans must have enjoyed and the Raiders must be thrilled to come out with a victory.
Get your first DraftKings Sportsbook deposit matched up to $200! 
Key Developments
Rookie running back Josh Jacobs and the offensive line were tremendous over the contest. Jacobs recorded 123 yards on the ground over 26 carries and two touchdowns. He also sprinkled in three catches for 20 yards.
The Raiders ran the ball 39 times and passed 32 times, mostly sticking to their game plan and pounding the ground game. Derek Carr was solid and went 25-for-32 for 229 yards through the air. Carr made very few mistakes in a game where he was without his top receiving weapons. He connected with nine different receivers. The offensive line allowed zero tackles for loss and zero sacks against a Chicago defense that had racked up 17 sacks over their first four games.
Daniel struggled with Trubisky sidelined, but Chicago's run game didn't give him any breathing room. The Bears managed just 42 rushing yards in the game on 17 carries. Daniel wasn't able to get anything going in the air and threw two interceptions. Overall, Chicago's offense looked dull, which is exactly how Oakland's was expected to look. 
A Look Ahead At Week 6
Now 3-2 after back to back wins, the Raiders will head to Green Bay to take on the very challenging 4-1 Packers. The Green Bay defense has looked mortal over the past two weeks, allowing 34 points to the Philadelphia Eagles and 24 points to the Dallas Cowboys. The Raiders should stick with a heavy rush attack like they did against Chicago.
The 3-2 Bears will host the 4-1 New Orleans Saints (3-0 with Teddy Bridgewater running the show) that just defeated the Tampa Bay Buccaneers and Dallas Cowboys. Bridgewater tied his career high in touchdown passes in Week 5, totaling four scores in the win.
Find out which teams BetQL's NFL Model favors in these two Week 6 contests!