ATL
Falcons
Fri 10/30, 12:20 AM
CAR
Panthers
CAR -3 O/U 49
IND
Colts
Sun 11/1, 6:00 PM
DET
Lions
IND -2.5 O/U 50
TEN
Titans
Sun 11/1, 6:00 PM
CIN
Bengals
TEN -5.5 O/U 54.5
PIT
Steelers
Sun 11/1, 6:00 PM
BAL
Ravens
BAL -3.5 O/U 46.5
NYJ
Jets
Sun 11/1, 6:00 PM
KC
Chiefs
KC -19.5 O/U 48.5
NE
Patriots
Sun 11/1, 6:00 PM
BUF
Bills
BUF -3.5 O/U 43
LAR
Rams
Sun 11/1, 6:00 PM
MIA
Dolphins
LAR -4 O/U 46.5
MIN
Vikings
Sun 11/1, 6:00 PM
GB
Packers
GB -6.5 O/U 54.5
OAK
Raiders
Sun 11/1, 6:00 PM
CLE
Browns
CLE -2.5 O/U 53.5
LAC
Chargers
Sun 11/1, 9:05 PM
DEN
Broncos
LAC -3 O/U 44
SF
49ers
Sun 11/1, 9:25 PM
SEA
Seahawks
SEA -3 O/U 54
NO
Saints
Sun 11/1, 9:25 PM
CHI
Bears
NO -4 O/U 45
DAL
Cowboys
Mon 11/2, 1:20 AM
PHI
Eagles
PHI -7.5 O/U 43.5
TB
Buccaneers
Tue 11/3, 1:15 AM
NYG
Giants
TB -10.5 O/U 46.5
NFL
Patriots vs. Raiders Week 3 Preview
New England (-245) is favored by 5 points over Las Vegas (+195) with the over/under set at 47.5 total points
By Dave Kovaleski - Sep 25, 2020, 1:09am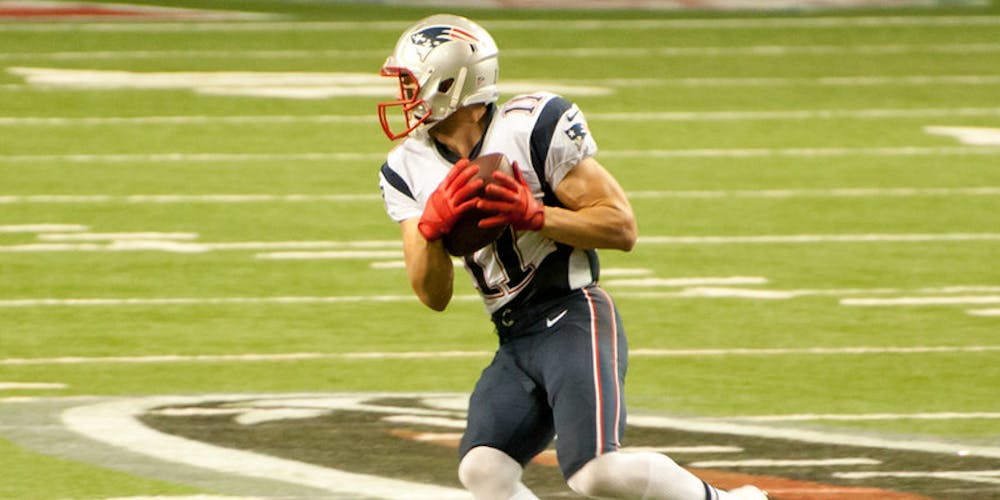 Quick-Hitters
The Las Vegas Raiders moved to 2-0 with a 34-24 win over the New Orleans Saints in Week 2.
The New England Patriots fell to 1-1 after losing to the Seattle Seahawks 35-30 in Week 2.
Cam Newton accounted for 446 yards of total offense with three touchdowns (one passing, two rushing) during New England's Monday Night Football loss.
New England (-245) is favored over Las Vegas (+195) with the over/under set at 47.5 total points. The Patriots are 5-point favorites. CLICK HERE FOR LIVE GAME ODDS!

Get all of BetQL's best bets for the upcoming NFL season! Dating back a full calendar year, our five-star (max-value) bets have won 61% of the time!
Scorching Vegas Start
The Las Vegas Raiders put the league on notice that they're not a team to be overlooked. In their debut at the new Allegiant Stadium in Las Vegas, the Raiders scored a stunning 34-24 upset win over the New Orleans Saints, who were 4-point favorites. There were no fans in the building to celebrate the win, but the 2-0 Raiders have plenty to feel good about after beating one of the best teams in the NFL.
The Saints had more total yards than the Raiders – 424 to 375 – and Drew Brees threw for 312 yards with a touchdown and an interception, but the Raiders controlled the clock. They held possession for roughly 36 minutes to about 23 for Vegas – an advantage that kept the high-powered New Orleans offense off the field. They did it by converting 10-of-17 third downs and 2-of-2 fourth down tries. They also ran well, as Josh Jacobs led the way with 88 yards on the ground. The Saints also had 129 yards in penalties to just 13 for the Raiders.
If you want to roster any Patriots or Raiders players in your DFS lineups this week, be sure to get a 3-day free trial on RotoQL to check out our projections!
Intriguing Pats Offense
The New England Patriots fell to 1-1 after a 35-30 loss against the Seattle Seahawks on Sunday night. After the Pats fell behind 35-23 with about four minutes left in the fourth quarter, quarterback Cam Newton led his team down the field to score on a one-yard run to make it 35-30 with about two minutes left. The Seahawks went three and out and the Pats had a chance to win it with a minute and a half left. Newton engineered an 80-yard drive that brought New England to the Seattle 1-yard line with three seconds left, but the Seahawks defense stuffed Newton on a run in the final play and escaped with the win.
Despite the loss, there was a lot to like about the new look Pats, particularly on offense. New England had 464 total yards as Newton was 30-for-44 for 397 yards with a touchdown and an interception. He also had 49 yards rushing and two rushing scores. Julian Edelman had eight catches for 179 yards while N'Keal Harry had eight catches for 72 yards. Rookie Damiere Byrd added six catches for 72 yards. The defense wasn't so good, getting torched for five touchdown passes by Russell Wilson.
Game Line
The Raiders are currently 5-point underdogs, which feels like just a bit much. Vegas is 2-0 and getting no respect from oddsmakers, but it's hard to overlook their performance from Monday night. The Patriots made a late charge against the Seahawks, but the jury is still out on how good New England is post-Tom Brady. Newton has been a one-man offense, but there are plenty of question marks with his receivers and the running game. If the Raiders can play a clean game like they did against the Saints with no turnovers and few penalties, you have to like their chances of covering. The Pats run defense is suspect and that's Vegas' strength with Jacobs.