NFL
NFL Wide Receiver Prop Betting Guide
These three wideouts should be in store for elite seasons
By Brandon Barbour - Sep 2, 2019, 3:47am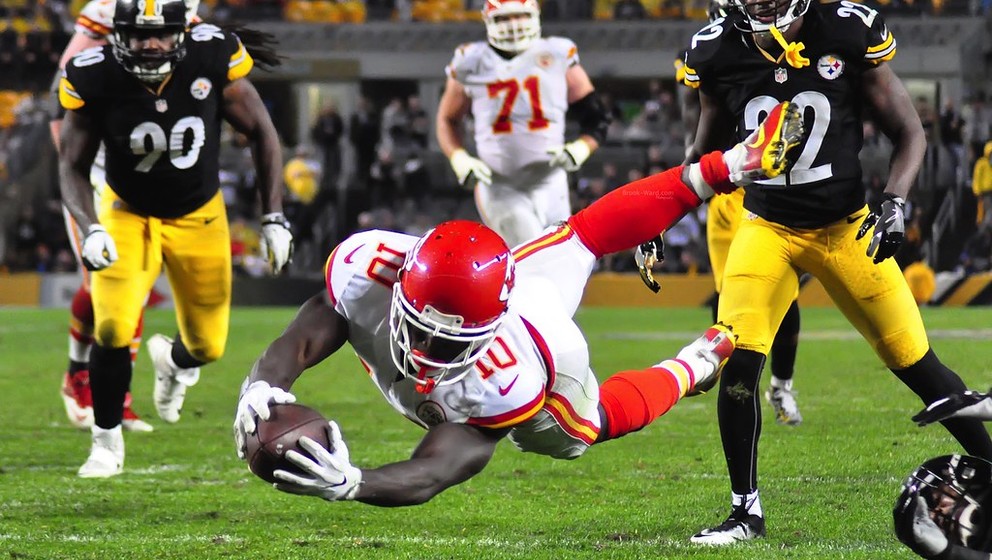 At +1100, Tyreek Hill is a great bet to lead the NFL in receiving yards this season.
Due to the departure of Antonio Brown, JuJu Smith-Schuster should reach double-digit touchdowns.
DeAndre Hopkins will once again be the focal point in Houston and is a strong bet to eclipse 1,400.5 receiving yards.
Tyreek Hill: Receiving Yards Leader
The Odds: +1100 (DraftKings)
Tyreek Hill finished fourth in receiving yards in 2018 after building a connection with rookie quarterback Patrick Mahomes. Hill posted over 100 yards just twice over the first nine games. However, he then managed to tally four 100+ yard contests over his last seven games, including one miraculous 215-yard game. It's clear that the chemistry between Mahomes and Hill drastically improved as their time together grew.
Hill drew 70 targets over his first nine games last season, averaging 7.77 targets per game. After that, he averaged 9.57 targets per game. The increase in looks is what you should expect going into the 2019 season. Hill ranked fifth in DYAR (Defense-adjusted Yards Above Replacement) and ranked third amongst wideouts with a 38.16 percent share of the Kansas City Chiefs' air yards. Hill's share of the air yards should increase with the team featuring a bunch of random wide receivers around him. Travis Kelce is just enough of a presence to keep defenses honest against this powerhouse offense.
Kansas City's star wideout was able to post these impressive numbers with a rookie quarterback. Obviously, Mahomes was terrific last season, but one could only anticipate that things would get even better with more time together on the practice field and in the video room. Hill will continue his dominance in 2019, but the fact that he has the fourth-best odds to lead the league in receiving yards seems a bit odd given the opportunistic offensive system he plays within. At +1100, he's a high-upside bet to lead the league in receiving yards. It doesn't hurt to note that Hill has missed just one game over the past three seasons.
JuJu Smith-Schuster: Over 9.5 Touchdowns
The Odds: -110 (DraftKings)
The departure of the head case known as Antonio Brown opens the door for JuJu Smith-Schuster to take the reigns as the primary option for Ben Roethlisberger and the Pittsburgh Steelers. Brown hauled in 15 touchdowns in 2018, so there's going to be more action to go around for this offense. Of course losing Brown isn't all positive for Smith-Schuster, as he now draws every top cornerback in games. However, Roethlisberger managed to pelt Smith-Schuster with a whopping 166 targets despite Brown's presence last year. It's fair to assume that those targets will increase, because someone has to be leaned on more with Brown's 168 targets vanishing.
Get access to our proprietary NFL Model and have every Best Bet of the 2019 season at your fingertips!
Smith-Schuster caught seven touchdowns for the second-consecutive season and he enters his third year with Roethlisberger. There aren't many other quarterbacks that you'd prefer to be with if you're a receiver. Smith-Schuster managed to come down with five of his touchdowns in the red zone last season. Brown ate up 21 targets and came down with six touchdowns in the red zone, so Roethlisberger and the offense will have to spread those around amongst the rest of the offense in 2019. If Smith-Schuster can obtain 10 of Brown's targets in the red zone this season, then he could easily reach seven or eight touchdowns just in red zone action. Expect the box to be stacked against James Conner and the run game quite a bit, which would lead to more opportunities for Smith-Schuster, who will be on Roethlisberger's radar at all times.
DeAndre Hopkins: Over 1400.5 Receiving Yards
The Odds: -110 (DraftKings)
After playing a full season with second-year quarterback Deshaun Watson, DeAndre Hopkins was back at an elite level. Watson threw 163 balls in Hopkins' direction and helped the stud receiver log a career-high in receiving yards with 1,572, including a career-high 70.6 percent catch rate. There's no reason to expect this duo to regress, making the over bet on Hopkins' yard total an easy choice.
Hopkins ranked second in share of team's air yards at a ridiculous 44.04 percent behind only Julio Jones. He finished second amongst receivers in receptions behind only Michael Thomas. There's very little that Hopkins cannot do. He is a human highlight reel in action every week. Hopkins is made of steel, missing just one regular-season game over his six-year career. His health is admirable and really makes for a safe pick in regards to future prop bets. This over bet seems like a no-brainer for one of the league's most athletic talents. Thank goodness he seems to have a legitimate quarterback throwing him the ball full-time.
Note: Advanced statistics were found on publicly-accessible Football Outsiders and NFL Next Gen Stats platforms. The advice above represents the writer's personal view and does not reflect or represent BetQL's stance or interest in any way.