NFL
NFL Offensive Rookie of the Year 2021: How to Bet the Top Players After the Draft
How to bet OROY after the first round of the NFL Draft
By Reed Wallach - May 2, 2021, 1:45am
The first round of the NFL Draft is finished, and we can already look ahead to the regular season. Who fits where, which player is primed for a big rookie season, etc. 
Let's take a peek at the Offensive Rookie of the Year odds and get ahead of the market. Here are the odds, courtesy of DraftKings Sportsbook.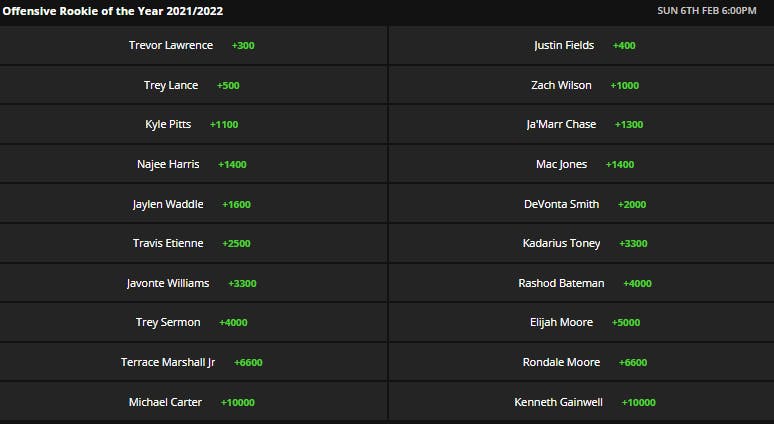 Favorite: Trevor Lawrence (+300)
The No. 1 pick is predictably the favorite to bring home OROY. The Jaguars gave Lawrence a familiar face in the backfield by selecting his college running back Travis Etienne at pick No. 25, which adds another explosive weapon to the Jags offense. 
Jacksonville did go 1-15 in 2020, but the team is flush with offensive weapons and Lawrence will have a chance to shine in this offense. However, will it translate to wins? 
The Jags are beginning a rebuild around him and they are still likely the fourth best team in the AFC South. However, wins aren't a deal breaker for the award. A matter of fact, by trailing in most games there is an opportunity for the No. 1 pick to pad his stats and also lead a few game winning drives. 
However, at 3-1, the price is too short to bet Lawrence given he may be running for his life often in 2021. The Jaguars were 25th in adjusted sack rate, and still have work to do to fill that position group. 
I'd stay away from laying the chalk here.
Value: Zach Wilson (+1000)
I wrote a few weeks ago how I'm bullish on the Jets this season and have loved their offseason. After taking Wilson at No. 2 and moving up to select a standout offensive lineman Alijah Vera-Tucker, New York continued to build towards the future. 
Wilson is entering a favorable situation with a budding offensive line and solid skill position players around him. The AFC East is going to be competitive this season, headlined by the Buffalo Bills, but the Jets are poised to compete and hang around .500. 
At 10-1, I love this price on a QB that is going to start Week 1 and could impress around a team that has crushed this offseason.
Skill Position Play: Kyle Pitts (+1100)
The Falcons made it clear they are giving one last go at competing around Matt Ryan by selecting a generational talent in Pitts at No. 4. 
Atlanta's new coach Arthur Smith schemed tight ends perfectly in Tennessee as offensive coordinator and now will have one of the most explosive TE's to hit the NFL. 
Not only will Pitts put up huge numbers in this Falcons offense, the media is sure to love him. Considering he is more of a pass catcher than a traditional tight end, the talk will be how defenders struggle to cover a player with Pitts' measurables. 
At double digits this is a smart bet as Pitts can lead rookies in receiving yards and will be on one of the most explosive offenses in the NFL. While he is sure to be a stud, this is a play on narrative more than anything.