NFL
NFL Draft 2021: Bet Jaylen Waddle or DeVonta Smith to be Picked First?
One Alabama receiver is being undervalued in the market
By Reed Wallach - Apr 20, 2021, 1:00am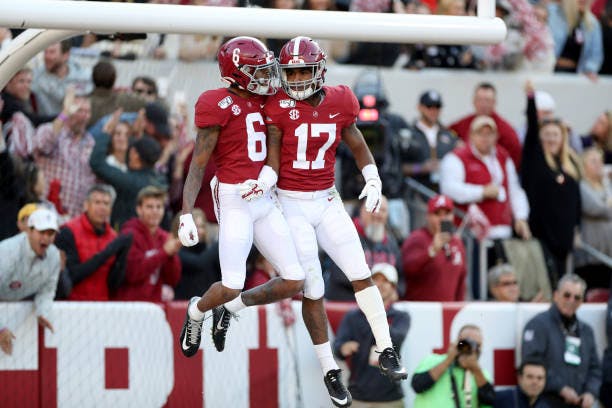 A small battle is emerging in 2021 NFL Draft betting markets, and it's between two Alabama teammates. Heisman Trophy winner DeVonta Smith and Jaylen Waddle are each slated to go in the first round on April 29th, but who will go first?
DraftKings Sportsbook has listed odds for who will be selected first, and it's being lined as a coin flip.

While both receivers are listed at -112, I show a slight edge to Waddle, and now is the time to pounce on this bet. 
We can debate who will have the better NFL career all we want, but we are merely looking at who will be drafted first. 
Waddle played in six games before fracturing his ankle this past season, but was able to return in the National Championship game. While he was limited, there seems to be no concern about his ankle long term, as noted by Ben Standig of The Athletic. 
A lot of betting on the NFL Draft revolves around reading the tea leaves in the media and piecing together information. 
Sign up for a new DraftKings account and bet $1 to win $100 if any quarterback is selected #1 overall! It's a no-brainer! CLICK HERE to get started!
The aforementioned Standig report over the weekend, which is littered with Draft nuggets, commented directly on the debate between Smith and Waddle.
'That said, despite significant love from media analysts, teams view Smith as the third wide receiver behind Chase and Jaylen Waddle Smith's Alabama teammate. The higher they go off the board — and Waddle could go first — the better for Smith. The Giants could snag Smith at No. 11. So could the Eagles one pick later or the Patriots at No. 15."
It appears that Waddle has a higher ceiling on April 29th, and is being undervalued in the market. Standig even ventured to say Waddle could go before Chase.
Sign up for a new FanDuel account and bet $5 to win $100 if Trevor Lawrence is the 1st pick in the 2021 NFL Draft! (Lawrence's un-boosted odds are -100000!) CLICK HERE to get started!
For what its worth, Chase is -625 at DK to be the first receiver taken, Waddle +600 and Smith +700. There is a disconnect between the first receiver prop and this specific one, giving us bettors an opportunity to bet into a mispriced market.
Albert Breer of Sports Illustrated also mentioned that Waddle could be in play at No. 6 to the Miami Dolphins. 
"I'd be surprised if Chase isn't first, Waddle isn't second (maybe as high as sixth overall) or Smith isn't third among the receivers taken," Breer wrote Monday morning. 
So, here are two different plugged in reporters hinting that Waddle is ahead of Smith draft boards. Further, Waddle is being placed inside the top six at times. With Miami in the market for a receiver, this connection has legs.
Sometimes betting markets are slow to react to specific reports that don't come from someone like Adam Schefter, but that doesn't mean that other sources can't generate an edge for bettors. 
I expect this line to move towards Waddle ahead of the Draft and this is the time to buy it. Waddle is healthy, and is starting to gain steam as a top 10 pick. I'd play it up to -125. 
Pick: Jaylen Waddle -112