NFL
Bet The Over On This Minuscule NFL Win Total
DraftKings set New York's 2019 win total at just 5.5 games
By Dave Vest - Aug 3, 2019, 6:00am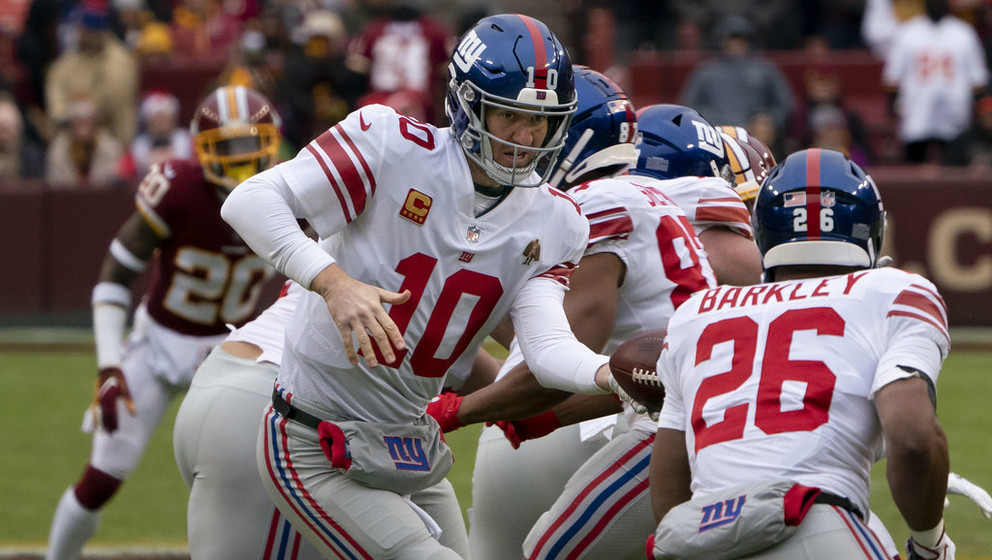 3. Skill Players on Offense
New York traded Odell Beckham Jr. to Cleveland during the off-season and will miss his big plays. What the Giants won't miss are OBJ's sideline antics and selfishness. Expect a more cohesive unit on offense with Eli Manning back in the pocket at quarterback for a 16th NFL season.
"The longevity of things, you have more appreciation," Manning told reporters. "You don't know how long you get to play this or how long you get to do it. You are here and you don't know what the future holds. I think when you're younger, you just assume you're going to keep playing. You don't think about it. Now there is that mindset that you don't know the future of things, which is fine. I think it makes you appreciate being here, and you want to take advantage and prepare more and be ready to take advantage of this opportunity."  
Manning has impressed training camp observers with his lean physique, arm strength and attitude, what with rookie Daniel Jones respectfully lurking in the background, waiting to eventually replace him.
"I think his arm looks even stronger than he did last year," offensive coordinator Mike Shula told reporters. "He's more accurate. As we move the pocket a little bit, he's throwing really well on the run. He did that last year, I think it looks even better than it did last year."  
Manning finished 2018 with a career-high 66.0 percent completion rate and a career-low 11 interceptions. Nevertheless, New York drafted Jones sixth overall out of Duke, and the starter's job appears to be his whenever Manning starts showing signs of decline. Jones has wowed coaches with his accuracy on deep passes in training camp.
Running back Saquon Barkley will return to the backfield minus the rookie tag. Barkley became only the third freshman in NFL history to produce 3,000 all-purpose yards last season; Eric Dickerson and Edgerrin James are the others.
"We're coaching him up on everything," Shurmur told reporters. "When we speak to the team, and I can tell when I'm speaking to the team, he's listening. Then we talk to him about a lot of different things. But a lot of what makes Saquon who he is comes from within. He's kind of carrying that out."  
Barkley and receivers Sterling Shepard, Golden Tate and Evan Engram will be Manning's primary targets as New York works its passing game behind what the Giants believe is an improved offensive line.
"We have an experienced O-line," Barkley told reporters "… You can see all five of those guys are clicking on a high level, but whoever we're rotating in that mix are all clicking on a high level, and we have a very good defensive line here—I believe so—and they're challenging our O-line, and they're going at it, and that's only going to make them better."
2. Defensive Line Has Potential
New York's defense will rely on its line and it looks to be a good one on paper. 
The Giants drafted Clemson defensive tackle Dexter Lawrence with the 17th overall pick in April. He and B.J. Hill, who chipped in 5.5 sacks as a rookie last season, likely will flank nose tackle Davlin Tomlinson.
"He has some great tools to work with, so his size helps him tremendously," Defensive Line Coach Gary Emanuel told reporters about Lawrence, who stands 6-foot-4, 342 pounds. "He's a good student of the game, he plays extremely hard, he loves football, he's a great young man. For all players, particularly in the defensive line area, the biggest difference is playing with some technique because all the guys in this league are big and strong and the player with the best technique usually wins the game, and Dexter is improving his technique."  
Linebacker Alec Ogletree, who calls the plays when the Giants are defending, is expecting the New York defense to vastly improve.
"There's no reason for us not to be a top-10 defense, top-five," Ogletree told reporters. "We are going to be a great defense. We've got the right pieces here. We have to come out here and put in the work, do things better than we did last year."
1. Schedule Is Not Taxing
The Giants are tied for 27th when it comes to having a difficult schedule in 2019. In other words, only a handful of teams will have an easier ride through the 2019 season.
Consider the following:
New York's opponents posted a 120-134-2 record last season – just a .473 winning percentage. 
In addition to playing six games vs. NFC East opponents, New York will play all four NFC North teams and all four AFC East teams.
Travel will be light for the Giants as six of New York's eight road games will be played in the Eastern Time Zone. The other two road games will be played in the Central Time Zone – at Dallas and at Chicago. That's it. Clearly there's not a lot of travel miles to be earned.
All statistics were found on Football-Reference.com. The advice above conveys the writer's view and does not represent the stance or interest of BetQL.