NFL
How Much Is Patrick Mahomes Worth To The Point Spread?
SuperBook, PointsBet, and South Point insider info on what the Chiefs QB's health means ATS
By Vikas Chokshi - Jan 20, 2021, 9:14pm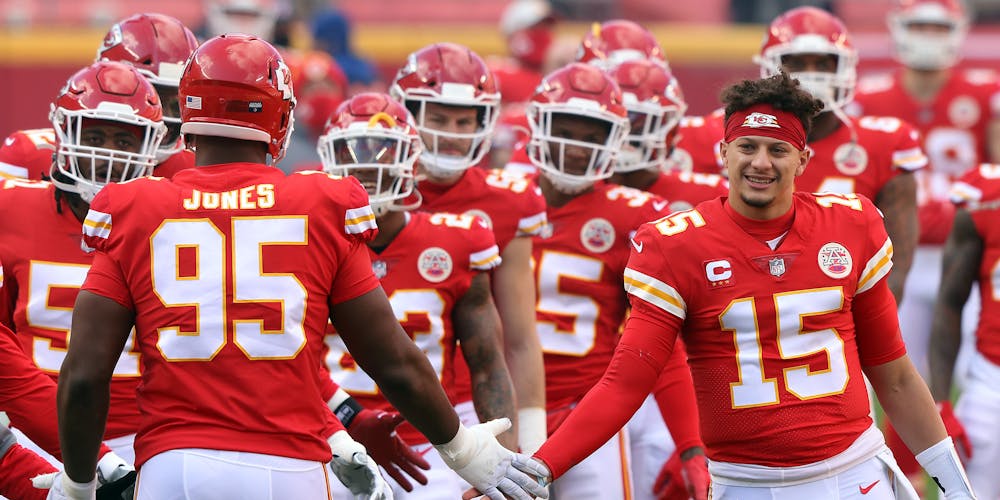 Patrick Mahomes has been the hottest quarterback in the NFL since he took over for Alex Smith. In his short career, he has already won the illustrious trifecta: an MVP, Super Bowl, and Super Bowl MVP. I liken Mahomes to Michael Jordan, mostly because I feel confident that if he has the ball last, he is going to propel the Kansas City Chiefs to a victory every single time.
Mahomes was leading his team to its third-straight AFC Championship last Sunday against the Cleveland Browns when he suffered two separate injuries. One to his big toe and the other to the head/neck area that knocked him out of the game. Backup Chad Henne replaced Mahomes and led the Chiefs to victory.
Get all of BetQL's best bets for the NFL Playoffs! Dating back a full calendar year, our five-star (max-value) bets have won 61% of the time!
Mahomes' injury had the oddsmakers and betting markets scrambling to set a line for the AFC Championship game. On Sunday we saw books bounce around from Chiefs -2.5 to Bills -1.5. As time went on and it looked like Mahomes will be able to play this weekend, the line settled with the Chiefs as 2.5-point favorites. Some books were sitting at the Chiefs -3 as of Wednesday.
Which leads me to the big question surrounding this weekend's Bills-Chiefs game: How much is the best quarterback on the planet worth to the point spread?
Quick refresher, generally every NFL player is given a value toward the actual weekly point spread. QBs are the big dogs, and are worth the most points on a weekly, and season-long basis. Not many non-quarterbacks are valued enough to even affect a line. In fact, most positional players generally affect only the juice or the vig — a charge taken on bets by bookmakers.
To find out just how Mahomes' injury impacts the point spread and their rationale behind their numbers, I turned to a couple of veteran oddsmakers for their insights: Jay Kornegay (SuperBook), Andrew Mannino (PointsBet), and Chris Andrews (South Point).
Play DFS? Be sure to get a 3-day free trial on RotoQL to check out our projections!
Both Kornegay and Mannino stated that while they do have a player's general value towards the spread, there are usually larger factors at play when it comes to the playoffs. Things such as how good the backup is, how much impact the quarterback has on his particular team, who their opponent is, and where the game is being played are all things that they consider.
"The quarterback is the one position where that one player can have a huge impact on a team and a spread," Mannino explained. "The quarterback is the one who is really touching the ball on every single play."
Which brings us to this weekend's game and Mahomes. Are bettors getting value on the Chiefs with his status in doubt?
"The magic number as to Mahomes' value would probably be 10 points here," Korneygay said. "For us, it is always based on the quality of the backup, and in this case you are going from an MVP to a below-average backup."
The oddsmaker did note that it would be a full 10-points if Mahomes was fully healthy and didn't suffer the toe injury, which would've put the opening line at Chiefs -5.
Mannino highly values the KC QB, but has a lower number in mind if he is out.
"It's a solid drop from Henne," he said. "If he is ruled out, you could see this game at Buffalo -1 or -1.5."
Andrews also makes his number closer to Mannino's than Kornegay's.
"From Mahomes to Henne is about a 5-point difference," Andrews said. "The line would be Buffalo -1.5/ -2 range."
As for the 10-point value, Kornegay asked me a simple, rhetorical question to justify it.
"If you were starting an NFL franchise, which quarterback would you start with?," he asked. "The majority would answer Mahomes, which is why his value is so high."
Both Mannino and Kornegay indicated they felt Mahomes was going to suit up this weekend. As for putting out a line for the game, let's just say things would be different if it wasn't the playoffs.
"Because this is the AFC championship game, we have an obligation to put out a line," Kornegay says. "If this was the regular season, this line would probably be down right now."
Don't forget to check out our NFL player props!

And while there is risk in putting out the line, both Kornegay and Mannino said they are basing the spread on the information they currently have.
"We are under the assumption that he is playing," Mannino stated. "You can only book what you know, and until we hear that he is out, we will keep the line at Chiefs near a field goal."
While most in the sports world share similar sentiment, Adam Schefter tweeted on Tuesday that the quarterback still remains in the league's concussion protocol.
Chiefs' QB Patrick Mahomes cleared certain steps Monday, "some big steps", but he remains in the NFL's concussion protocol with what is considered a concussion and it's too early to say that he definitely will play in Sunday's conference championship vs. the Bills, per sources.

— Adam Schefter (@AdamSchefter) January 19, 2021
Mahomes' status will no doubt be the main storyline going into the weekend, even overshadowing Tom Brady vs. Aaron Rodgers' first playoff matchup on the NFC side.
When it comes to betting the game, if you think Mahomes is going to be out, grab the Bills now. They move to a slight favorite and that number will keep climbing if we get word Mahomes can't go in the AFC championship game.