NFL
Evaluating Carson Wentz's Passing Touchdowns Prop
If he stays healthy, this is an easily attainable number
By Matt Reed - Aug 18, 2019, 2:31am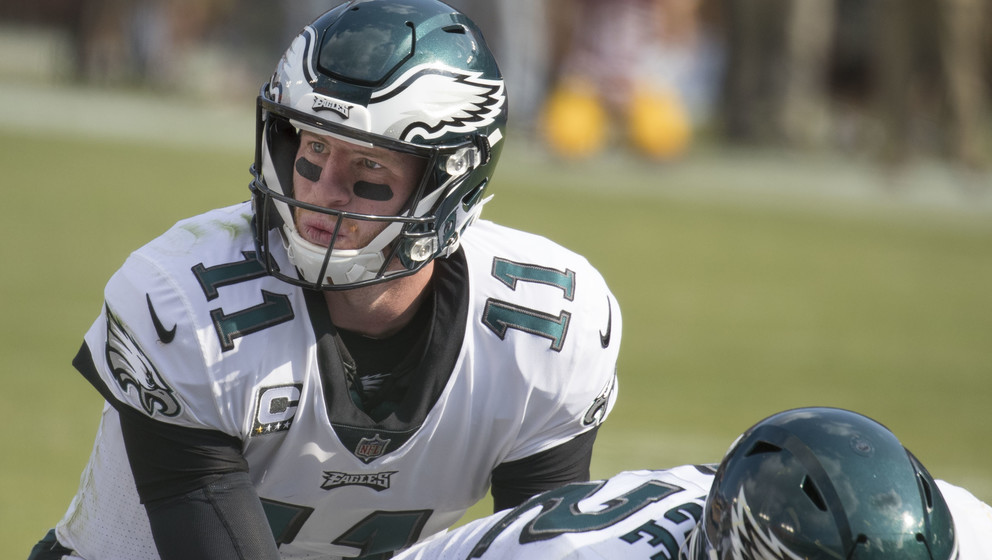 The Eagles quarterback will spearhead one of the top offensive units in the NFL this season and, barring injury, should surpass his 28.5 touchdown total prop (DraftKings) with ease.
The Philadelphia Eagles backed their way into the playoffs last season, and still nearly found a way to get back to the NFC Championship Game with former quarterback Nick Foles.
With Foles now in Jacksonville, third-year signal-caller Carson Wentz is back from injury and ready to guide the Eagles on another playoff run this season. Before he can do that though, he and a talented Eagles offense must get into the postseason for the third consecutive season.
Wentz currently boasts an Over/Under of 28.5 touchdowns in 2019, according to DraftKings Sportsbook, and that seems far too low for a quarterback that had a legitimate shot at MVP just two seasons ago.
Here's a closer look at why Wentz will easily reach that total and help guide the Eagles to an impressive 2019 campaign.
DeSean's Back
Since Doug Pederson became head coach of the Eagles, the team has boasted a significant amount of talent. However, 2019 may be the team's best group yet, which really says something considering the players on their 2017 Super Bowl-winning roster.
One player that has already caught people's attention is former Eagle, now back with the team, DeSean Jackson. The speedy wide receiver returned to Philadelphia this offseason after making stop in Washington and Tampa Bay, and the Eagles are already showing in training camp just how dangerous he and Wentz can be with a weapon of Jackson's caliber.
On a team that already features star tight end Zach Ertz, Alshon Jeffrey and Nelson Agholor, Jackson should add another dimension to Philadelphia's offense.
Diving Into the Numbers
During Wentz's rookie campaign in 2016, the Eagles' roster was simply not constructed in the same way as it currently is, but he still managed to throw 16 touchdowns. 
In 2017 and 2018 combined, Wentz threw 54 touchdowns, despite missing eight games. At that rate of play, Wentz was throwing 2.25 touchdowns per contest, which would have equated to 72 scores over the two seasons.
While that number of 72 may not be exactly accurate when considering opponents, resting starters at the end of the season and various other factors, Wentz already averaged 27 touchdowns in the last two campaigns. That means he would need to get two more touchdowns in 2019 to top the 28.5 total currently set by DraftKings.
Wentz's only true downside since coming to the Eagles has been the injuries that he has sustained. In 2017, it was his ACL that cost him the shot to lead the Eagles to their first-ever Super Bowl.
Last season, it was a back injury that knocked him out for the remainder of the regular season and playoffs. When Wentz is on the field though, he's a game-changing player and undoubtedly a top 10 quarterback in the NFL.
Since returning to the team healthy this training camp, Wentz has looked both accurate and smart in the pocket for the Eagles. 
Conclusion
With an arsenal of weapons at his disposal, Wentz could, and should, easily eclipse the 30-touchdown mark in 2019. In 2017, he went over that total with three regular season games to spare. 
Not only do the Eagles have at least five to six wide receiver and tight end threats in the passing game, but the team is also three deep at running back, including veteran Darren Sproles, newly-acquired Jordan Howard and rookie Miles Sanders, who has already shown in training camp that he is going to be a serious weapon in both the run and pass games.
Of the Eagles' 16 games this season, 10 of those contests will be against teams that ranked outside the top 10 in total defense a year ago, including the New York Giants, Washington Redskins and even the New England Patriots.
Additionally, only the Chicago Bears, who the Eagles take on in Week 9, allowed less than 20 points per game last season, which will give Wentz and his team's offense plenty of opportunities to score in 2019.
The 28.5 touchdown total is simply too low when considering the upside that Wentz and this Eagles offense has. 
Note: All statistics above were found on Pro-Football-Reference.com. The advice above represents the writer's personal view and does not reflect or represent BetQL's stance or interest in any way.