NFL
Evaluating Tampa Bay's Appeal In A Post-Winston Era
The Buccaneers might not be too far away from contending
By Gabriel Santiago - Feb 27, 2020, 3:51am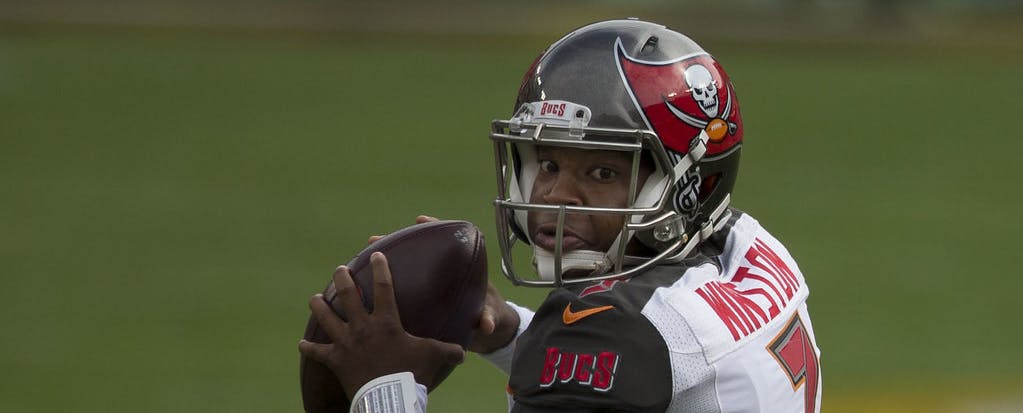 The Tampa Bay Buccaneers have not made a formal decision on quarterback Jameis Winston's future. 
Currently without a contract, Winston is coming off of a tumultuous season in which he threw an NFL-high 30 interceptions.
The Bucs have +5000 odds to win the Super Bowl next season, according to DraftKings Sportsbook. Only nine teams have worse odds.
Last season, our model went 12-3 on over/under bets in Buccaneers games. 
Let's take a look at what life will look like in the post-Winston era.
Is anybody in Tampa Bay satisfied with accomplishing their fourth losing season in five years of Jameis Winston? Absolutely not. Is there optimism going forward in other position groups? Absolutely. There's no need for a complete roster implosion quite yet for Bruce Arians and his Bucs: just perhaps a change at signal caller.
The Winston Era
Selected first overall in the 2015 NFL Draft after a decorated campaign at Florida State, "The Famous" Jameis Winston was thought to be the answer at quarterback for then-head coach Lovie Smith. Their football fates have not been so fortunate since then. 
After an impressive rookie season (his lone Pro Bowl selection) from Winston in which he threw 22 touchdowns against 15 interceptions, Tampa Bay only managed to finish 6-10. Smith would subsequently be fired, but Winston's play only became more erratic under the three-year Dirk Koettner regime (although it is worth noting that Koettner's  first year as TB's head coach in 2016 is the only time the Bucs have finished above .500 since drafting Winston).  
Over five seasons, Jameis Winston has started 70 games for Tampa Bay (losing some to injury and QB Ryan Fitzpatrick) while the team has finished a cumulative (32—48) during that run. He has thrown a total of 121 touchdowns, 88 interceptions, and fumbled 50 times while maintaining an average completion percentage of 61.3%. 
It was speculated that last year's hire of Bruce Arians would do Winston well, but his entropic play has only been amplified; in 2019, Winston regularly missed easy throws to his talented playmakers, the Bucs went (7-9), and Winston had career highs in both touchdowns & interceptions at 30 a piece. Although he is the franchise's career leader in both passing yards and passing touchdowns, Tampa Bay & coach Arians could do well by moving on from Winston.  
The Post-Winston Era
Fortunately for the Tampa Bay Buccaneers, they do seem to have a few aspects in their favor: a questionable NFC South division, viable receiving options that Bruce Arians can count on, and a resurging defense. Yes, the NFC South was once again dominated by the New Orleans Saints last season, but with Drew Brees drawing the end of the line nearer, NOLA's window may close sooner than expected. The Atlanta Falcons, still lead by 2016 AP NFL MVP Matt Ryan, continue to show mediocrely mixed results, and have been unable to regain consistent form after their tragic collapse in Super Bowl LI. And the Carolina Panthers? Well, they seem more without an identity than anyone else in the league. With a relatively new owner, Luke Kuechly has left for retirement, Cam Newton will likely go his own way, and there have even been talks of trading Christian McCaffery (who this past year claimed 19 total TDs while rushing and receiving for over 1,000 yards each). In a division that technically still touts three different MVP quarterbacks, Tampa Bay may be closer than they think.
Over the 2019-2020 NFL season, the Buccaneers employed arguably the most dangerous & productive wide receiving tandem in Mike Evans & Chris Godwin: two playmakers that will be key for Tampa Bay moving forward. Evans, a sixth-year-man out of Texas A&M is a physical specimen at the wideout spot. With an opposing 6'5", 231-pound frame, Evans routinely bullies smaller DBs while still displaying reliable hands and great speed downfield. He has eclipsed the 1,000 yard mark in all of his six NFL seasons, coming off of 1,157 yards with eight touchdowns from last season. Chris Godwin appears to absolutely love playing alongside Evans as Godwin is often left with single coverage. A three-year veteran from Penn State, Godwin truly broke out last season while putting up the team receiving highs: 1,333 yards with nine scores. At 6'1", Godwin is extremely well-rounded. He exemplifies pro-level speed and tactical route running, making him a threat to score from deep, or pick apart a red zone defense.
Defensive Coordinator Todd Bowles did a solid job last year with Tampa's 4-3 front. Led by interior linemen Ndamukong Suh and Vita Vea and young linebackers Lavonte David, Devin White and Shaq Barrett, the Tampa Bay defense forced 21 fumbles and intercepted 12 passes last season. With debatably the most talented young linebacking corps (that accounted for 272 combined tackles and over 20 sacks) in the NFL, the defense kept Tampa Bay in many  ball games where QB Winston could not refrain from turning the ball over. For a team to go (7-9) while their starting quarterback throws a league-leading 30 interceptions actually sheds light on just how resilient this Buccaneer defense can be.
With several options available in the QB-market this offseason (Brady, Rivers, possibly the Draft, Newton, Carr, or Mariota) Arians may look move-on, for his roster as a whole is young, explosive, and talented. And as always in the NFL, time is of the essence.
Our NFL Model went 12-3-1 on over/under bets involving the Buccaneers last season. While the new season is still a few months away, click the button below to unlock today's top in-season bets!