New York Giants
vs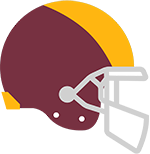 Washington Commanders Prediction
In this upcoming game between the Washington Football Team and the New York Giants, the odds seem heavily stacked in favor of Washington. According to our simulations, the Washington Football Team has emerged victorious in an impressive 80.0% of matchups against the Giants. Their quarterback, Sam Howell, has been consistently performing well in our virtual simulations, averaging 171.0 passing yards and 1.9 touchdowns per game. Meanwhile, running back Brian Robinson Jr. is projected for 18.0 rushing yards with a 21.0% chance of finding the end zone with at least one rushing touchdown.

However, it's not all gloom for the New York Giants, as they do have a fighting chance. In the remaining 20.0% of simulations where New York emerges victorious, their quarterback Tommy DeVito has shown promise, with an average of 1.14 touchdown passes and a careful interception rate of 1.1 interceptions per game. On the ground, star running back Saquon Barkley has been exceptional in wins, averaging a whopping 191.0 rushing yards and 1.07 rushing touchdowns. Nevertheless, in losses, Barkley's numbers drop to 124.0 yards and just 0.39 touchdowns.

One area where the Washington Football Team particularly shines is in forcing turnovers. Our model suggests that they have a strong chance of outperforming the Giants in this aspect, with a 78.0% probability of forcing more turnovers than committing them. It's worth noting that when Washington achieves a positive turnover margin, they go on to win an impressive 87.0% of games.

To find out how our model predicts this game will unfold and for expert insights on other upcoming matchups, make sure to subscribe to BetQL. Our comprehensive analysis and accurate predictions will give you an edge when placing your bets and keep you ahead of the game!