San Francisco 49ers
vs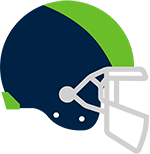 Seattle Seahawks Prediction
The upcoming game between the San Francisco 49ers and the Seattle Seahawks is expected to be a close one, with the 49ers holding a slight edge according to our simulations. In 56.0% of the simulations, the 49ers come out on top, while the Seahawks manage to win 43.0% of the time. Turnover margin will play a crucial role in this game, as it often does in close matchups. Interestingly, the 49ers commit fewer turnovers in 74.0% of the simulations, and they go on to win 66.0% of those games. On the other hand, when the Seahawks have a lower number of turnovers, they win in 72.0% of simulations.

One key player to watch out for in this game is Christian McCaffrey of the 49ers. In our simulations, he has been averaging 34.0 rushing yards per game. If McCaffrey can have a standout performance with better than average rushing yards and at least one rushing touchdown (with a 14.0% chance), he significantly boosts his team's chances of winning, with a success rate of 72%. Similarly, Geno Smith of the Seahawks has been averaging an impressive 273.0 passing yards per game in our simulations. If Smith can have a stellar outing with higher than average passing yards and at least a 2 to 1 touchdown-to-interception ratio (with a 39.0% chance), he helps his team secure the victory in 61% of scenarios.

To get additional insights on how our model predicts this game will unfold, be sure to subscribe to BetQL. Our data-driven approach takes into account various factors such as turnover margin and individual player performances to provide accurate predictions and analysis for sports bettors. Don't miss out on crucial information that could give you an edge when placing your wagers on this exciting matchup. Subscribe to BetQL today to see how our model is picking the game.