New York Giants
vs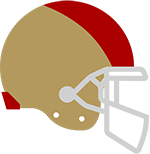 San Francisco 49ers Prediction
In what is expected to be a one-sided matchup, the San Francisco 49ers are entering their Week 3 game against the New York Giants as solid favorites with a 68.0% chance of emerging victorious. The 49ers will look to continue their dominance behind an impressive rushing attack led by Christian McCaffrey. McCaffrey is projected for 40.0 rushing yards and has a promising 26.0% chance of finding the end zone with at least one rushing touchdown.

Although the odds may be stacked against them, the Giants can take solace in the fact that they have a 32.0% chance of pulling off an upset. If New York hopes to emerge triumphant, they will heavily rely on quarterback Daniel Jones to lead their offensive charge. In simulations where the Giants come out on top, Jones shines with an average of 1.96 touchdown passes and just 0.33 interceptions. On the other hand, in their losses, his touchdown-to-interception ratio drops to 1.37 TDs to 0.75 interceptions.

For the Giants' ground game, star running back Saquon Barkley's performance will be vital in determining their success. When the Giants win, Barkley averages an impressive 74.0 rushing yards and finds the end zone with 0.33 rushing touchdowns. However, in losses, his production dips to 54.0 yards and just 0.14 touchdowns.

In terms of turnovers, the San Francisco 49ers hold an advantage over the Giants, reducing their chances even further. The 49ers have a robust 67.0% chance of forcing more turnovers than they commit in this matchup. Historically, positive turnover margins have proven pivotal for the 49ers, as they win a staggering 80.0% of games when they maintain an advantage in this aspect.

To get more detailed insights and predictions on this game, make sure to subscribe to BetQL. Our model will provide you with a comprehensive breakdown of the match, taking into account various factors such as individual player performances, team statistics, and historical trends. Don't miss out on the opportunity to make an informed decision when placing your bets - subscribe to BetQL now!