Philadelphia Eagles
vs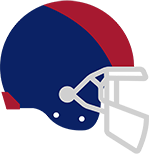 New York Giants Prediction
The Philadelphia Eagles are a solid favorite with a 68% chance to beat the New York Giants. Miles Sanders is projected for 68 rushing yards and a 44% chance of having at least 1 rushing TD. In the 32% of simulations where New York Giants wins, Daniel Jones averages 2.02 TD passes vs 0.54 interceptions, while in losses he has a ratio of 1.38 TDs to 1.03 interceptions. Daniel Jones averages 57 rushing yards and 0.19 rushing TDs when New York Giants wins and 39 yards and 0.08 TDs in losses. The Philadelphia Eagles has a 73% chance of forcing more turnovers than they commit. Positive turnover margin helps them win 77% of the time.
Philadelphia Eagles vs New York Giants Prediction
The Philadelphia Eagles will face the New York Giants. Metlife Stadium in East Rutherford, New Jersey will be the venue for this New York Giants home game. This matchup will be played on Sunday, November 15th at 1:00 pm ET. Philadelphia is currently listed as a 3.5-point favorite and the total is set at 44 total points. For more on this game, please read our full New York Giants vs. Philadelphia Eagles prediction below.
New York Giants Preview
The New York Giants haven't won many games this season, but they've done a great job covering for the bettors that back them. New York is 2-7 SU, having notched their 2nd win of the season in last week's victory of the Washington Football Team. They started off 0-5 SU, but they've won 2 of their last 4 games. New York beat Washington 20-19 for their first win on October 18th, and beat them 23-20 in a road clash on November 8th. The Giants have just 2 wns on the year, but they've had a number of close losses. 4 of New York's 7 losses have come by 4 points or less. The Giants are 6-3 ATS because they have been able to stay within striking distance of their competition and they rarely get blown out. 
Offensively, New York has had a tough time moving the ball. The Giants rank 29th in yards per play, averaging 4.9 yards per snap. They've especially struggled in the passing game. QB Daniel Jones has been pedestrian this season, throwing for 209 yards per game with a 62.4% completion percentage. New York ranks 30th in net yards per pass attempt, gaining just 5.2 net yards/attempt. Even though Saquon Barkley has missed the vast majority of the year, they do have maintained some semblance of a running game with RB Wayne Gallman. They average 4.5 yards per rush, ranking 10th-best in the NFL. Defensively, the Giants have been solid. They rank 15th in yards per play allowed, giving up 5.6 yards per snap. They have an elite rush defense that allows just 3.7 yards per rush (4th-best in the NFL). However, New York ranks 21st in net yards allowed per pass attempt. LB Blake Martinez ranks 4th in the NFL with 54 solo tackles and CB James Bradberry is tied for 3rd with 3 interceptions. Continue reading our Philadelphia Eagles vs. New York Giants prediction for a preview of the Eagles.
Philadelphia Eagles Preview
In their previous 2 games, the Philadelphia Eagles have strewn together back-to-back wins for the first time all season. On October 22nd, the Eagles defeated these same New York Giants by a score of 22-21. They failed to cover as 5-point favorite, but they did manage to get the victory. Philadelphia followed that up with a 23-9 win against the Dallas Cowboys. The Eagles covered the 10-point spread as favorites with the help of a scoop-and-score in the 4th quarter to put the game out of reach. After starting the season 1-4-1 SU, these 2 wins were enough to place them atop the NFC East standings. They are 3-5 ATS this season with covers in 3 of their last 5 games. 
On offense, Philadelphia is very pass-heavy. They throw the ball on 63.72% of their snaps, the 3rd highest pass rate in the league. QB Carson Wentz has a heavy burden in terms of carrying the offense, but it remains unclear if he's actually up to the task. The Eagles rank 31st out of 32 teams in net yards per pass attempt. Philly averages just 5.0 net yards/pass attempt this season. They do rush the ball effectively, averaging 4.9 yards per rush (6th in the NFL). RB Boston Scott has been tasked with the majority of carries since Miles Sanders went down in week 5. On defense, the Eagles have an elite pass rush. Philly ranks 4th in pressure rate and 3rd in sack rate. DE Brandon Graham ranks 4th in the NFL with 7 sacks. Aided by their strong pass rush, Philly ranks 3rd in net yards allowed per pass attempt. Overall, the Eagles allow 5.0 yards per play (4th in the NFL).
Full Game Prediction
For New York to win this game, the Giants must take care of the ball on offense. New York turns the ball over on 18.9% of their offensive drives, the 3rd highest rate in the league. QB Daniel Jones has a turnover problem. Jones has 9 interceptions and 7 fumbles through 9 games. It will be difficult for New York to put points on the board if the Giants can't handle the Eagles' pass rush without giving the ball away. For Philadelphia to win, Carson Wentz must play big on 3rd down. It will be tough to run on New York because the Giants' rush defense is so good. Philly will inevitably find themselves in tough 3rd down situations. New York ranks just 26th in 3rd down defense, so it is important that Philly can find ways to convert. Wentz leads the NFL in interceptions with 12. Philly's odds of winning will decrease significantly if Wentz is erratic on 3rd down. However, Philly will be in good shape if he can effectively get the ball to WRs like Travis Fulghum (7th in the NFL in receiving yards/game) in crucial moments. Subscribe to BetQL to get our model's New York vs. Philadelphia prediction and see all the data we have on this game.
Giants vs. Eagles is always a highlight on the season and we have a feeling this game will be good. If you want to learn more about NFL DFS news you can check out our friends at RotoQL or if you are just looking for some good old fashion education you can find that here , or you could catch up on some reading with our friends here. If you are betting on this game make sure you check out our friends at PA Free Bets to get a sportsbook offer to bet with and check out our Parx sportsbook Review if you want to take them up on that offer. If you are feeling saucy you can click here to find more