Atlanta Falcons
vs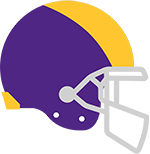 Minnesota Vikings Prediction
The Minnesota Vikings are a solid favorite with a 63% chance to beat the Atlanta Falcons. Alexander Mattison is projected for 56 rushing yards and a 43% chance of having at least 1 rushing TD. In the 36% of simulations where Atlanta Falcons wins, Matt Ryan averages 2.11 TD passes vs 0.55 interceptions, while in losses he has a ratio of 1.59 TDs to 0.98 interceptions. Todd Gurley averages 79 rushing yards and 0.97 rushing TDs when Atlanta Falcons wins and 46 yards and 0.47 TDs in losses. The Minnesota Vikings has a 84% chance of forcing more turnovers than they commit. Positive turnover margin helps them win 70% of the time.
Atlanta Falcons Preview
Dan Quinn was able to avoid termination after a dreadful start in 2019, but he couldn't do it two years in a row. Quinn and GM Thomas Dimitroff both received their walking papers this week after the Falcons fell to 0-5 on the season. Defensive coordinator Raheem Morris has been named the interim head coach and will try to pull the Falcons out of their rut. If it matters, the Falcons have lost to four teams that have a winning record, including two of the NFL's remaining unbeaten teams. However, they've also let leads slip away and found a way to lose winnable games, reinforcing the need to move on from Quinn.
Early in the season, the Atlanta offense was clicking on all cylinders. Keep in mind they scored 39 points against the Cowboys in Week 2. But the Falcons have failed to take off over the last two weeks, scoring just 16 points each against the Packers and Panthers. With Julio Jones missing two games due to injury and Calvin Ridley playing through an injury, the Atlanta passing game has suffered. Matt Ryan has thrown one touchdown and two interceptions over his last three games while getting sacked eight times during that time. It's been a rare slump for Ryan, who needs to get back on track because the Falcons have been getting solid production from Todd Gurley and the running game.
Of course, the Atlanta defense has been the main culprit for the team's 0-5 record. The Falcons are giving up 32 points per game, which is the second-worst in the NFL through five weeks. Injuries have played a small role in those defensive struggles, but not enough to explain why the Falcons have given up at least 30 points in four of their five games. If there's a silver lining it's that the Falcons held the Panthers to three points in the second half last week and 23 points total, which is a step in the right direction. But Atlanta is still giving up far too many big plays.
Minnesota Vikings Preview
It's hard not to feel a little bad for the Vikings, who sit at 1-4 heading into Week 6. They have faced a pair of undefeated teams in the Packers and Seahawks, as well as the Colts and Titans. On top of that, two of Minnesota's losses have come by a single point. The Vikings are just a couple of plays away from being 3-2 and being considered a playoff contender in the NFC. Instead, they are sitting at the bottom of the NFC North and have a long road ahead of them to reach the playoffs. Every game moving forward is more or less a must-win for Mike Zimmer's team.
To add injury to insult, the Vikings aren't sure about the status of running back Dalvin Cook for Week 6. The good news is that they have a capable backup in Alexander Mattison, who came off the bench to rush for 112 yards against the Seahawks last week. However, the Vikings would prefer to have both with the way Kirk Cousins has played this year. Naturally, Cousins has had his moments when he's played well. But he also has games where he looks dreadful. The hope is that against the Atlanta defense Cousins will have one of his better games, especially with the recent emergence of rookie Justin Jefferson.
The Vikings also have plenty of concerns on the other side of the ball where they are giving up over 30 points per game. In fact, Minnesota has conceded a minimum of 23 points in every game this year, which doesn't make it easy to win games with such an inconsistent quarterback. In fairness, the Minnesota defense shutout Seattle in the first half last week and was victimized in the second half when the Seahawks scored touchdowns on short fields. However, 11 sacks and four takeaways in five games isn't going to cut regardless of what the Minnesota offense does.
Full Game Prediction
In theory, facing the 1-4 Vikings provides a good opportunity for the Falcons to get their first win of the season. Of course, the Atlanta defense will have to find a way to contain Minnesota's running game, regardless of whether Cook plays or not. The Falcons also need to get Ryan back on track even with Jones continuing to battle a hamstring injury. In the end, if the Falcons can score points, they'll be able to take away Minnesota's running game and force Cousins to beat them, which is the best-case scenario for Atlanta.
Don't forget to sign up for a BetQL subscription so you can check out all of the key stats and trends for this matchup. In addition to the extra insight, you'll also be privy to our model's Falcons vs Vikings prediction.