Philadelphia Eagles
vs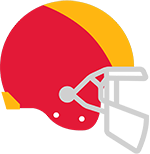 Kansas City Chiefs Prediction
In what promises to be a nail-biting showdown, the Philadelphia Eagles are expected to edge out the Kansas City Chiefs, according to BetQL's simulation results. The Eagles come out on top in 52.0% of simulations, while the Chiefs follow closely behind with a 47.0% win probability. As is often the case in close games, turnover margin takes on added significance, and the Eagles seem to have the upper hand in this area. In an impressive 86.0% of simulations, Philadelphia committed fewer turnovers than Kansas City, leading to a 58.0% win rate for the Eagles when they take care of the ball. However, it's worth noting that the Chiefs also boast a strong record, winning 86.0% of simulations in which they had fewer turnovers.

For Philadelphia to increase their chances of victory, it will heavily rely on the performance of their quarterback Jalen Hurts. With an average of 251.0 passing yards per simulation, Hurts has proven capable of making significant contributions with his arm. If he can continue this trend and achieve above-average passing yardage along with a touchdown-to-interception ratio of at least 2 to 1 (a possibility with a 39.0% chance), then he greatly enhances his team's chances of winning at a remarkable rate of 57%. On the opposing side, Chiefs quarterback Patrick Mahomes has been equally impressive in simulations, averaging 258.0 passing yards per game. If Mahomes can replicate his impressive performance and maintain a similar touchdown-to-interception ratio (a possibility with a 32.0% chance), then he helps his team secure victory with a win rate of 56%.

To gain further insights into how our model predicts the outcome of this exciting matchup, make sure to subscribe to BetQL. Our advanced analysis and simulation results provide valuable information that can help you make informed betting decisions based on the statistical probabilities and trends. Don't miss out on this opportunity to gain an edge. Subscribe to BetQL now and see how our model picks the game!