Detroit Lions
vs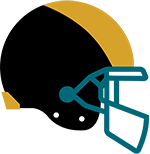 Jacksonville Jaguars Prediction
Expect a close game with the Detroit Lions winning 52% of simulations, and the Jacksonville Jaguars 48% of simulations. In close games, turnover margin is especially important. The Detroit Lions commit fewer turnovers in 58% of simulations and they go on to win 66% when they take care of the ball. The Jacksonville Jaguars wins 69% of the simulations in which they commit fewer turnovers. Matthew Stafford is averaging 282 passing yards per sim. If he can have a great game with better than average passing yards and at least a 2 to 1 TD to INT ratio (43% chance) then he helps his team win 56%. Gardner Minshew is averaging 278 passing yards per sim. If he can have a great game with better than average passing yards and at least a 2 to 1 TD to INT ratio (41% chance) then he helps his team win 52%.
Detroit Lions Preview
The Lions have gone 1-3-0 and sit in third place of the NFC North entering Week 6 of the 2020 NFL regular season, although that probably means their playoff chances are quite slim considering they share the division with both the Chicago Bears (4-1-0) and the Green Bay Packers (4-0-0), two teams that have certainly looked like playoff contenders following the first month of the 2020 NFL season. Detroit might have a sizable edge over Jacksonville ahead of this Lions vs. Jaguars game, however, as they were on a bye last week, meaning they had two full weeks to prepare for this matchup. Detroit has gone 1-3-0 ATS this season and, even though their one-win campaign has been disappointing, they're in a rebuilding effort despite having Matthew Stafford leading the offense and were not likely to contend for a playoff berth this year. Stafford, who has only thrown for 1,017 yards while averaging 7.4 yards per attempt this season, will need to be at his best if he wants to take advantage of Jacksonville's defensive problems, and the Jaguars have allowed a whopping 416.8 yards per game this year, the third-worst mark in the league. This sounds like a great matchup -- at least on paper -- for Stafford and the Lions offense.
Jacksonville Jaguars Preview
The Jaguars kicked off the 2020 NFL season with a win over the Indianapolis Colts and many experts believed they could make a run at a playoff berth in the AFC South, but those chances are practically dead following four losses in a row. Jacksonville's calling card over the last few years has been their defense, but that hasn't been the case in 2020 -- the Jaguars have allowed the fourth-highest mark of points against in the AFC during the 2020 season, trailing only the Cleveland Browns, the Las Vegas Raiders, and the New York Jets. There have been a few positive things regarding the Jaguars this year, though, and one of them has been the play of Gardner Minshew. The second-year signal called might not be Jacksonville's long-term answer at quarterback, but he has looked serviceable in 2020 after completing 69.9 percent of his passes and throwing 10 touchdown passes to just 10 interceptions. Minshew can't do everything on his own, however, and the Jaguars need to tighten things up defensively if they plan to turn things around before it's too late. Jacksonville has allowed 29.4 points per game and, to make things even more complicated, they've also scored just 17.3 points per game over their last three contest, the third-worst mark in the league in that span. The Jaguars have also gone 2-3-0 ATS this season.
Full Game Prediction
The Jaguars are trending in the wrong direction following four straight losses, and they can't expect Minshew to win games on his own due to the team's lack of weapons on offense and their defensive struggles, which seem to be bigger and bigger after each week. The Lions had two weeks to prepare for this game and have gone 1-1-0 on the road in 2020. That's hardly an inspiring record, but they shouldn't have major problems to come away with the victory in this one against a struggling Jacksonville team that seems to be plagued with problems on both sides of the ball.