Los Angeles Rams
vs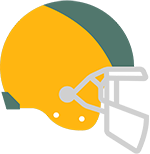 Green Bay Packers Prediction
The Green Bay Packers are a solid favorite with a 61% chance to beat the Los Angeles Rams. Aaron Jones is projected for 84 rushing yards and a 61% chance of having at least 1 rushing TD. In the 39% of simulations where Los Angeles Rams wins, Jared Goff averages 1.88 TD passes vs 0.45 interceptions, while in losses he has a ratio of 1.43 TDs to 0.92 interceptions. Cam Akers averages 63 rushing yards and 0.62 rushing TDs when Los Angeles Rams wins and 38 yards and 0.27 TDs in losses. The Green Bay Packers has a 70% chance of forcing more turnovers than they commit. Positive turnover margin helps them win 73% of the time.
Los Angeles Rams vs Green Bay Packers Prediction
The Los Angeles Rams enter the Divisional Round coming off an impressive 30-20 victory over their NFC West rivals, the Seattle Seahawks. While the Rams still have health concerns, they feel confident their defense will keep them in any game, no matter the opponent. They'll need their best performance of the season against a dominant Green Bay Packers team led by Aaron Rodgers. This game will be played on Saturday, January 16th, at 4:35 P.M EST.
Green Bay Packers Preview
After going 13-3 in 2019 and making the NFC Championship Game, the Packers might be better this year. The reason for their improvement has been the play of Aaron Rodgers. Everyone who's seen Rodgers play knows that he is one of the most talented quarterbacks in NFL history, but this season, he's taken even his play to a new standard.
The odds-on favorite for NFL MVP, Rodgers had one of the greatest statistical seasons of all time. He completed 70.7% of his passes for 4,299 yards, and while those were impressive, they're nothing compared to the 48 touchdowns he threw to only five interceptions. Aaron Rodgers did whatever he wanted. Whether he was targeting Davante Adams on an out route, or making Robert Tonyan look like Travis Kelce, he elevated the play of everyone around him.
What's standing between him and another NFC Championship berth is the Los Angeles Rams and their sturdy defense. Look for Jalen Ramsey to attempt to eliminate Davante Adams from the equation, and for Aaron Donald to collapse the interior of the Packers line. Green Bay hasn't lost a game since November 22nd, and it'd be surprising to see this team slip up against the Rams. That's why the games are played though, so Rodgers and company must bring their A-games.
Los Angeles Rams Preview
It wasn't exactly unexpected that the Los Angeles Rams went into Seattle and defeated their divisional rivals, it was how they beat them. Entering the game, the Rams were comfortable starting John Wolford at quarterback, as Jared Goff was still battling a thumb injury. However, after only six pass attempts, Wolford was knocked out of the game with a head and neck injury. Suddenly, it was Jared Goff's show once again.
Or, was it? Goff was serviceable, and he protected the ball, but he didn't make any game-changing plays down the field. He finished with only nine completions on 19 attempts, for 155 yards and a touchdown to Robert Woods. Against a secondary as weak as Seattle, Los Angeles could've attempted to engage in a shootout. Instead, the Rams chose to dominate the trenches.
Rookie Cam Akers had his coming out party on Saturday. He dominated the touches in the backfield, carrying the ball 28 times and rushing for 131 yards and a touchdown. Akers is continuing his surge from the final month of the regular season, and he took over the game against Seattle. This will be the formula for Los Angeles against Green Bay. If they try to engage Aaron Rodgers in a shootout, Rodgers will shoot them right home. They have to rely on their running game and their dominant defense to keep the Green Bay offense at bay, and have the clock continue to tick.
Full Game Prediction
Most are counting the Los Angeles Rams out in this one. That being said, they did the same thing last week, only for the critics to eat their words. The Rams are a very well-coached team, have a solid running game, and a defense that can take over a game. While I would be surprised if they pulled the upset, they could definitely keep this game closer than expected. In the end though, expect Aaron Rodgers to make one too many plays for LA to pull out a tough-fought victory.