Los Angeles Chargers
vs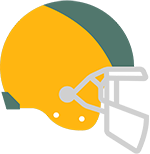 Green Bay Packers Prediction
The upcoming game between the Los Angeles Chargers and the Green Bay Packers is shaping up to be a close battle. According to our simulations, the Chargers hold a slight edge, winning 54% of the matchups, while the Packers are not too far behind with a 45% win probability.

In tight contests like this, turnovers can often make the difference. The Chargers fare better in terms of ball security, committing fewer turnovers in 25% of our simulations. When they take care of the ball, they go on to win an impressive 82% of the time. On the other hand, the Packers manage to come out on top in 55% of the simulations where they commit fewer turnovers. It's clear that limiting mistakes will be crucial for both teams.

In terms of individual performances, keep an eye on Austin Ekeler for the Chargers and Aaron Jones for the Packers. Ekeler is averaging 39 rushing yards per simulation, and if he can have a standout game with better-than-average rushing yards and at least one rushing touchdown (10% chance), he significantly boosts his team's chances of winning to an impressive 84%. Similarly, Jones is also averaging 39 rushing yards per sim, and if he can replicate a strong performance in terms of rushing yards and find the end zone at least once (11% chance), it increases the Packers' odds of victory to 66%.

To get more detailed insights and predictions on this game and others, make sure to subscribe to BetQL. Our model uses advanced analytics and data to provide you with expert picks and analysis, helping you make more informed decisions when it comes to sports betting. Don't miss out on our comprehensive coverage - subscribe now to see how our model is picking this exciting matchup between the Chargers and Packers.