Atlanta Falcons
vs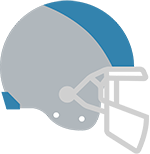 Detroit Lions Prediction
The Detroit Lions are stepping onto the field as the solid favorites in this upcoming game against the Atlanta Falcons. With a 64.0% chance of victory, the Lions have an edge over their opponents. Quarterback Desmond Ridder will play a crucial role for the Falcons, averaging 2.12 TD passes in the simulations where they come out on top. However, he will need to be careful with his passes, as interceptions could prove costly. The Lions' defense has a 49.0% chance of forcing more turnovers than committing them, and history shows that a positive turnover margin significantly boosts their chances of winning. Overall, the Lions appear to have the upper hand.

In terms of individual performances, running back David Montgomery stands out for the Lions. Projected for 47.0 rushing yards, he has a 31.0% chance of scoring at least one rushing touchdown. Montgomery will undoubtedly be a focal point of the Lions' offensive strategy as they look to control the ground game and keep the Falcons' defense guessing.

On the other side of the field, running back Tyler Allgeier's contributions will be vital for the Falcons if they hope to emerge victorious. In simulations where Atlanta wins, Allgeier averages a solid 57.0 rushing yards and has a 0.23 chance of scoring a rushing touchdown. However, he sees a significant drop in production in their losses, averaging just 29.0 yards and a 0.05 TD score. It's clear that the Falcons' success heavily relies on establishing a strong run game led by Allgeier.

To get further insight into how our model is picking this game and to stay ahead with accurate predictions and analysis for other upcoming games, don't forget to subscribe to BetQL. Our comprehensive approach combines statistical data with expert analysis to enhance your betting experience and give you an edge in predicting outcomes correctly time and again. Don't miss out on the wealth of information that BetQL provides. Subscribe today and let us help you make smart, informed bets.