How Oklahoma Has Vaulted Into National Title Contention
The Sooners offense has been clicking as usual, but one group has stepped up
By Daniel Mogollon - Oct 22, 2019, 4:45am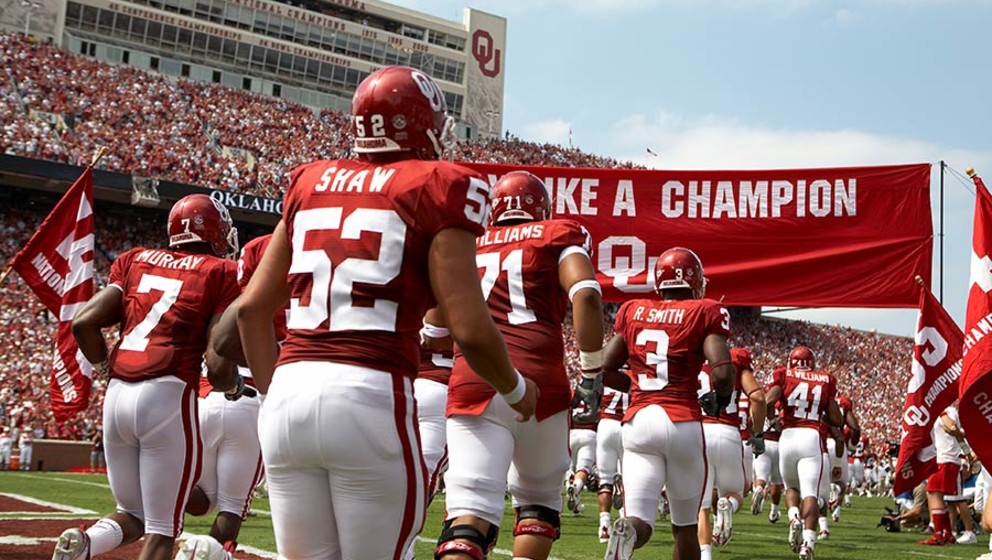 This is Oklahoma's best team under Lincoln Riley due to their much-improved defense. 
With their 52-14 win over West Virginia in Norman in Week 8, the Sooners improved to 7-0 on the season.
A year after putting up some of the worst defensive numbers in college football, the Sooners defense has shattered expectations.
Despite two ranked teams remaining on their schedule, OU will likely be a double-digit favorite in every remaining game.
Defense Makes Sooners A Real Title Contender 
With their 52-14 win over West Virginia in Norman on Saturday, the Oklahoma Sooners improved to 7-0 on the season and appear to be on their way to another College Football Playoff appearance. 
Head coach Lincoln Riley is considered the best offensive mind in the game and the play of former Alabama Crimson Tide quarterback Jalen Hurts has been one of the most intriguing stories of the first half of the season. Hurts is putting up numbers that has people thinking the Sooners will produce their third-straight Heisman Trophy winning quarterback following in the footsteps of Kyler Murray and Baker Mayfield. 
As good as Hurts has been, it's far from a one-man show. Despite losing four starters to the NFL from last year's offensive line, the Sooners have rebuilt their front on the fly. Behind that offensive line, the running game is ranked seventh in the country (273.6 yards per game) with an FBS-best 7.4 yards per carry average. The trio of Kennedy Brooks, Trey Sermon, and Rhamondre Stevenson, along with Hurts, gives OU four runners with over 350 rushing yards who average at least 7.2 yards per carry. 
Find out what ★★★★★ bets are in BetQL's Model for Week 9! The season is flying by, but you can still get in the action!
There's not a more balanced attack, as Oklahoma is also sixth in passing offense (339.3 yards per game) and leads the nation in yards per pass (12.6) by a healthy margin, as well as yards per completion (17.3). Headlining a deep stable of receivers is CeeDee Lamb who is as dangerous a pass catcher is there is in college football. He averages 22 yards per catch and 10 of his 31 receptions have gone for touchdowns. 
OU's offense is tops in scoring at 50.4 PPG, but that's nothing new in Sooner-land. Oklahoma always has an explosive offense. What's different about the 2019 Sooners and has many believing they're a real title contender this year, is a much-improved defense. 
The defense isn't as good as the offense, but it's catching up, which is exactly what coach Riley had in mind when he hired Alex Grinch away from Ohio State to become Oklahoma's defensive coordinator. Grinch made a name for himself by turning around Mike Leach's defense at Washington State two years ago and now is considered one of the favorites to win the Broyles Award, as the nation's top assistant, for the work he's done with OU's defense. 
The defense is more sound. The tackling is much improved. They're also attacking and playing with more aggression. The Sooners are getting after the quarterback, playing much faster, and creating havoc. 
Keep tabs on Public Betting info ahead of Week 9!
The on-field face of the defense is MIKE linebacker Kenneth Murray who is a heat-seeking missile once he gets the ball carrier in his sight. Murray leads the Sooners with his 51 tackles and 7.5 tackles for loss. Senior defensive tackle Neville Gallimore is finally playing up to his potential, while youngsters Ronnie Perkins and Jalen Redmond lead a diverse pass rush. 
The offense has been good enough for Oklahoma to be a playoff team in each of the past two seasons, but it's the improvement they've made on defense this year that makes the Sooners a real national title contender. 
The Defensive Improvement is Stark
The Sooners are 23rd in scoring defense (19.4 PPG) and 28th in total defense (326.3 YPG), way up from a year ago when they were 101st in scoring (33.3 PPG) and 114th in total defense (453.8 YPG). Last season, they allowed more points than cellar dwellers Rutgers and Kansas. This year, they're allowing fewer points than perennial stout defenses LSU and Michigan State. 
The biggest improvement has come in defending the pass. The 2018 defense was ranked 130th out of 130 FBS teams in passing defense and this year OU is up to 37th. They're allowing nearly 100 yards fewer per game through the air and a full two yards fewer per pass (8.4 to 6.4). 
One of the biggest reasons for this jump is their third-down defense, which is ranked seventh in the nation, up from 119th a year ago. A big part of their third-down success is getting pressure on the quarterback. They have 22 sacks through seven games after totaling just 29 in 14 games last season. 
View Week 9 Sharp Picks on BetQL's Dashboard!
More than any other game, how they performed against Texas in the Red River rivalry epitomizes how much better the Sooner are defensively. Last season they lost to Texas, 48-45, as the Longhorns put up 501 yards of offense, 324 through the air, 177 on the ground, with an average of 8.8 yards per pass. The 'Horns had a much tougher time offensively in Dallas this time around, as they were held to 310 yards, 100 rushing yards, 5.5 yards per pass, and 2.8 yards per rush in a 34-27 OU win. 
The Sooners show no signs of slowing down either, as they held the Mountaineers to 242 yards on Saturday. They haven't allowed more than 400 yards of offense in a game since the season opener. That's six-straight games. The last time Oklahoma's defense had a streak half as long (three-straight games) was six years ago. 
A Favorable Schedule Down the Stretch
The strength of the 'Cats is their defense, as they top the Big 12 in points allowed (18.7 OOG). They've been especially tough to throw on as they also lead the conference in pass defense (152.5 YPG), while allowing just 54.4 percent of the passes to be completed against them and 6.1 yards per pass with the best third-down defense in the Big 12 (23.9 percent).
Nevertheless, as a three-touchdown favorite, the Sooners are expected to win rather comfortably against the Wildcats. Judging by the future lines for OU's remaining games, Kansas State might be the easiest opponent remaining on their schedule. 
Of the five teams Oklahoma has left on their schedule, four have winning records, none have a losing record, and two are ranked. Their toughest stretch comes after their open week when they take on No. 23 Iowa State on November 9, followed by a trip to No. 14 Baylor on November 16. Don't discount their season finale in Stillwater in the Bedlam Series against the Oklahoma State Cowboys, which could be a tough final hurdle to overcome before the Big 12 Championship Game. 
They will be a double-digit favorite in all five of their remaining games and other than Clemson, the Sooners probably have the easiest path to an undefeated season among playoff contenders. Alabama and LSU have to play each other, as well as Auburn, while Big Ten undefeated schools Ohio State and Penn State will square off in November. 
Not to be undervalued is the fact the Sooners will definitely face a rematch in the Big 12 Championship Game and it's never easy to beat the same opponent twice in a season. 
Oklahoma opened as 24-point favorites against Kansas State in Week 9. Keep an eye on all the data for this game before you make your bets!