New Name Emerges As Heisman Favorite
Updated Heisman odds through Week 9
By BetQL - Oct 28, 2019, 5:38am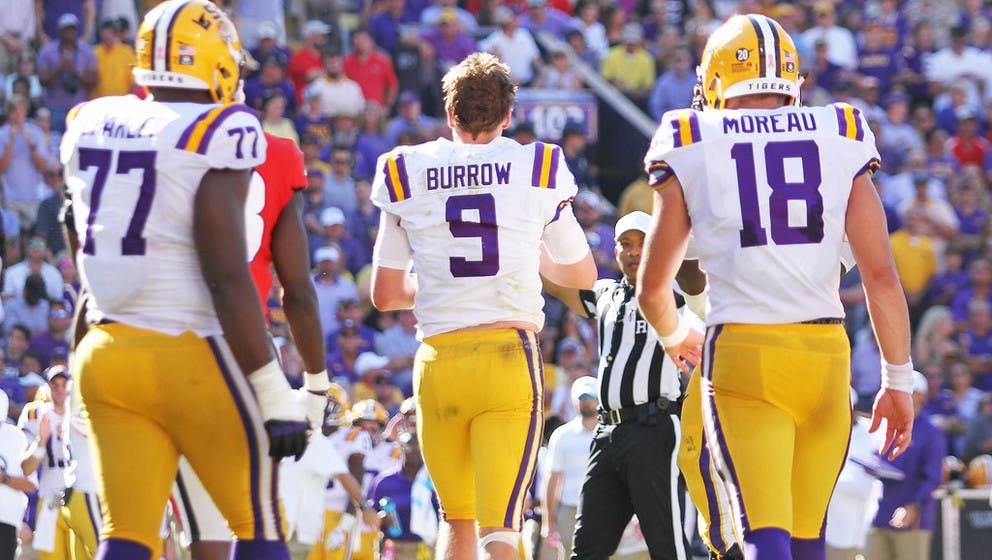 Current Odds
The following odds were found on DraftKings (updated on Sunday October 27th, 2019):
Joe Burrow (+125)
Tua Tagovailoa (+150)
Jalen Hurts (+350)
Justin Fields (+600)
Chase Young (+1000)
J.K. Dobbins (+5000)
Jonathan Taylor (+5000)
Justin Herbert (+8000)
Travis Etienne (+10000)
D'Andre Swift (+10000)
Recap
LSU QB Joe Burrow (+125) took over as the favorite after leading the Tigers to another big win with his sixth 300-yard game of the season. 
Alabama QB Tua Tagovailoa (+150) sat out with an ankle injury, but there's optimism as he is healing better than expected. 
Oklahoma QB Jalen Hurts (+350) went off for 491 total yards but took a hit, as the Sooners lost their first game of the season. 
Ohio State QB Justin Fields (+600) got a bump despite his worst statistical game of the year, thanks to OSU's big win over Wisconsin. 
Ohio State DE Chase Young (+1,000) looked like the best player in the country with his four sacks against the Badgers to generate Heisman buzz.
Analysis
by Daniel Mogollon
Joe Burrow 
(+125) 
2,805 yards, 30 TDs, 4 INTs, 76.2%, 10.8 YPP, 204.5 Rating
125 rush yards, 3 rush TDs (8 Games Played)
There's a new favorite in the Heisman race, as Joe Burrow led LSU to a 23-20 win over No. 9 Auburn. Another big win for the Tigers, who have the best resume in college football. While he threw for just one touchdown (with an INT), Burrow impressed with his overall performance. Dealing with more pressure than he has all season, he still managed to complete 32-of-42 passes (76.2 percent) for 321 yards. Auburn's premier D-line was in Burrow's face all game and he responded with poise.
The senior made pinpoint throws, fitting passes through tight windows, and he made plays with his legs, including his third rushing touchdown of the season, which ultimately was the decisive score. Burrow showed a lot of toughness on Saturday and beyond putting up gaudy numbers, he played the type of big game in a big spot that will impress voters. The win vaulted LSU to No. 1 in the AP Poll.
As big as LSU's win was against, their third against a team ranked in the top-10, their biggest game has yet to be played. After an open week, the Tigers travel to Tuscaloosa to take on No. 2 Alabama on November 9. How Burrow performs against the rival Crimson Tide could make or break his Heisman run.  
Tua Tagovailoa 
(+150) 
2,166 yards, 27 TDs, 2 INTs, 74.7%, 11.2 YPP, 212.4 Rating
30 rush yards, 2 rush TDs (7 Games Played)
Recovering from surgery on his ankle, Tua Tagovailoa sat out Alabama's 48-7 win over Arkansas on Saturday. It was definitely a missed opportunity to pad his stats (backup Mac Jones threw three touchdowns) and potentially maintain his co-favorite status along with LSU's Burrow.  
Looking ahead to Alabama's highly-anticipated matchup with LSU in two weeks there is some good news for Tagovailoa. The Tide have a well-timed open week before their epic clash with the Tigers. His recovery is going well. According to head coach Nick Saban, Tua is healing "better than expected," before he added that there is not a lot of swelling. While it's unclear how much he'll be able to do, Tagovailoa is expected to return to practice by midweek, which is the best-case scenario for Tide fans and Tua's Heisman's chances. 
Find out what ★★★★★ bets are in BetQL's Model for Week 10! The season is flying by, but you can still get in the action!
Jalen Hurts 
(+350) 
2,469 yards, 21 TDs, 3 INTs, 73.9%, 13.7 YPP, 224.3 Rating
801 rush yards, 13 rush TDs (8 Games Played)
Jalen Hurts had arguably the best individual performance of any of the Heisman favorites on Saturday, as he threw for 395 yards, ran for 96 yards, and accounted for four touchdowns. He was nine yards short of throwing for 400 and rushing for a 100. The type of performance Heisman Trophy voters love. So, why did Hurts's odds drop from +220 to +350? That's easy.
Oklahoma was upset 48-41 by Kansas State in the Little Apple. As much as the Heisman Trophy is an individual award, it's a team award as well. Winning your conference and making the playoffs means something to voters. OU's chances on both accounts were hurt with their first loss of the season. Even in defeat, Hurts increased his college football leading 13.7 yards per pass and is up to 13 rushing touchdowns on the season. Don't count him out yet.  
Things don't get easier for the Sooners, but that's a good thing for Hurts. After an open week, OU plays Iowa State (Nov. 9) and surging Baylor (Nov. 16), arguably their toughest Big 12 foes. With an open week themselves, Baylor survived upset Saturday in the Big 12 (the underdogs won all four Big 12 games in Week 9) and are viewed by many as a better version of Kansas State, with the defense to match. 
Justin Fields 
(+600)
1,659 yards, 24 TDs, 1 INT, 68.8%, 8.9 YPP, 185.2 Rating
319 rush yards, 9 rush TDs (8 Games Played)
Playing in windy and wet conditions, Justin Fields and Ohio State got off to a slow start in Columbus before they eventually rolled Wisconsin 38-7 at the Horseshoe. The weather, as well as Wisconsin's pass rush (five sacks) definitely affected Fields as he was just 12-of-22 passing for a season-low 54.5 percent. His 167 passing yards and 195 total yards were also season lows. There were some drops, but Fields also had several passes sail high.
Nevertheless, the Ohio State quarterback's odds took a big jump this week from +1,000 to +600 (yet another indication of how important team success is to a player's Heisman chances). The sentiment that the Buckeyes are the best team in the country continues to grow, which helps Fields. During Saturday's win Fields tweaked his lower back and while he didn't miss any time, he did wince after landing on his back on a run, which bears watching.
With an open week, followed by three-win Maryland and two-win Rutgers, Fields and the Buckeyes will not be tested again until late November when they close out the season with Penn State and Michigan. Both the undefeated Nittany Lions (beat Michigan State 28-7) and the improving Wolverines (beat Notre Dame 45-14) had impressive wins on Saturday setting up a big finish to the season for Fields.  
Get a 50% deposit bonus up to $500 with your next DraftKings Sportsbook deposit!
Chase Young 
(+1,000) 
13.5 sacks, 5 forced fumbles (8 games played)
It's very apropos that an Ohio State defender takes Jonathan Taylor's spot in the top five, as the Buckeyes shutdown the Badgers back (52 yards, 2.6 YPC, 0 TDs). Defensive end Chase Young was the breakout star on Saturday. The junior tied OSU records with his four sacks and five tackles for loss (note: the Badgers only attempted 17 passes). Young is an absolute force of nature who was the best player on the field at the Horseshoe and that includes Fields.
He's a dynamic edge rusher who can also stand up and move around the field, which the Buckeyes did to confuse Wisconsin's blocking schemes as they held the Badgers to just seven points. In addition to getting after the quarterback, Young blew up more than one screen pass and he makes an impact against the run. The nation's best defender created a ton of Heisman buzz with his dominant performance on Saturday. 
I love seeing a defensive player get some Heisman love for a change, but the reality is Young still faces an uphill battle moving forward, especially with one teammate (Fields) ahead of him in the race and another in running back J.K. Dobbins (221 yards versus Wisconsin) as the next player on the Heisman odds list. 
Which Heisman candidate will continue to make his case in Week 10? Use BetQL's data-filled platform to guide your bets!