Why Michigan's Win Over Notre Dame Meant So Much
The Wolverines dominated their rivals from start to finish
By Daniel Mogollon - Oct 29, 2019, 2:22pm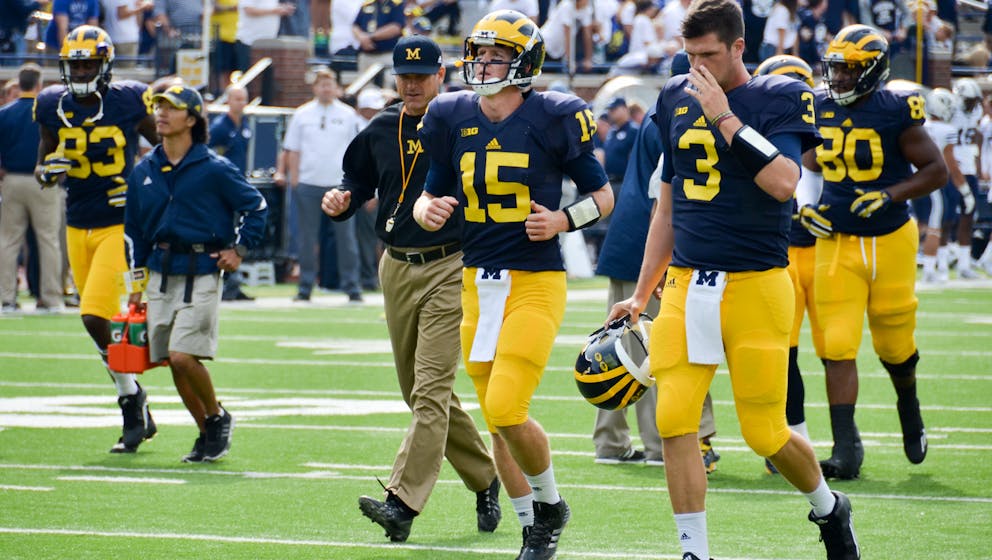 In Week 9, Michigan ran all over Notre Dame in their biggest win of the season.
The Wolverines appear to be getting better as the season goes on.
The Maize & Blue moved up five spots to No. 14 in the AP Poll.
Freshmen running backs Hassan Haskins and Zach Charbonnet give them a one-two punch one the ground.
Michigan is set up to be 9-2 heading into their rivalry game against Ohio State.
Michigan Thumps Notre Dame Under The Lights
Jim Harbaugh relied on his veteran offensive line and young backfield to get a much-needed win against a top-10 team. Arguably the biggest victory of the Harbaugh era at a moment in his tenure when the Maize & Blue couldn't afford another marque loss. 
The rain was especially heavy in the first half, as the Wolverines built a 17-0 lead heading into the locker room, as highly-touted true freshman running back Zach Charbonnet scored two touchdowns. They ran the ball 25 times to just four passes by quarterback Shea Patterson, including a stretch of 17-straight rushes. 
Meanwhile, the UM defense was pitching a shutout until a phantom pass interference call in the third quarter negated an interception and extended Notre Dame's drive into Michigan territory, which ended in the Fighting Irish finding the end zone. The Wolverines had dominated the game, but suddenly the lead was just 17-7. The offense responded, as redshirt freshman Hassan Haskins exploded up the middle for a 49-yard run to the ND 25-yard line to set up a Patterson touchdown pass to Donovan Peoples-Jones to extend the lead back to 17.
The quarterback was 4-of-8 for 78 yards in the second half, including a 34-yard completion to true freshman Mike Sainristil to set up a 16-yard scoring strike to Nico Collins, which made it 31-7. 
As good as the running game was, the defense was equally impressive, as Don Brown's unit was in full attack mode. They held the Irish to just 180 total yards and 3.0 yards per play. Notre Dame was unable to generate a running game (1.5 YPC) or to connect on many plays through the air, as the Wolverines forced Ian Book to 8-of-25 passing (2.92 YPP). 
Find out what ★★★★★ bets are in BetQL's Model for Week 10!
Getting Better Every Week
Saturday's win was Michigan's best all-around performance of 2019. The defense had shown flashes before, like their 10-3 win over undefeated Iowa three weeks earlier, but this was the most-impressive their offense has looked against a quality defense such as Notre Dame's. 
This was the Wolverines team many expected to see at the start of the season when they were picked to win the Big Ten. While that is unlikely to happen with two conference losses, Michigan keeps getting better and better. 
Last week, they found themselves trailing Penn State 21-0 on the road in a game many predicted would be a blowout. Instead of getting crushed in the manor the Fighting Irish were in Ann Arbor, the Wolverines clawed their way back against the Nittany Lions. With the score 28-21, Michigan was a dropped pass in the end zone away from tying the game late in the fourth quarter. 
There are no moral victories in Ann Arbor, but the Wolverines may have turned their season around in Happy Valley. They looked better but we wouldn't know for sure until we saw them the following week against Notre Dame. After Saturday night's performance, we know. This team is moving in the right direction. 
Get a 50% deposit bonus up to $500 with your next DraftKings Sportsbook deposit!
Charbonnet, who was a big part of the comeback at Penn State, backed it up with another two-touchdown game against a top defense. He's rushed for 271 yards and five touchdowns with a healthy 5.6 yards per carry average in the past three games. 
Due to injuries in the backfield early on in the season, including one to Charbonnet, Michigan moved Hassan Haskins from linebacker back to running back. I don't see him playing defense again, as the redshirt freshman has emerged as a major part of the offense. He had just 14 carries through five games, but over the past three weeks he's rushed 302 yards on 45 carries (6.7 YPC), including a career-high 149 yards against Notre Dame. Like Charbonnet, Haskins brings size (both are 6'1", 220 pounds), as well as explosiveness and burst. 
What was the biggest question mark heading into the season, could be a strength down the stretch, especially as the weather becomes a bigger factor in November. Haskins and Charbonnet are a potent one-two punch, which the Wolverines need to ride the rest of the season. 
Yes, new offensive coordinator Josh Gattis was brought over from Alabama in large part to get the most out of Michigan's talented receiving corps, but you know coach Harbaugh loves to run the ball and at any level, having offensive balance is ideal. Forcing defenses to defend the run will only benefit Patterson as he drops back to pass. The new offense is also supposed to better use Patterson's mobility and he had five positive runs for 40 yards against Notre Dame. Don't be surprised if we see more of that as well. 
Rising In The Polls
You can make a case they should be ranked ahead of the undefeated Golden Gophers because of a better resume. Minnesota's out of conference schedule was soft, they've played no ranked teams, and their Big Ten wins have come against five of the six worst teams in the conference. 
Conversely, Michigan has two wins against ranked opponents in Iowa and now Notre Dame, as their tough schedule had them pitted against ranked teams in four of their first eight games. They are the only team in the Big Ten that has played four teams that are currently ranked, while Ohio State and Penn State are the only other teams in the conference with multiple wins against teams that sit in the top 25. 
A Major Test Coming Up
Finally, Michigan ends the season against Ohio State, who many believe are the most-complete team in the country. They have something no other team does. A Heisman Trophy candidate on both sides of the ball in quarterback Justin Fields and defensive end Chase Young. Just a week ago, no one gave Michigan much of a chance against the rival Buckeyes, but coming off their impressive win over the Irish, the Wolverines might have a fighting chance. 
There's no reason they shouldn't keep their upward trajectory going. Patterson looks to be 100 percent healthy after playing through an early-season injury. He's getting comfortable in the new offense, which not surprisingly might have taken a few games, and is moving well in the pocket while keeping his eyes down the field. Much-improved offensive line play will also help a quarterback's confidence, not to mention the big holes their opening up for their freshmen backs. 
Not to be overlooked is Michigan's stellar defense which has several key players who are growing into their roles. Sophomore defensive end Aiden Hutchinson is stout at the point of attack, while he's used his athleticism to knock down four passes. Another star in the making is redshirt freshman middle linebacker Cameron McGrone, who since taking over for an injured Josh Ross has flourished. McGrone plays with the explosiveness of a next-level defender and he led all players with 12 tackles against Notre Dame. 
Track line movement, public betting data, utilize sharp picks and view bets bets from our algorithm every week of the college football season!