It's Time To Pay Attention To Joe Burrow
He's putting up some crazy numbers at LSU and might be the program's best QB ever
By Daniel Mogollon - Oct 14, 2019, 5:26pm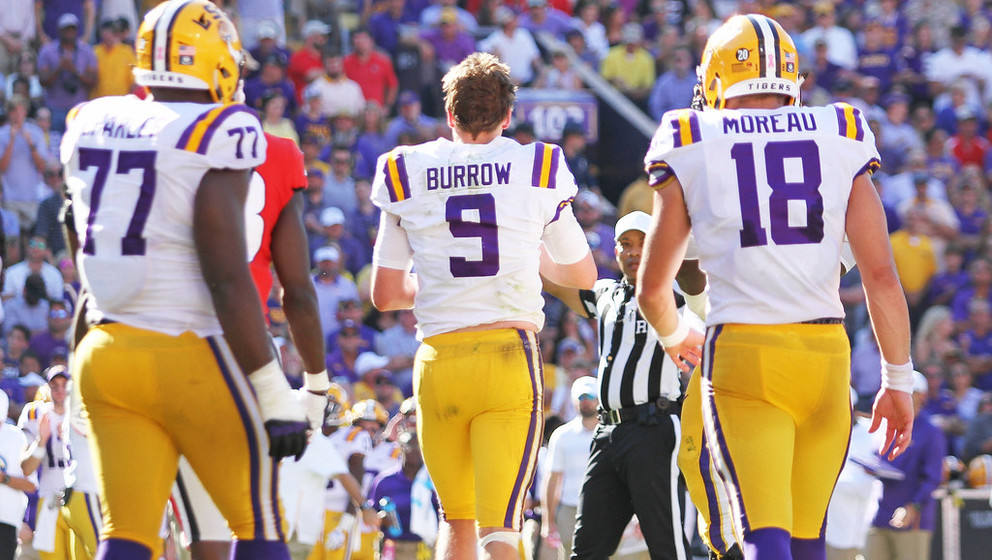 LSU QB Joe Burrow leads FBS football in passing efficiency and completion percentage and has led his team to a 6-0 record and a No. 2 spot in the AP Poll.
The Bayou Bengal is in the top five in 10 statistical categories nationally.  
Burrow has already tied or broken nine school records at LSU.
His 25 touchdown passes leaves the senior quarterback just three shy of the single-season school record. 
Against one of the nation's top defenses (Florida), Burrow completed nearly 90 percent of his passes with three touchdowns and no interceptions in his second top-10 win of the season.
Burrow and the Tigers will square off against Mississippi State on the road in Week 8.
Eye-Popping Numbers
For years, people looked at the LSU Tigers and thought, "If they only had a quarterback… Even with just an average quarterback, imagine the things they could accomplish?" We don't need to imagine anymore, as the Bayou Bengals find themselves at No. 2 in the Associated Press Poll and, unlike previous years when they were ranked high, the quarterback is the reason why. 
Joe Burrow isn't just your average Joe, no, he's much better than that. He's arguably the best quarterback in the nation. 
The senior signal caller has completed 79.6 percent of his passes for 2,157 yards and 25 touchdowns to just three interceptions. Burrow's total passing yards and 359.5 passing yards per game are second overall, ahead of Tua Tagovailoa, while he ranks third in total offense (377 yards per game) and fifth with 24.67 completions per game. 
He's not just putting up huge raw numbers, he's doing it in an economical, efficient way. His quarterback rating is 218 and he leads the FBS in passing efficiency. Burrow's 11.6 yards per pass are second only to Jalen Hurts and his 14.57 yards per completion are 10th in the country. In terms of accuracy, no one is better, as Burrow leads the nation with his 79.6 completion percentage, a number that's difficult to maintain for an entire game, let alone half a season. 
Of course, yards and completions don't win football games. Points do. How does Burrow fair in that department? On pace to throw 50 touchdowns, Burrow's 25 scoring strikes are tied for second in the nation, just two behind Tua. He's also second in points responsible for (164) and points responsible for per game (27.3). 
There's no other way to describe the numbers Burrow is putting up, other than simply insane. That's why he has the second-best odds to win the Heisman Trophy at the moment. Read more about how he stacks up against the other candidates!
Destroying the LSU Record Book
In Week 2 at Texas, Burrow lit up the Longhorns for 471 yards, which was the second-most in a game in school history and the most ever allowed by a Texas team, so he's even invaded the record books of other programs. 
Burrow has completed at least 20 passes in every game this season and his streak is up to nine-straight games, which triples LSU's previous mark of three games in row with 20-plus completions. 
While he hasn't quite broken the single-season passing touchdown record yet, Burrow is pace to blow it to smithereens. With 25 right now, he sits at third on the single-season touchdown pass list, just three away from JaMarcus Russell and Matt Mauck, who hold the school record with 28. With 41 career touchdown passes in just 19 games as a Tiger, Burrow is already up to third on the list for career touchdown passes as well. He's also one away from the career mark of seven 300-yard games, which Burrow did in four-straight games this season, a school record.
In all, the Heisman candidate has already set or tied nine school records at LSU and with at least six more games to go this season, you can bet Burrow will continue to add more. 
Get your first DraftKings Sportsbook deposit matched up to $200!
Burrow Passed First Big Test
The Gators came in ranked ninth in passing efficiency defense and their 12 interceptions led the nation. With an NFL-caliber secondary and future pro pass rushers, if any team was going to slow Burrow down, it would be Florida. 
Instead, Burrow led LSU to 42 points and 10.6 yards per play, which is the most ever for the Tigers against a ranked team or an SEC opponent in the program's history behind Burrow's pinpoint passing. He carved up the Gators with surgical precision, as he completed 21-of-24 passes (87.5 percent) for 293 yards and three touchdowns (no interceptions), while adding 43 yards rushing. 
His performance against Florida doesn't bode well for future LSU opponents and that includes No. 1 Alabama.
Burrow and the 6-0 Tigers will travel to take on Mississippi State (3-3) in Week 8. Look for him to continue his success. Check out BetQL's Game Page for updated betting information leading up to kickoff!