Appalachian State: Sleeper To Watch
Coming off of an 11-2 season, there's a lot of optimism surrounding the Sun Belt program
By Matt Reed - Aug 23, 2019, 7:04pm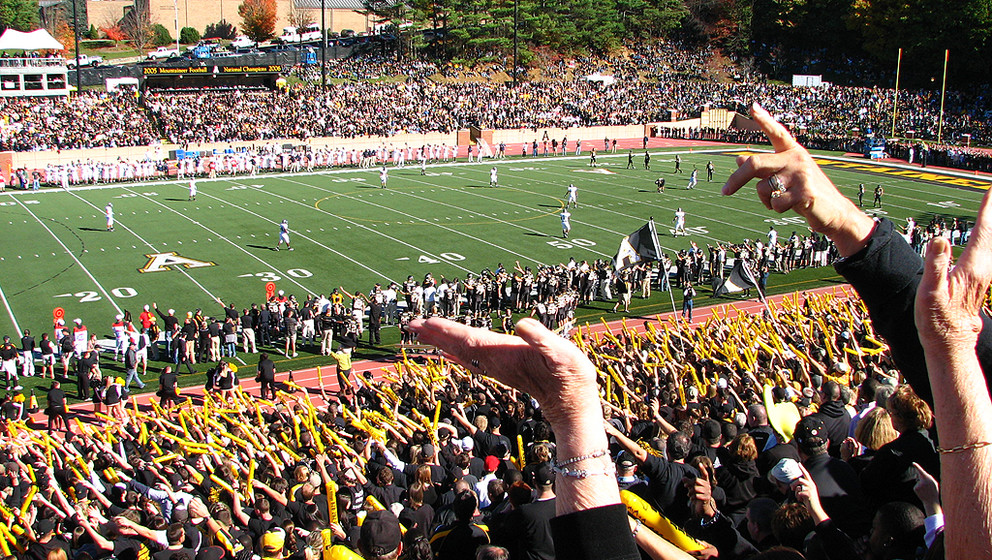 ● Appalachian State has won four consecutive bowl games 
● Maxwell Award nominees Zac Thomas (QB) and Darrynton Evans (RB) are returning
● The Sun Belt team has significant upside based on their weak schedule  
Appalachian State has earned national recognition over the last decade-plus with a historic win against the Michigan Wolverines in 2007, as well as a move to the Sun Belt Conference six years ago.
Coming off a fourth consecutive bowl victory, the Mountaineers are looking to continue their recent winning history as heavy favorites in the Sun Belt.
Heading into the new season, the Mountaineers have a regular season win total set at nine games (per DraftKings), after finishing 10-2 a year ago (11-2 counting their bowl win).   
Here's a deeper look into why the Mountaineers will exceed nine wins in 2019, including a look at the team's standout players and schedule.
Returning Studs
Appalachian State boasts two preseason Maxwell Award nominees in quarterback Zac Thomas and running back Darrynton Evans, and the Mountaineers figure to be a potent offense once again this season.
Thomas is coming off a season where he threw for 21 touchdowns to just six interceptions, while also rushing for over 500 yards and recording 10 scores on the ground. Meanwhile, Evans rushed for 1,187 yards and scored eight total touchdowns last season, and also serves as a dangerous kick returner. 
Wide receivers Corey Sutton and Thomas Hennigan, who combined for 1,100 receiving yards in 2018, are also returning. 
The Mountaineers ranked 40th nationally last season in total offense, while the team's defense was fifth among NCAA Division I-A programs. 
The team's defense was extremely underrated despite that fact in 2018, the Mountaineers allowed 10 points or less in seven different games, including against Troy, who finished 10-3 last season. The Mountaineers allowed just 15.7 points per game, which ranked sixth in the country.
Schedule To Take Advantage Of
With 12 regular-season games, Appalachian State has the potential to go over the nine-win mark in 2019. 
The Mountaineers will face just two Power Five conference teams, with the North Carolina Tar Heels and South Carolina Gamecocks on the docket. Neither team is expected to be strong this season, with difficult ACC and SEC schedules on tap, respectively, and Appalachian State could certainly take advantage of their difficult paths.
In Sun Belt play, the Mountaineers lost just once last season in a 34-14 defeat to Georgia Southern, who went on to win 10 games. However, this season, Appalachian State has a higher projected win total than any of its opponents. 
Additionally, the Mountaineers boast winning records all-time against 10 of their 12 opponents. North Carolina has only met Appalachian State once in their program's history, with the Tar Heels earning a victory back in 1940, while the Gamecocks have defeated the Mountaineers in eight of their nine previous meetings.
Even if the Mountaineers were to lose one or both of these matchups in 2019, the Mountaineers should run the table in their other 10 games. 
The Verdict
The Mountaineers have had winning records in 10 campaigns since 2005. With an incredibly favorable schedule, as well as the return of many stars from last season, Appalachian State is poised to surpass nine wins with ease in 2019.
The Sun Belt champions return a number of their top offensive studs this season, including Thomas and Evans, who will surely receive national attention given their track records.
Appalachian State won't be in the running for a national championship, but the program has built up a strong reputation of winning over recent years. The over is looking like a smart play for the Sun Belt team. 
Note: The advice above represents the writer's personal view and does not reflect or represent BetQL's stance or interest in any way.