UAB
vs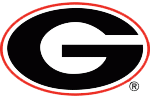 Georgia Prediction
In an upcoming matchup, the Georgia Bulldogs are slated to face off against the UAB Blazers. According to our model at BetQL, Georgia is heavily favored, winning a staggering 99% of simulations. Led by quarterback Carson Beck, the Bulldogs' offense appears unstoppable, averaging 258 passing yards and 2.2 touchdowns per simulation. Additionally, running back Kendall Milton is projected to have a stellar performance, racking up 110 rushing yards with a 90% chance of scoring at least one rushing touchdown.

While UAB may seem like a long shot, there is a glimmer of hope in the 1% of simulations where they emerge victorious. Quarterback Jacob Zeno will need to step up his game during these crucial moments, with an average of 1.07 touchdown passes compared to 0.56 interceptions in UAB's wins. Furthermore, Zeno displays an impressive ability to contribute on the ground as well, amassing an average of 85 rushing yards and 1.48 rushing touchdowns when his team comes out on top.

One crucial factor that could potentially shift the tide in Georgia's favor is their chances of forcing more turnovers than they commit. According to our model, there is a 36% probability of this occurring. Taking this into account, it becomes apparent that a positive turnover margin significantly increases Georgia's likelihood of securing a victory, achieving success in every single simulation where this advantage is present.

To gain further insight and discover the finer details on how our model predicts this game will unfold, make sure to subscribe to BetQL. Our comprehensive analysis, paired with accurate prediction models, provides you with invaluable information that can greatly assist when making betting decisions. Don't miss out on the opportunity to enhance your sports betting experience and unlock potential profits by subscribing to BetQL today!