Georgia
vs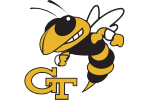 Georgia Tech Prediction
In the upcoming matchup between Georgia and Georgia Tech, it's no surprise that Georgia comes in as the heavy favorite, winning 100.0% of simulations against their in-state rivals. Quarterback Carson Beck has been a standout performer in our model's simulations, averaging an impressive 12,642 passing yards and 101.63 touchdowns. Running back Kendall Milton is also projected to have a strong game, with 115.0 rushing yards. However, the model gives him a slim chance of scoring at least one rushing touchdown, at 0.0%.

On the other side of the field, Georgia Tech's chances of pulling off an upset are bleak according to our model, as they only win in 0.0% of simulations against Georgia. Quarterback Zach Pyron struggles when facing the Bulldogs, averaging 0.0 touchdown passes and interceptions in their losses. There isn't much support for the ground game either, as running back Dontae Smith manages just 0.0 rushing yards and touchdowns in both wins and losses.

One area where Georgia has a slight advantage is in turnover margin, with our model giving them a 1.0% chance of forcing more turnovers than they commit. In fact, positive turnover margin has proven to be crucial for the Bulldogs, leading to victory in 100.0% of simulations.

To get more insights on how our model is predicting the outcome of this game and gain access to detailed analysis for all upcoming matchups, be sure to subscribe to BetQL. Our advanced algorithms crunch the numbers and provide you with data-driven predictions and betting recommendations that can give you an edge when making your wagers. Don't miss out on all the valuable information at your fingertips - subscribe to BetQL today!