NCAAB
3 Deep 2020 NCAA Championship Sleepers
All three of these teams could be in the mix at season's end
By Nolan Comar - Aug 23, 2019, 3:07am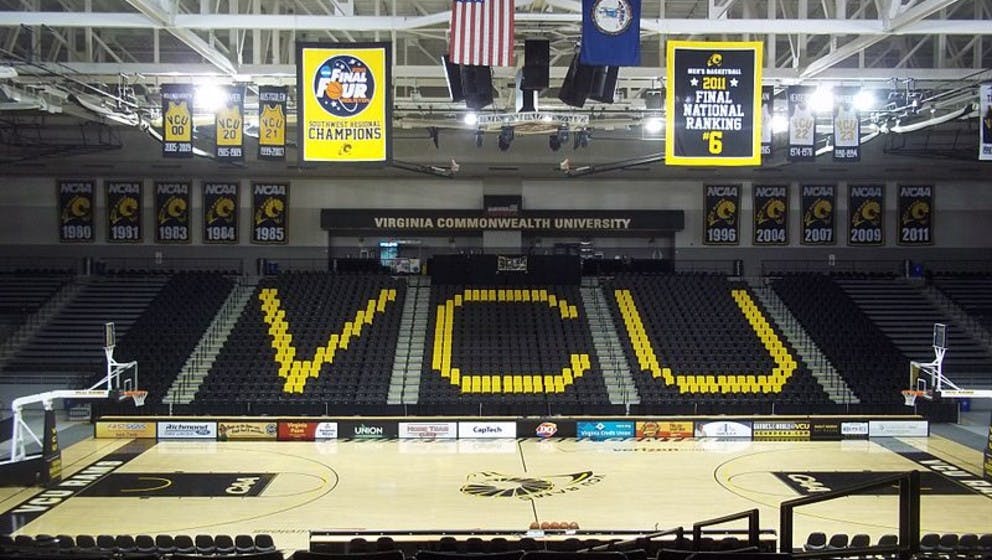 • VCU (+12500), Davidson, (+22500) and Providence (+30000) are three deep sleepers who might have the upside to win the 2020 Men's NCAA Basketball Tournament.
VCU (+12500, DraftKings)
Last Season: 25-7, 1st in A-10
NCAA Tournament: #8 seed (1st round loss to #9 UCF)
VCU took a significant step forward last season under second-year head coach Mike Rhoades. The Rams dominated the Atlantic-10 with an impressive 16-2 mark and earned a place in the NCAA Tournament due to a stifling defense and an impressive trio of perimeter players. 
Marcus Evans, Isaac Vann and De'Riante Jenkins are big, versatile wings not commonly found in the A-10. All three averaged at least 10 points, 3 rebounds and 2 assists last season and now as a trio of seniors are in line for their best seasons to date. 
The guards will be helped by emerging big man Marcus Santos-Silva and promising sophomore Vince Williams. Santos-Silva posted 10.0 points and 7.4 rebounds a game in only 22.2 minutes. Senior Malik Crowfield should serve as the team's sixth man as an upcoming senior.
Crowfield, a steady wing player, has started 20 games during his career and has converted 36.4 percent of his three-point attempts, an area where VCU will need help. If there is to be a weakness with this Rams team, it's the team's long-range shooting ability. VCU only shot 30.5 percent from beyond the arc on over 700 attempts last season. 
VCU's strength stems from the 'Havoc' defense that was originally developed under Shaka Smart. Rhoades is a Smart disciple having worked under him from 2009-2014. The Rams ranked third in 2019 in turnover rate and third nationally in adjusted defensive efficiency. 
With another year of experience in the system, it only figures to be as strong, if not better. VCU's schedule should set the Rams up for success as the non-conference portion is headlined by LSU, Purdue and Wichita State along with mid-majors like Old Dominion, Missouri State and The College of Charleston. With a challenging schedule and league that will push the Rams to be their best, it's likely Rhoades and his team take yet another leap in year three and into the middle of the March Madness race. 
Davidson (+22500, DraftKings)
Last season: 24-10, 2nd A-10
NCAA Tournament: N/A
Bob McKillop and his Davidson program continue to age gracefully. Thrust into a new league in the Atlantic-10 in 2015, all McKillop and his Wildcats have done is win games. Davidson has a record of 59-31 after moving up a level in competition. With the overwhelming majority of their core returning, more wins are on the way. 
Leading the way will be terrific guards in senior Jon Axel Gudmundsson and junior Kellan Grady. The duo combined for 34.2 points per game last season while both shot greater than 34 percent from the three point line. Gudmundsson takes on more point guard duties, averaging 4.8 assists while Grady is the biggest offensive scoring threat in McKillop's motion offense.
A great signal of the strength and talent in the Davidson program can be seen from the duo declaring and eventually withdrawing from the NBA Draft. Grady's name popped up in draft discussions all season long. 
Davidson is a modern offensive team that often plays four guards together, but what McKillop has to boast about is the size of his guards who often prove to be interchangeable. Gudmundsson and Grady are paired with Luke Frampton and KiShawn Pritchett. All four perimeter players range from 6'4 to 6'6 and starting center Luka Brajkovic checks in at 6'9. Brajkovic was effective as a freshman, averaging 11.1 points and 6.0 rebounds per game. 
The Wildcats will take on a who's who of college basketball before the New Year. On the schedule are high majors: Auburn, Marquette, Wake Forest and Vanderbilt along with strong mid-majors in Nevada, Northeastern and Loyola Chicago. Despite winning 23 games a year ago, the Wildcats missed out on the NCAA Tournament and had to settle on a NIT appearance. This season might play out very differently. . 
Providence (+30000, DraftKings)
Last Season: 18-16, T-Last Big East
NCAA Tournament: N/A
After a down season in 2019, Providence is set to rebound in a big way. Head coach Ed Cooley coached Team USA in the Pan-American Games. Cooley wasn't the only Friar there, as the Pan-Am team featured a total of four Providence players in guards David Duke, AJ Reeves, wing Alpha Diallo and big man, Nate Watson. A jolt to team chemistry can't hurt the Friars this summer and Team USA went on to win the bronze medal against high-level competition from around the world. 
The Friars offer a great blend of youth and experience, centered around a strong group of seniors and a sophomore class that is ready to take off. Diallo is the Friars leader and a model of versatility after averaging 16.0 points, 8.1 rebounds, 3.1 assists and 1.6 steals per game. Diallo will be flanked by fellow seniors Luwane Pipkins, Kalif Young, Malike White and Emmit Holt.
A UMASS grad transfer, Pipkins struggled a bit last season after a terrific 2017-2018 in which he averaged 21.2 points and shot 42.6 percent from the three point line. Those numbers dropped to 16 points per game and only 28.1 percent from three in 2019. Less will be asked of Pipkins as he leaves a UMASS team that was decimated by injuries and lack of talent. 
The Friars are certainly not void of depth or talent as White, Young and Holt will now serve as excellent reserves after having all started at some point during their Friar careers. Their pair of sophomore guards possess the most upside. Both Reeves and Duke came to Providence as top 50 recruits and while both showed flashes, health an inconsistency came into play at times. 
Rising junior big man Watson will also play a pivotal part for the Friars after he averaged 11.7 and 5.2 rebounds per contest in his sophomore season. Improved conditioning should allow Watson to extend his 23.5 minutes per game this year. 
The Friars' non-conference schedule is headlined by Florida and Texas and a road date with local rival Rhode Island. A road game in the Big East-Big Ten "Gavitt Games" aligns the Friars with Northwestern and mid-major games against Penn and Stony Brook give the Friars a balanced and strong schedule to give them a jump start heading into Big East play. The Friars figure to be in that mix.
Note: The advice above represents the writer's personal view and does not reflect or represent BetQL's stance or interest in any way.